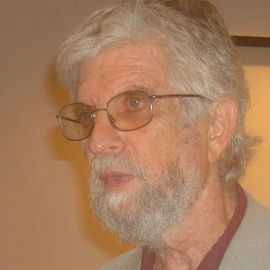 Neil Hollander
The American writer, film director and producer, journalist Neil Hollander used to be one of the few sailor who using the bygone working sail has sailed across the Atlantic, Pacific and Indian Oceans.
American film director, producer and screenwriter Neil Hollander is best known for writing and directing documentary movies such as Goldlust, Riding the Rails, Under the Radar: Burma and much more. He is also author of several books like The last sailors, Elusive Dove, Great Zoo Break, The yachtsman's emergency handbook and other. For his work Hollander has been nominated for several awards. He has also directed Nobel Voices, a project that offers a collection spoken-word recordings by the most prominent advocates for peace during a century of war and bloodshed.
Early Life and Career
Author, director and producer Neil Hollander was born on July 9, 1939, in Brooklyn, New York. The son of a workers, Hollander attended RISD high school. After there, he enrolled at the University of Wisconsin, from where he holds a BA.
Film Career
Hollander's first film, which he both wrote and directed, was the Riding the Rails, a coming-of-age story that takes place inside the taboo world of Hobo culture. Next, he wrote and directed 1984's The Last Sailors, a documentary film that followed after several years spent on open sea, sailing across the Pacific Ocean.
In 2002, Hollander followed up with another documentary, Sea Devils, in which he successfully transformed Harald Mertes into an sailor. For that one he won the Director's Guild of America Award. Hollander's most ambitious work to date, 2009's H for Hunger, was loosely based on 90 minute monologue brilliantly performed by actor and musician Henry Rollins.
Hollander continued to present layered work with the 2010 Under the Radar: Burma and next year's Burma: A Human Tragedy. Another documentary that show the human tragedy of the people vining in country repressed by the military government.
Click Here to register and get pricing on booking Neil Hollander for your next event!
Videos
---
Speech Topics
---
Atlantic, Pacific and Indian Oceans
Travelling through the oceans of the world
Get notified of new talks and events.
Follow
Related Speakers View all
---
Rebecca Nagy
Rebel Brown

Market Strategist, Agent of Change, Speaker, Author....

Redia Anderson

Chief Diversity & Inclusion Office, BP-Americas

Renee Lee Rosenberg

An engaging motivator who encourages forward progress

Renie Cavallari

Renie Cavallari is a renowned Speaker, Trainer, Keyn...

Rich Hart

LIFT MORE !!!

Rich Lucia

Author, Speaker, Consultant

Richard Burleson

Vice President of Engineering Firm Neel-Schaffer

Richard Fabozzi

Creates highly interactive and value-driven "Experie...

Richard Schenkar
Rick Chromey

Inspirational Edutainer. Leadership Imagineer. Cultu...

Rick Frishman

Founder of Planned Television Arts

Rick Kiernan
Rick Ott

Rick Ott speaks about making money and building weal...

RM Reed
Robert Collinsworth
Robert Douglas
Robert Gedaliah

President of "Speaking for Results"

Robert Jerus
Robert Martin

Gavin de Becker & Associates protects people who are...
More like Neil