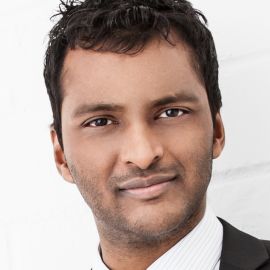 Nimalan Nadesalingam
Internationally recognised Change Management and Business Transformation professional. Author of 'Transformative Change', creator of the 7Cs Of Change Methodology and founder of 7Cs Of Change Consultancy.
About Nimalan Nadesalingam
Nimalan Nadesalingam, author of the acclaimed 'Transformative Change' book, is an Associate Director and Senior Consultant for Change Management at the global headquarters for the DP DHL Group, one of the world's largest multi-nationals, and also the founder of 7Cs of Change Consultancy.
He is a respected and acclaimed professional keynote speaker and writer having delivered key-note speeches and trainings for thousands of delegates from numerous types of industries in Europe, Asia, Africa, South America, the USA, the UK and the Middle East. He has had articles published in multiple languages in a variety of business magazines and his book, 'Transformative Change', was released internationally by a major publisher in 2014 and charted in the Amazon Top 100 Business Books bestsellers list.
Nimalan came into the profession of change management after years spent in performance and project management where he led the roll-out of multinational projects and also created and headed up a European-wide performance measurement department. It is this experience that allows him to bring a pragmatic approach to change management.
Nimalan is from Great Britain where he earned his BA Honours and subsequent MBA. He is now living in Germany and working across the globe as a consultant on major programmes whilst also training, coaching and mentoring various levels of management from numerous countries in Business Transformation and Change Management.
Click Here to register and get pricing on booking Nimalan Nadesalingam for your next event!
Videos
---
Speech Topics
---
Change Management and Business Transformation Topics
Key-Note Speeches and Seminars:
An Introduction to Change Management and its Value Add --- The 7Cs of Change --- Creating Champions for Change --- Coaching for Change --- Influencing for Change --- Change Management for Culture Change --- Owning Change Management --- Diagnosing the Readiness and Capacity for Change --- Building Change Capability --- Communicating Change --- Change Management for Innovation --- Change Management for Restructures ---
Links
---
Books
---
Get notified of new talks and events.
Follow
Related Speakers View all
---
Mel H. Abraham

He has a riveting presence, created by his absolute ...

Milt Abel

Milt Abel is a corporate-clean stand-up comedian tha...

Mike Abrashoff

Former Commander of USS Benfold and Author of "It's ...

J.J. Abrams

Director, Producer, Writer, Author; Known for His Wo...

Melvin Adams

Former Harlem Globetrotter with a Passion for Reachi...

Kirk Acevedo

Actor Best Known for His Roles on "Dexter," "Band of...

Jose Antonio Abreu

Founder of El Sistema, Which Helps Venezuelan Childr...

Carol Adelman

Carol Adelman is a senior fellow and director of Hud...

Newton Aduaka

Newton Aduaka's award-winning Ezra, told through the...

Janus Adams

Award-Winning Journalist

Jenoyne Adams

African-American Novelist.

Khandi Alexander

Khandi Alexander (born September 4, 1957) is an Amer...

Shaun Alexander

NFL Great

Laila Ali

Undefeated 4 Time World Champion Boxer 24-0 with 21 ...

Alan Alda

Actor, Writer, Science Advocate, and Director

Adewale Akinnuoye-Agbaje

Fashion Model & Actor Known for "Lost," "Oz" & "Suic...

Jane Alexander

Actress and Former Director of the National Endowmen...

Bruce Aitken

Bruce Aitken was born in Invercargill New Zealand wh...

Gary Aldrich

On Independence Day, 1996, former FBI Agent Gary Ald...

Marilyn Albert

Dr. Marilyn Albert received her PD degree in Physiol...
More like Nimalan