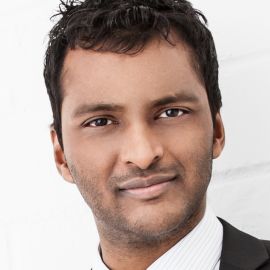 Nimalan Nadesalingam
Internationally recognised Change Management and Business Transformation professional. Author of 'Transformative Change', creator of the 7Cs Of Change Methodology and founder of 7Cs Of Change Consultancy.
About Nimalan Nadesalingam
Nimalan Nadesalingam, author of the acclaimed 'Transformative Change' book, is an Associate Director and Senior Consultant for Change Management at the global headquarters for the DP DHL Group, one of the world's largest multi-nationals, and also the founder of 7Cs of Change Consultancy.
He is a respected and acclaimed professional keynote speaker and writer having delivered key-note speeches and trainings for thousands of delegates from numerous types of industries in Europe, Asia, Africa, South America, the USA, the UK and the Middle East. He has had articles published in multiple languages in a variety of business magazines and his book, 'Transformative Change', was released internationally by a major publisher in 2014 and charted in the Amazon Top 100 Business Books bestsellers list.
Nimalan came into the profession of change management after years spent in performance and project management where he led the roll-out of multinational projects and also created and headed up a European-wide performance measurement department. It is this experience that allows him to bring a pragmatic approach to change management.
Nimalan is from Great Britain where he earned his BA Honours and subsequent MBA. He is now living in Germany and working across the globe as a consultant on major programmes whilst also training, coaching and mentoring various levels of management from numerous countries in Business Transformation and Change Management.
Click Here to register and get pricing on booking Nimalan Nadesalingam for your next event!
Videos
---
Speech Topics
---
Change Management and Business Transformation Topics
Key-Note Speeches and Seminars:
An Introduction to Change Management and its Value Add --- The 7Cs of Change --- Creating Champions for Change --- Coaching for Change --- Influencing for Change --- Change Management for Culture Change --- Owning Change Management --- Diagnosing the Readiness and Capacity for Change --- Building Change Capability --- Communicating Change --- Change Management for Innovation --- Change Management for Restructures ---
Links
---
Books
---
Get notified of new talks and events.
Follow
Related Speakers View all
---
Rebel Brown

Market Strategist, Agent of Change, Speaker, Author....

Renie Cavallari

Renie Cavallari is a renowned Speaker, Trainer, Keyn...

Rich Hart

LIFT MORE !!!

Rich Lucia

Author, Speaker, Consultant

Richard Burleson

Vice President of Engineering Firm Neel-Schaffer

Richard Fabozzi

Creates highly interactive and value-driven "Experie...

Rick Chromey

Inspirational Edutainer. Leadership Imagineer. Cultu...

Rick Frishman

Founder of Planned Television Arts

Rick Kiernan
Rick Ott

Rick Ott speaks about making money and building weal...

RM Reed
Robert Collinsworth
Robert Douglas
Robert Gedaliah

President of "Speaking for Results"

Robert Jerus
Robert Martin

Gavin de Becker & Associates protects people who are...

Robert Perez
Robin Barnhart
Rodney C. Matthews
Roger Reece

Keynotes, training & coaching - people skills, confl...
More like Nimalan