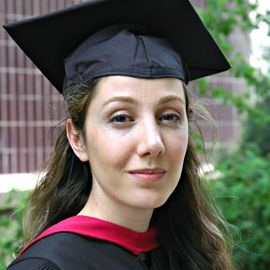 Rhodes scholar Pardis Sabeti graduated with her medical degree from Harvard Medical School in 2006, earning the school's highest honor - the third woman ever to do so. She's also the lead singer and songwriter of the band, Thousand Days, who uses her music to make science appealing to children, especially, girls. As a graduate student at Oxford University in England, Sabeti developed a way to detect natural selection at the level of individual genes. In Eric Lander's lab at the Broad Institute, she scanned the entire human genome to figure out which genes have changed within the last 10,000 years and which have spread rapidly in the human gene pool due to natural selection. With these tools, geneticists can study how cultural and environmental changes have affected the evolution of the human genome. Now Sabeti is applying this technique to her true passion: understanding the interplay between humans and the pathogens that cause diseases like malaria, tuberculosis, and leprosy. Her work - published in December 2007 - revealed genes involved in drug resistance and in evading the immune system, giving researchers potential targets for new therapies and vaccines.
Related Speakers View all
---
Jeffrey Israel

Jeffrey Israel has taught religion and political phi...

Cody Adams

Managing Editor of The Floating University.

Steven Mazie

Associate Professor of Political Studies, Bard High ...

Dan Ariely

Behavioral Economist, Professor at Duke University, ...

An Phung

Multimedia Journalist

Brian Hoffstein

Contributing Writer

Neil Giuliano

President, GLAAD

Dan Gilbert

Psychologist; Happiness Expert

Ray Kurzweil

Chairman, Kurzweil Technologies & A Director of Engi...

Josh Lieb

Executive Producer, "The Daily Show"

Julia Bolz

Women's Rights Activist

Sheena Iyengar

Columbia University Business Professor & Bestselling...

Virginia Postrel

Writes on The Intersection of Commerce & Culture; Au...

Nelson George

Author / Filmmaker

Parag Khanna

The World's Leading Geo-Strategist; Author of Second...

Peter Thiel

Former CEO and Co-founder of PayPal; Technology Entr...

Dr. Sarah Schlesinger

Associate Professor, The Rockefeller University

Jacques Pepin

Master French Chef, Food Columnist, Cookbook Author,...

Sam Gosling

Psychologist of human perception, author and professor

Dr. Paul Wolpe

Asa Griggs Candler Professor of Bioethics; Director,...
More like Pardis