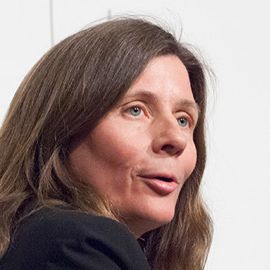 Patricia Burchat - Duplicate
Particle Physicist, BaBar Collaboration
Patricia Burchat studies the universe's most basic ingredients -- the mysterious dark energy and dark matter that are massively more abundant than the visible stars and galaxies. She is one of the founders of the BaBar Collaboration at the Stanford Linear Accelerator Center, a project that's hoping to answer the question, "If there are as many anti-particles as there are particles, why can't we see all these anti-particles?"
She's a member of the Large Synoptic Survey Telescope project, which will allow scientists to monitor exploding supernovae and determine how fast the universe is expanding -- and map how mass is distributed throughout the universe. She's also part of Fermilab Experiment E791, studying the production and decay of charmed particles. Burchat received a Guggenheim Fellowship in 2005.
Click Here to register and get pricing on booking Patricia Burchat - Duplicate for your next event!
Get notified of new talks and events.
Follow
Related Speakers View all
---
David E. Goldberg

Entrepreneur, Scientist & Pioneer of Artificial Inte...

Judith Grunert

Professor, Syracuse University

Duane Nason

Duane Nason is a web developer and entrepreneur.

Daniel Libeskind

Architect, Denver Art Museum

Joshua Klein

Hacker, H4X Industries

Robert Lang

Origamist, Langorigami.com (Sole Proprietorship)

Ben Cameron

Arts Administrator, Doris Duke Charitable Foundation

Barbara Gross Davis

Assistant Vice Provost, Jossey-Bass

Jessica Green

Professor, University Oregon

Tom Shannon

Sculptor, Independent Artist

Craig E. Dauchy

Partner, South-Western College Pub

Constance E. Bagley

Associate Professor of Business Administration, Harv...

Terry Moore

Thinker, Radius Foundation

Wilbert McKeachie Et Al

Professor Emeritus of Psychology, University of Mich...

David Logan

Professor Of Management, CultureSync

Tom Honey

Priest, Exeter Cathedral

Steven K. Gold

Author, Learning Ventures Press

Ethel

String Quartet, Ethel

Suzanne Erickson

Associate Professor, Seattle University

John Vinturella

Consultant, JBV
More like Patricia