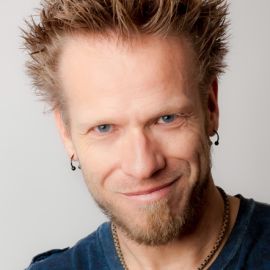 Paul LaFrance
Creator, owner, and CEO of Cutting Edge Construction and Design; Host of HGTV's "Decked Out" and "Deck Wars"
Meet Paul Lafrance, creator, owner, and CEO of Cutting Edge Construction and Design. With fifteen years of generating innovative and state-of-the-art custom deck designs, he is no stranger to the decking and landscaping world. He has successfully designed and built over a thousand decks across Southern Ontario—plus, he has designed thousands more across Canada and the U.S.A.. Paul has recently expanded his design firm to include all of North America, greatly broadening the frontier for his custom designs. With designs that are always original, each project offers its own uniqueness and the beauty that has come to define a Cutting Edge Deck. Paul's vision is to demonstrate how even the most basic backyard can become a true "retreat" in an age where weekend travel to a cottage has become an impracticality for most. Aside from the artistry of the designs, every project boasts structural integrity and resiliency that lasts for decades.
Paul's passion for design and architecture is matched by his love of music and composition. Being both a musician and a deck builder has given him the edge and the creativity needed to offer the one-of-a-kind deck concepts that have transformed countless backyards over the years. As Paul says, "You don't need to be a musician to know a good song when you hear one. It's all about how it makes you feel. A good backyard retreat is all about emotional response rather than just assembling sticks of wood!" His work has been featured on Home and Garden television, Holmes on Holmes, Breakfast Television, Holmes Inspection, and he has built projects for a number of high profile personalities, including "Canada's most trusted contractor" Mike Holmes, for whom Paul built a stunning backyard oasis. He is the host of HGTV's new television show called "Decked Out," as well as the mini-series, "Deck Wars."
Click Here to register and get pricing on booking Paul LaFrance for your next event!
Get notified of new talks and events.
Follow