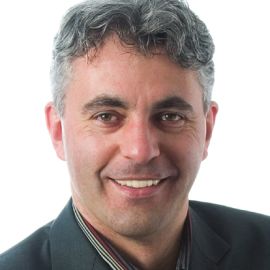 Peter Davison
Peter's tales and tools enrich relationships, deepen employee engagement and promote productive attitudes to maximize the culture of human potential.
Peter Davison is an international motivational speaker based in Halifax, Nova Scotia, Canada whose uplifting speeches and peak performance seminars celebrate hard-working unsung heroes and revitalize big-hearted professionals dedicated to serving others. He has celebrated the joy of speaking and the business of making a difference since 1985. Peter's energy comes from chocolate, he has been quoted in Oprah Magazine and is proud to be first time Dad at age 50.
"Peter Davison received a spontaneous standing ovation at the conclusion of his heartwarming and inspirational closing keynote speech, "Journey to Everest: The Unsung Heroes of Servant Leadership." The audience of life and health insurance claims officers attending our annual CLHIA conference appreciated the celebration of their important roles as unsung heroes, as they work diligently to make a difference in the lives of Canadians. Peter's closing slide show featuring our participants and inspiring visuals made the keynote address a great success and a wonderful closing high note."
Irene Klatt, Vice President, Health Insurance, Canadian Life and Health Insurance Association Inc. (CLHIA)
"Peter Davison brought a unique brand of energy to his Quest for Employee Engagement presentation to our group. He had the audience laughing, cheering and even some shedding a tear of inspiration during his talk. It was a refreshing break from the business topics that our delegates had been hearing."
Bob Elliott, President, Canadian Printing Industries Association
"Thank you very much for your powerful "Energize 212" presentation to our associates last week. Your passion on the topic of people giving that extra effort and having balance in our lives was clearly evident! It was a very moving presentation with great examples that hit home with every one of us. Thanks for bringing us back to reality and helping us find that balance we all need."
Mike McGraw, IDC Financial Atlantic
Click Here to register and get pricing on booking Peter Davison for your next event!
Reviews
---
Canadian Association of Professional speakers

"I have known Peter Davison for several years. He is a gifted and talented communicator who walks his talk. His passion and knowledge are of great value to anyone looking for someone to help guide them to a more fulfilling and productive life."

Gerry Benard

· The Innovation Advantage
Speak Up for Haiti

Peter is as comfortable in front of 500 teenagers as he is in a corporate boardroom. His approach disarms and empowers. At least that's the way I feel and it is similar based on the audience reactions I've seen

Steve Foran

· Giveraising Development Services
CAPS Halifax

Peter has a beautiful, gentle sense of humour that really brings out the big-heartedness in his audience. When he speaks about employee engagement we understand afresh how we can create a healthy, supportive, sane workplace through our own individual and team actions. Peter embodies on stage the culture of potential he speaks about, and makes us feel we can do it too.

Crane Wood Stookey

· Crane Wood Stookey Coaching, Facilitation and Training
Pedorthic Assoc. of Canada Conference 2007

Peter's speech was energetic and inspiring and left the delegates feeling proud of their "sole purpose!" The slide show was enjoyable as it highlighted the individuals that were identified as "everyday heroes". Peter is called to share his message which was evident in his passion for connecting to others.

Andrea Richard

· PAC Conference Chair 2007
CAPS Halifax and I have reviewed several videos as well

Peter has the courage to go places many people would shy away from. He has a great ability to bring his own personal experiences in to his work in a way that others can gain so much. Listening to Peter is always inspiring and one of the contributing factors to his is that he is very genuine which builds so much credibility with the audience. Peter Chapman

Peter Chapman

· GPS Business Solutions
NLAPS General Meetings

Peter was a very active mentor for NLAPS (Newfoundland & Labrador Asscoiation of Professional Speakers)during its formative years. His leadership and insight played a big part in establishing NLAPS in the province. What struck me most with Peter was his sincerity. He truly wanted to see NLAPS succeed. However, it didn't stop there. He used his experience and his unique perspective of the speaking business to help us, as members, grow as well. Peter is a consumate professional. He takes great pride in helping individuals and groups to maximize their potential.

Joel Sweeney

· Professionally Speaking
CAPS Meetings

"Peter is an awesome speaker. He has a way of clearly getting his message across that makes sense to those in the audience. Peter is diligent in his preparation and delivery. If you are looking for a great speaker, Peter is your man."

Jeff Brown

· Alpha Computer Training and Consulting
Halifax

Peter is one of my favourite speakers. He has the knack for turning usual events into something extraordinary and engages all the senses of his audiences. I am happy to endorse Peter's work and encourage you to see him in person.

Pam Robertson
Corporate Event

"Peter Davison is a consummate professional. Since connecting with Peter several years ago he has constantly looked for ways to be of service and was always willing to help whenever a request was made. In addition to being a great speaker, Peter is a great person. Anyone who is thinking of working with Peter would be well advised to jump at the opportunity. I suspect you could not find an easier speaker to work with!"

Mark Black
Halifax 2010

Peter is a warm and charismatic speaker who connects with the audience from the moment he takes the stage. His experiences are brilliantly woven into the stories that teach and engage everyone present.

Lea Brovedani
videos viewed in 2004, 2006 & 2007

You have a unique and engaging style. You have a wide range of knowledge (from small towns to Mt. Everest and all the reading and life experiences in between). You tap into this knowledge for your various types of speaking engagements, and then you bring common sense wisdom to your audience in a down to earth and often humorous manner.

Bruce McCullock
2006 at Dalhousie University, Halifax, N.S.

You created an environment that allowed me and my colleagues to discover a new paradigm in constuctive communication...how to work on purpose...how to inspire one another and how to overcome barriers in ourselves and in our environment in order to move forward together. You made us think, laugh, and five years later, I still feel enriched. Thank you, Peter!

Dilly MacFarlane
JCTC Career Journey Series

Peter is such an amazing, hardworking and creative individual. His "How to Love your Work" series was very successful as part of the Career Journey Series we offered with JCTC. He delivered 5 sessions back to back within a 2 day period and he never lost his spark and enthusiasm. His experiences and stories are extremely inspirational and I highly recommend him and his programs.

Jodi LeBlanc

· Regional PEI-JCTC Coordinator (Joint Career Transition Committee)
National Association of Travellers' Centres Annual Conference, Maynooth, Ireland

Peter Davison brings calm, inspiration and guidance to his seminars. The National Association of Travellers' Centres, Ireland have had the pleasure of experiencing Peter's Inspirational Leadership Training on many occasions - the message always stays true... We are all valuable people who have an important contribution to make in our lives, our loves and our work. Peter is like a good book or film…he comes highly recommended!!

Liz Loftus

· National Association of Travellers' Centres of Ireland
Atlantic Diversity Forum 2008, Public Works and Government Services Canada

Peter Davison received a standing ovation at the conclusion of his "Quest for Inclusive Workplaces" keynote speech at our PWGSC Atlantic Diversity Forum. It was apparent that his address touched many of the people in the room. Peter exceeded our expectations by making the forum the success that we achieved.

Wendy Smith, Co-Chair, Atlantic Diversity Forum 2008

· Public Works and Government Services Canada (PWGSC)
Worksafe New Brunswick Annual Conference

Peter received a standing ovation from the 300 WorkSafe NB professionals who had the pleasure of experiencing his "Journey to Everest: Celebrating Unsung Heroes" presentation. Beyond the laughter, inspirational stories and interactive activities, Peter reminded us all that what we do really makes a difference to the health and safety of countless people in our province.

Edith Savoie, Human Resources Director

· Worksafe New Brunswick
National Conference Canadian Life and Health Insurance Association Inc.

Peter Davison received a spontaneous standing ovation at the conclusion
of his heartwarming and inspirational closing keynote speech, "Journey
to Everest: The Unsung Heroes of Servant Leadership." The audience of life and health insurance claims officers attending our annual CLHIA conference appreciated the celebration of their important roles as unsung heroes, as they work diligently to make a difference in the lives of Canadians. Peter's closing slide show featuring our participants and inspiring visuals made the keynote address a great success and a wonderful closing high note.

Irene Klatt, Vice President, Health Insurance

· Canadian Life and Health Insurance Association Inc.
Speech Topics
---
Embracing Adversity: Life Happens, Then You Get to Choose???
Whether coping with major changes at work, struggling with personal setbacks or confronting a disease diagnosis, the challenge is the same: How do you roll with the hit and get on with the joy of living and business of making a difference? In his keynote speech, Peter shares an intimate and humorous journey how he successfully moved through a devastating diagnosis of Parkinson's disease at age 45 to believe in love again and become a first time Dad. ???
Peter's ability to find the "Gift of the Hit" is a testament to the powers of faith, perspective and resiliency. Peter shares heart-warming and practical strategies with audiences eager to grow forward through adversity and change by holistically engaging four dimensions of what it means to be authentically human in otherwise vexing transitions. After all, whether you think you can or think you can't embrace adversity, you're right! This program helps people of all generations make their choice.
Everest Journey: Celebrating Everyday Unsung Heroes
On the steep trails and thin air of the world's highest mountains there is a unique kind of unsung hero role model without whom successful ascents up Mount Everest would be impossible. Sir Edmund Hillary's first ascent of Everest in 1953 remains one of the 20th century's greatest human achievements and made him famous, a hero, a household name. But for Hillary's journey to succeed he counted on 350 Sherpa porters carrying 10 tons of supplies up and down the mountain for 3 months. He couldn't have done it without them. The Sherpas are the unsung heroes, who, with little recognition or glory, dedicate their time and talents to serving a noble cause greater than themselves. Does that sound familiar where you work?
Peter believes that your leadership and employees are modern-day Sherpas.This story is about the hardworking helping professionals at "base camp" who succeed when others succeed. It's high time to honour dedicated and under-appreciated servant leaders who give tirelessly and trust that in a small way we can make a big difference by helping our clients, customers or patients through the ups and downs of their "Everyday Everest" aspirations and challenges. Peter guides professionals on their journey with practical and innovative strategies to help "Tame the Yaks" of stress, difficult people and "stinking thinking" mindsets and a portable stress buster devices are included to help to lighten up when the going gets tough.
Laughter Power Hour
Everyday unsung heroes who serve with a big heart in the face of may occasionally need strategies to lighten up. The physical act of laughing is well known for it's physical, emotional, mental and spiritual benefits. Laughter Yoga is a physically oriented technique that uses a blend of playful, empowering and otherwise "tension-releasing" simple laughter exercises.
Keys to Engaging People For Service Excellence
The business case and your return on investment from deepening your employee's engagement is simple: Happy, devoted and earnestly skilled professionals stay longer and serve better. They are easier to manage and your organization's street reputation builds, for your customer, as THE place to get service and results and, for your employees, as THE place to work and grow. This presentation highlights key insights and strategies for proactive leaders who want to productively engage your people. Bonus: Participant's will each receive links to implementation resources as well as a portable stress buster device to ensure you maintain peak physical and emotional resilience for the good work that lies ahead.
Get notified of new talks and events.
Follow
Related Speakers View all
---
Lisa Wessan

Creating a space for Grace...

Pegine Echevarria

Former Bronx girl gang member, Pegine Echevarria, jo...

Vicki Hess, RN, MS, CSP

Employee Engagement Expert

Michael Karpovich

Motivational Keynote Speaker and Accredited School S...

Jennifer Samuel-Chance

Presentation skills coach specializing in use of sto...

Ty Bennett

Speaker on Leadership, Communication and Entrepreneu...

Jeri Mae Rowley

Interactive, laughter-filled keynotes and seminars f...

Amy Dee-Kristensen

A professional speaker, entrepreneur, nurse, and mot...

Patrick Galvin
David McLauren

McLauren & Associates offer Diversity Keynotes, Sem...

David McLauren Ph.D.

Increase profit and productivity through diversity. ...

Betsy Muller

Positive, Creative, Healthy and Authentic! Betsy tak...

Marianne Ragins

Inspire, Motivate & Educate with $400,000 Scholarshi...

Allison Massari

Inspirational TED Speaker, Entrepreneur, Artist, and...

Kordell Norton

Planning, Sales & Marketing and Teamwork Facilitator...

John F Register

Paralympic Silver Medalist and American Record Holde...

Rik Roberts

Rik Roberts' rapid fire slow burn humor makes for a ...

Conor Cunneen

James Joyce meets Tom Peters- Substance with Humor

Linda Henley-Smith

Drawing upon her experiences as a teacher, counselor...

Machelle (Mache) Seibel

Dr. Seibel's combination of health education and ent...
More like Peter