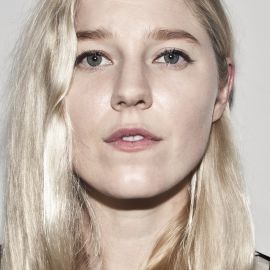 Petra Cortright (July 19, 1986) is a Los Angeles, California based artist working in video, painting and digital media.
Petra Cortright was born in Santa Barbara, California. She studied at Parsons The New School for Design in New York and California College of the Arts in San Francisco. She currently lives and works in Los Angeles, California.
Cortright's works in video, painting and digital media. She is well known her video works presented on YouTube and in gallery environments, her videos playfully explore formal properties of video software and representation of physical bodies in digital spaces. Cortright also makes intricate paintings using digital software which blend figurative and abstract elements, often printed on fabrics.
In vvebcam (2007), her first video, Cortright films herself while playing with the special effects built into the webcam software used to make the video. It is often noted that her physicality in vvebcam, as captured by the webcam, mirrors that of the work's viewer. vvebcam has also been heralded as shortly predating the rise of the "self-portraiture practice known as the selfie". On Saturday, December 10, 2011, vvebcam (2007) was removed by YouTube because of Cortright's extensive use of "offensive" key words.
In 2011 Cortright collaborated with Ilia Ovechkin to create Video Catalog, a work where the monetary value of her videos is determined by an algorithm based on YouTube views.
Vicky Deep in Spring Valley (2012), marks the beginning of Cortright's video work with virtual strippers. Cortright lifts the dancing girls from VirtuaGirl, a software that makes chroma keyed footage of "strippers" available for download. These videos are layered against flash images of fantastical digital worlds that are reminiscent of animated desktop wallpaper.
Cortright was selected to participate in the 2013 Frieze Art Fair in London where she produced her self-portrait, Bridal Shower (2013), a film where she experiments with the physical qualities of a production studio. The film was subsequently broadcast on British public television station Channel 4.
In 2014, Cortright began a collaboration with fashion designer Stella McCartney, creating a series of videos where Cortright uses glitches and video manipulation to showcase and contrast patterns on the garments designed by McCartney that she models.
Her works have been shown at the New Museum in New York, Rhizome, the Venice Biennale., the 2010 01SJ Biennial in San Jose, California, and the 12ième Biennale d'art contemporain de Lyon.
Click Here to register and get pricing on booking Petra Cortright for your next event!
Links
---
News
---
30 Under 30 2016: Art & Style - Forbes
Petra Cortright, 29. Artist. more. Delfina Delettrez, 28. Jewelry designer, Delfina Delettrez. more. Daniel DuGoff, 27. Menswear designer, DDUGOFF. more.
Get notified of new talks and events.
Follow
Related Speakers View all
---
Mel H. Abraham

He has a riveting presence, created by his absolute ...

Milt Abel

Milt Abel is a corporate-clean stand-up comedian tha...

Mike Abrashoff

Former Commander of USS Benfold and Author of "It's ...

J.J. Abrams

Director, Producer, Writer, Author; Known for His Wo...

Melvin Adams

Former Harlem Globetrotter with a Passion for Reachi...

Kirk Acevedo

Actor Best Known for His Roles on "Dexter," "Band of...

Jose Antonio Abreu

Founder of El Sistema, Which Helps Venezuelan Childr...

Carol Adelman

Carol Adelman is a senior fellow and director of Hud...

Newton Aduaka

Newton Aduaka's award-winning Ezra, told through the...

Janus Adams

Award-Winning Journalist

Jenoyne Adams

African-American Novelist.

Khandi Alexander

Khandi Alexander (born September 4, 1957) is an Amer...

Shaun Alexander

NFL Great

Laila Ali

Undefeated 4 Time World Champion Boxer 24-0 with 21 ...

Alan Alda

Actor, Writer, Science Advocate, and Director

Adewale Akinnuoye-Agbaje

Fashion Model & Actor Known for "Lost," "Oz" & "Suic...

Jane Alexander

Actress and Former Director of the National Endowmen...

Bruce Aitken

Bruce Aitken was born in Invercargill New Zealand wh...

Gary Aldrich

On Independence Day, 1996, former FBI Agent Gary Ald...

Marilyn Albert

Dr. Marilyn Albert received her PD degree in Physiol...
More like Petra