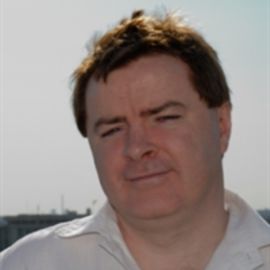 Phelim McAleer
Director and producer of documentaries "FrackNation," "Not Evil Just Wrong" and "Mine Your Own Business"
Phelim McAleer is the director and producer of "Fracknation," a documentary about fracking for natural gas. He also made "Not Evil Just Wrong" (2009), which looks at how extreme environmentalism is damaging ordinary people from the ban on DDT to the current concerns over Global Warming.
He was the director and producer of "Mine Your Own Business" (2006) -- the first documentary that asks difficult questions of the environmental movement. "Mine Your Own Business" looks at campaigns by foreign environmentalists against large scale mining projects in the developing world. The documentary reveals the exaggeration and misrepresentations that are behind many of these campaigns. It also reveals how many environmentalists mistake poverty for an idyllic way of life that they believe needs to be preserved.
Some environmentalists have compared "Mine Your Own Business" to pornography and Nazi propaganda and McAleer has received two death threats from environmentalists because of the content of the documentary.
However, the left-wing UK Guardian newspaper described "Mine Your Own Business" as a "A Michael Moore-style documentary ... casts the green movement as the influential villain of a worldwide campaign to block development and deny people the chance of jobs and a decent life." Newsweek says that the film has produced "quotes, observations and footage that cast environmental groups in a decidedly unflattering light."
Before "Mine Your Own Business," McAleer was a second unit director, Associate Producer and researcher on the documentary "Return to Sender," which aired on Canada's CBC in February 2005.
From 2000 to 2003 he was the Romania/Bulgaria Correspondent for the Financial Times. McAleer has also written for The Economist from the region. Previously from 1998 to 2000, he worked for the UK Sunday Times in their Dublin office.
Videos
---
Related Speakers View all
---
Ann McElhinney

Documentary filmmaker; director and producer of cont...

Anne Korin

Co-director of the Institute for the Analysis of Glo...

Manuel Miranda

Chairman of the Third Branch Conference, a coalition...

Nonie Darwish

Egyptian-American Human Rights Activist; Founder of ...

Frank Donatelli

Executive Vice President and Director of Federal Pub...

Dan Flynn

American conservative, author and former executive d...

Humberto Fontova

Cuban-American author, blogger, political commentato...

Doug Giles

Conservative Columnist and Political Commentator

Earl Johnson

Author of "Stairwell to Heaven -- A 9-11 World Trade...

Mike Adams

Conservative, Free Speech Advocate and Author

Katie Pavlich

Political Reporter and Author of "Fast and Furious: ...

Robert Spencer

Expert on Islam & Director of JihadWatch

Jason Mattera

American writer, conservative activist, radio host a...

Patrick Coyle

Vice President for Young America's Foundation

Kate Obenshain

Defender of conservative principles; Co-founder of J...

Buzz Patterson

Former Senior Military Aide to President Bill Clinto...

Jesse Lee Peterson

President and founder of The Brotherhood Organizatio...

Joseph Phillips

Actor, author and conservative speaker

John Reitzell

Served as the Reagan Administration's Department Of ...

Ron Robinson

President of Young America's Foundation; Conservativ...
More like Phelim