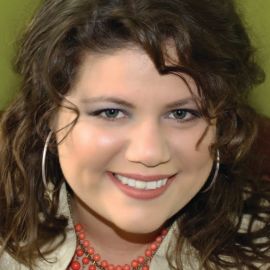 Author Rainbow Rowell has been writing for most of her adult life. But the former journalist and ad writer burst onto the fiction scene in a big way when her 2013 novel "Eleanor & Park" was heaped with unanimous critical praise and mountains of awards, and landed her an army of loyal fans that include the kind of disenfranchised teens she covered so sensitively and realistically in her breakout hit. Unbelievably, Rowell, 42, has released three books since, including "Landline," "Fangirl," and her latest, "Carry On." All her books—including the first, "Attachments"—have shared the same uncanny ability to reach out and grab the reader by the heart and squeeze. But that's where the similarities end. Rowell's books are rarely aimed at the same audience, cover the same topic, or adhere to any formulaic genre tropes that dog so many stories that are equally popular with teens.
Her latest novel, "Carry On," is the biggest stretch yet. It's a lush fantasy based on a fictional Harry Potter–esque book series, "Simon Snow," that featured prominently in Rowell's best-selling "Fangirl." The titular fan girl of that book wrote hugely popular fan fiction, "Carry On, Simon," based on a love story between Simon (our Harry Potter proxy) and Baz (a vampire with shades of Draco Malfoy). Rowell took her meta-textual interaction with the popular J.K. Rowling series one step further in "Carry On," where Baz, Simon, and their friends Agatha and Penelope take control of the narrative.
Related Speakers View all
---
John Green

New York Times Bestselling Author; Known for "The Fa...

Veronica Roth

Author Known for her Debut New York Times Best-Selli...

Laini Taylor

American Young-Adult Fantasy Author, Best Known for ...

Lee Child

New York Times Bestselling Author of the "Jack Reach...

Philipp Meyer

Fiction Writer Known for "The Son" and "American Rust"

Gayle Forman

Young Adult Author Best Known for "If I Stay," Which...

Jim Butcher

Best-Selling Author; Known for The Dresden Files Series

Bob Shacochis

Acclaimed Novelist and Professor; "The Woman Who Los...

Claire Messud

Novelist and Literature and Creative writing profess...

John Barth

Novelist and Short-Story Writer

Melanie Benjamin

Bestselling Author, Library and Book Club Favorite

Kathy Reichs

Bestselling Author, Forensic Anthropologist Producer...

Diana Gabaldon

Author Best Known for the "Outlander" Series of Nove...

Emma Donoghue

Playwright, Literary Historian & Novelist Known for ...

Erin Morgenstern

Author of "The Night Circus," Community-Read and Boo...

Pico Iyer

Travel Writer, Essayist, Novelist, and Author of "Th...

Gary Paulsen

Prolific three-time Newbery Honor-winner, Hailed as ...

Pierce Brown

Author of New York Times Bestseller "Red Rising"

Charlaine Harris

New York Times Best-Selling Author of the "Sookie St...

Karen Russell

Author of the Acclaimed Bestseller "Swamplandia!"
More like Rainbow