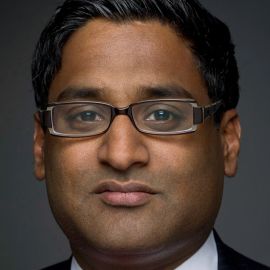 Ramesh Ponnuru is Senior Editor of National Review Online. In addition to his position at National Review Online, Ponnuru is the author of The Party of Death: The Democrats, the Media, the Courts, and the Disregard for Human Life. Ponnuru details in his book how the popularity of controversial debates such as abortion, euthanasia, and cloning represent the party of deaths mission to narrow the circle of human beings with a right to life. Ann Coulter exclaims, Armed only with truth and logic, [Ponnuru] takes on Hillary Clinton, Howard Dean, Barbara Boxer, Ron Reagan, the press, and the U.S. Supreme Courtand hes the last one left standing. Ponnuru graduated summa cum laude from Princeton's history department, was a fellow at the Institute of Economic Affairs in London, and a media fellow at Stanford University's Hoover Institution. Ponnuru has appeared on CNN's Inside Politics, NBC's The McLaughlin Group, CNBC's Kudlow & Cramer, PBS's The NewsHour with Jim Lehrer, Fox News, and NPR's Morning Edition. His articles appear in numerous newspapers including the New York Times, the Wall Street Journal, the Financial Times, Policy Review, The Weekly Standard, Reason, and others. Michelle Malkin hails Ponnuru as one of the nations most penetrating and lucid young conservative thinkers, adding that he makes a thorough, reasoned case for respecting life. Ramesh Ponnuru has given us the most significant statement on the need to protect human life since Ronald Reagans Abortion and the Conscience of a Nation.Peggy Noonan, Columnist, Wall Street Journal.
Click Here to register and get pricing on booking Ramesh Ponnuru for your next event!
Links
---
Get notified of new talks and events.
Follow