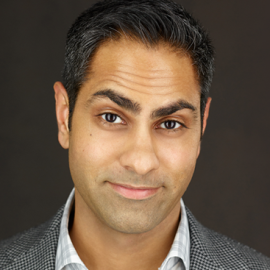 Ramit Sethi graduated from Stanford University in 2005 with bachelor's and master's degrees in technology, psychology, and sociology. He is the founder and author of IWillTeachYouToBeRich.com, a blog on personal finance and personal entrepreneurship, which hosts over 175,000 readers per month and has been featured in the Wall Street Journal, New York Times, and NPR. In addition to his blog, he speaks on personal finance and entrepreneurship across the country. His book, I Will Teach You To Be Rich, will be published in January 2009. Ramit is also the co-founder and vice president of community marketing for PBwiki, a venture-backed Silicon Valley startup.
News
---
I quit these 3 bad habits and it doubled my productivity
Let's start off with an uncomfortable truth: You don't need yet another New Year's resolution.
If we're honest, didn't we do the same thing last year? What happened with "writing a blog post every day" or "finally starting that business"?
Related Speakers View all
---
José Colucci

José Colucci, a Health & Wellness lead for IDEO in B...

Maria Popova

Editor of Brain Pickings

Valerie Coleman Morris

Emmy Award-Winning Journalist

Kine Corder

Kine Corder is an Author and Speaker that helps peop...

Deadmau5

Progressive-House Music Producer and Performer Best ...

Jordan Goodman

Former Wall Street Representative for Money Magazine

Alexis Ohanian

Partner at Y Combinator; Co-Founder of reddit, Entre...

Dr. Heather Knight

Creative Inventor & Specialist in Human-Robot Intera...

Chase Jarvis

Award-Winning Photographer & Director; Fine Artist; ...

Jon Acuff

Lead Pastor, Christian Speaker; New York Times Bests...

Lisa Ling

Executive Producer and host of This is Life on CNN

Yoni Bloch

Co-Founder and CEO, Interlude

Dr. Mehmet Oz

Renowned Doctor, Host of "The Dr. Oz Show," Profess...

Stacy Spikes

Co-Founder, CEO at MoviePass

Richard Kerby

Senior Associate at Venrock

J.E. Skeets

NBA blogger/podcaster, #TBJ

Brene Brown

Professor at the University of Houston; Bestselling ...

Margaret Cho

Comedian, Actress, Author

Becky McCray

Retail store owner and cattle rancher

Ron Wyden

U.S. Senator State of Oregon.
More like Ramit