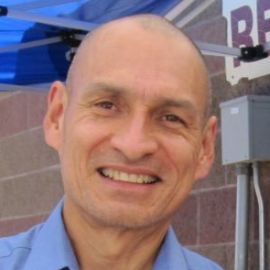 As the senior scientist and director of the Food and Environment Program at the Union of Concerned Scientists, Ricardo Salvador works with citizens, scientists, economists, and politicians to transition our current food system into one that grows healthy foods while employing sustainable and socially equitable practices.
Before coming to UCS, Dr. Salvador served as a program officer for food, health, and well-being with the W.K. Kellogg Foundation. In this capacity, he was responsible for conceptualizing and managing the Foundation's food systems programming. He partnered with colleagues to create programs that addressed the connections between food and health, environment, economic development, sovereignty, and social justice.
Prior to that, he was an associate professor of agronomy at Iowa State University. While at ISU, Dr. Salvador taught the first course in sustainable agriculture at a land-grant university, and his graduate students conducted some of the original academic research on community-supported agriculture. He also worked with students to establish ISU's student-operated organic farm, and with other faculty to develop the nation's first sustainable agriculture graduate program in 2000; Dr. Salvador served as the program's first chair. Dr. Salvador also worked as an extension agent with Texas A&M University.
Dr. Salvador has appeared on MSNBC's Melissa Harris-Perry Show and has been quoted in The Boston Globe, The New York Times, Politico and many other outlets. Dr. Salvador was named a 2013 NBC Latino Innovator and received the James Beard Foundation Leadership Award in 2014. He was also an author of a 2014 op-ed in The Washington Post calling for a national food policy, which is changing how many think about food and farm policy.
Dr. Salvador earned a B.S. in agricultural science from New Mexico State University. He holds an M.S. and Ph.D. in crop production and physiology from Iowa State University.
Click Here to register and get pricing on booking Ricardo Salvador for your next event!
Videos
---
Get notified of new talks and events.
Follow
Related Speakers View all
---
Mel H. Abraham

He has a riveting presence, created by his absolute ...

Milt Abel

Milt Abel is a corporate-clean stand-up comedian tha...

Mike Abrashoff

Former Commander of USS Benfold and Author of "It's ...

J.J. Abrams

Director, Producer, Writer, Author; Known for His Wo...

Melvin Adams

Former Harlem Globetrotter with a Passion for Reachi...

Kirk Acevedo

Actor Best Known for His Roles on "Dexter," "Band of...

Jose Antonio Abreu

Founder of El Sistema, Which Helps Venezuelan Childr...

Carol Adelman

Carol Adelman is a senior fellow and director of Hud...

Newton Aduaka

Newton Aduaka's award-winning Ezra, told through the...

Janus Adams

Award-Winning Journalist

Jenoyne Adams

African-American Novelist.

Khandi Alexander

Khandi Alexander (born September 4, 1957) is an Amer...

Shaun Alexander

NFL Great

Laila Ali

Undefeated 4 Time World Champion Boxer 24-0 with 21 ...

Alan Alda

Actor, Writer, Science Advocate, and Director

Adewale Akinnuoye-Agbaje

Fashion Model & Actor Known for "Lost," "Oz" & "Suic...

Jane Alexander

Actress and Former Director of the National Endowmen...

Bruce Aitken

Bruce Aitken was born in Invercargill New Zealand wh...

Gary Aldrich

On Independence Day, 1996, former FBI Agent Gary Ald...

Marilyn Albert

Dr. Marilyn Albert received her PD degree in Physiol...
More like Ricardo