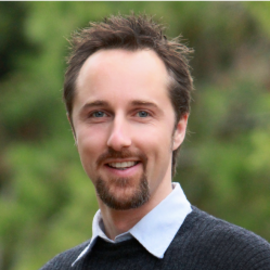 Richard Walker has overcome a lifetime of childhood challenges: from his father becoming a drug and alcohol addict, to living on welfare with his two siblings and single mother, to moving and switching schools every 9 to 18 months, to working 35 hours per week to pay for his education while attending the University of Southern California as a full-time student. Through these challenges he learned to choose happiness and see opportunities for success.
Starting his first company at age 12, Richard is a serial entrepreneur and innovator. As the CEO and co-founder of Efficient Technology Inc, his enterprise forms automation solutions and technology designs are in use by Fortune 500 companies, which currently result in saving thousands of trees annually in paper reductions.
Richard has been a keynote speaker at top universities (USC, Cal Poly Pomona), non-profit groups (Financial Planning Association, National Foundation for Teaching Entrepreneurship, National Association of Personal Financial Advisors) and many corporations (Woodbury Financial Services, Jefferson Pilot Securities, Transamerica).
Richard resides in Redondo Beach, California with his fiance and enjoys writing, public speaking, painting, surfing, snowboarding and travelling.
Click Here to register and get pricing on booking Richard D. Walker for your next event!
Videos
---
Reviews
---
Leads club Meeting 5-24-2012

Great talk on how to change your life with positive changes. Highly recommend.

Martin J. Bauer, III, CPA, CFP
2012.04.15 at USC

Richard is a brilliant speaker who can help me and my peers improve social intelligence. After his seminar, I felt more confident with getting a job offer and making friends at social events.

Peter

Peter Wang
LAX Coastal Chamber of Commerce Business Development Committe

Richard possess great presentation skills. He exudes confidence and serenity despite a rather checkered upbringing. Richard makes the listener feel that he or she too can make the choice of happiness. Particularly effective is the use of photographs from Rich's childhood. This visual aid enables the listener to identify more closely with the speaker. It brings the presentation to a more personal level rather than looking at some generic power point slides.

Samuel Hiatt
LAX Coastal Area Chamber of Commerce

Richard was able to cause me to think in ways I hadn't about finding my true beliefs. His methods are thought provoking and I believe you can really find your true happiness, if you decide to follow the simple steps.

Christina Neiwirth
Cal Poly Pomona Entrepreneurship class May 12, 2011

You were extremely inspiring, positive, and an natural thrive on how to improve others lives. I appreciated all of your stories and your love for what you do.

Chandler Jones

· Cal Poly Pomona
To my entrepreneurship students on May 12, 2011

You were candid, self-effacing, funny, engaging by speaking in a way that they could relate to, willing to open yourself up (rare) and be accessible and answer any questions, told a lot of stories from his early years as well as recent developments in his business, and kept the material highly relevant. A natural speaker.

Stanley Abraham

· Cal Poly Pomona
May 5th, 2011 - PebbleStorm event, Los Angeles, CA

I really felt you believed in the subject matter being discussed and I felt connected with your 'style' in that you are authentic, believable and honest. You gained my trust by sharing some personal stories which were the foundation of the ideas you spoke about and you speak in a very clear and interesting way.

Unlike so many 'motivational' speakers I have listened to who seem to be making it up as they go or are giving a canned speech done hundred's of times before, the information seemed to organically flow from you which was powerful and compelling.

Todd Brown

· West Post Digital
BNI Presentation

You were extremelly enthusiastic about your speech!

Luciana DeGrazia

· Melaleuca - The Wellness Company
BNI Meetings

When you speak, you have a way of capturing one's attention.

Troy K

· BNI
April 6, 20011 at BNI Meeting

Richard is a wonderful speaker who is very pleasant on the ears. He is concise and to the point and makes you want to hear more. He's entertaining and professional -- I would recommend Richard as a speaker to any professional group.

Sincerly,
Brian Dalziel

Brian Dalziel
Coastal Business Alliance - a chapter of BNI on March 30th

Rich has a very engaging natural style of speaking - excellent energy and fantastic command of the English language.

Peter Evans

· theradioexperts.com
BNI meetings

Richard is a natural leader. He has been President of our BNI chapter since I joined 5 months ago and has consistently demonstrated a willingness and ability to lead the group. He speaks well, uses proper grammer and commands attention by using good communicative skills, such as eye contact and receptive body language. His ability to communicate clearly flows from these skills, and he has been an excellent role model for me as I continue to learn these same skill sets and refine my presentation skills.
--Matthew A. Tafoya, President and CEO, Cactus, Inc.

Matthew Tafoya

· Cactus, Inc.
BNI Meeting, Hermosa Beach, CA

I liked your enthusiasm and organization. Your examples were inspirational and your presentation style is authentic and sincere.

Charlotte Marshall

· CharMarPR Productions
BNI Keynote

Richard was awesomely energetic and so authentic. I could feel his passion in his topic. He brings a great presence, powerful story and sharp teachings to his presentations. I HIGHLY recommend him.

Aaron Ross

· PebbleStorm
Get notified of new talks and events.
Follow
Related Speakers View all
---
Roberto Alas

Reaching and identifying the potential in every sing...

Michelle Courtney Berry

Breakthrough Expert, Founder and CEO of LifeFlowPlan...

Melissa Pierce

Filmmaker, Risktaker, Innovator, and Idea Pollinator

Pam Moore

CEO & Founder Marketing Nutz, Social Business Strate...

Ron Broussard

STRETCHYOURSELF

Micah Solomon

G5vdOD <a href="http://jyiqjbcrcjqd.com/">jyiqjbcrc...

Keisha Owens

Accessible technology, performance improvement, moti...

Marti Barletta

Speaker, Consultant and author of Marketing to Women...

Melanie Szlucha

My motto: "Let's Get Your A** a JOB!" says it all!

Tim Houston

Bestselling Author, Speaker & Entrepreneur who makes...

Knauer Ulrike

You will have fun and learning about High-Performanc...

Suncera

She is currently a freelance writer for Rolling Out ...

Bill Jensen

Simplicity at Work Expert

Marilyn Tam

Founder and Executive Director of Us Foundation; for...

Elizabeth Bowman

Innovatively Organized is a Seattle-based organizing...

Jeffrey Hayzlett

Former CMO, Eastman Kodak Company & Bestselling Auth...

Stefan Mumaw

Stefan Mumaw is the Creative Director and Provider o...

Luca Sartoni

Media professional and photographer for passion

Angel Tuccy

Denver Radio Host, Best Selling Author, & Do-It-All Mom

John Mayfield

Simplified Technology Solutions for Improved Profita...
More like Richard