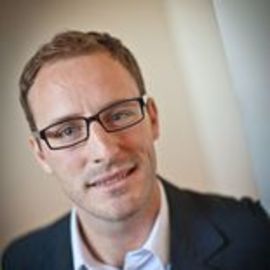 Riley Crane is the Society in Science 'Branco Weiss' senior postdoctoral fellow in the Human Dynamics Group at the Media Lab at M.I.T. His research is focused on understanding the hidden patterns behind collective social behavior. A physicist by training, he has spent the last several years quantifying human behavior and social interactions, and has applied his models to such diverse systems as YouTube and the humanitarian response to the Asian tsunami.
Crane is the winner of the 2009 DARPA Network Challenge, a Pentagon-sponsored competition aimed at exploring the roles the internet and social networking play in the timely communication, wide-area team-building, and urgent mobilization required to solve broad-scope, time-critical problems. In addition to his scientific work, he consults for both businesses and government, and has started several companies which harness the power of social networks and social media. He has also built viral media campaigns for books and the United Nations. His work has been featured in The New York Times and New Scientist, and he has appeared on CNN and The Colbert Report.
Crane is especially interested in whether or not there are rules governing collective behavior that can be shown to arise from a detailed understanding of individual activity. Additionally, Crane is interested in developing tools and methodologies for harnessing the vast potential of the human network.
Videos
---
Speech Topics
---
The Science of Engagement: Shaping, Measuring & Driving Successful Interactions
Losing Privacy One Convenience at a Time
Participatory Problem Solving: How the Democratization of Technology Makes Us Smarter
Its More Than Just the Eyes: Putting Attention & Behavior Habits to Work for Your Social Media Strategy
Related Speakers View all
---
Graham Hill

Founder, Life Edited

Jeff Taylor

Founder of Monster.com & Eons.com

Dr. Michio Kaku

World-Renowned Theoretical Physicist

Robert B. Tucker

Best Selling Author "Driving Growth Through Innovation"

Jared Cohen

President, Jigsaw (previously Google Ideas) & Chief ...

Jim Carroll

One of the World's Leading Global Futurists, Trends ...

Dan Ariely

Behavioral Economist, Professor at Duke University, ...

David Eagleman

Neuroscientist; New York Times Bestselling Author; D...

Bill Nye

AKA Bill Nye the Science Guy; Science Communicator, ...

Parag Khanna

The World's Leading Geo-Strategist; Author of Second...

David Pogue

Host of NOVA ScienceNow & Yahoo Tech Columnist

Chris Hughes

Co-founder, Facebook and Editor-in-Chief and Publish...

Daniel Burrus

Technology Futurist and Business Strategist

Tim Sanders

New York Times Bestselling Author; Business Consulta...

James Canton

Business and Technology Futurist and Author, "The Ex...

Tiffany Shlain

Filmmaker & Founder of the Webby Awards

Sarah Lacy

Founder, Editor-in-Chief & CEO, PandoMedia

Jeff Jarvis

Journalist & Media Expert

Barry Libert

Social Enterprise Authority / Author

Richard Florida

Renowned Economist and Author, The Rise of the Creat...
More like Riley