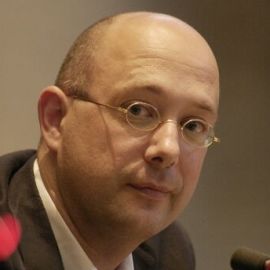 Rob Riemen is the Founder, President, and CEO of the Nexus Institute, a leading international center for intellectual reflection to inspire the Western cultural and philosophical debate. Mr. Riemen is also the editor of the essay journal "Nexus."
In 2004, the Nexus Institute initiated the cultural philosophical debate on European identity during the Dutch presidency of the European Union. Riemen collaborated with the Austrian EU presidency on the conference "The Sound of Europe" in January 2006. Mr. Riemen has lectured widely, including in the United States. His book current book is The Nobility of Spirit. Three Essays on a Forgotten Idea."
Click Here to register and get pricing on booking Rob Riemen for your next event!
Videos
---
Links
---
Get notified of new talks and events.
Follow