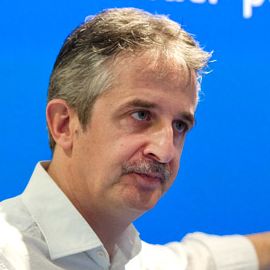 'Good businesses focus on: - People and Teams - Marketing and what customers want - Strategy and Planning
All else is commentary' says Robert Craven.
Robert Craven works with the ambitious directors of fast-growing businesses who feel that they could be doing even better.
As a keynote speaker his style is challenging, honest and goading; free of business school hyperbole he makes his audience think. Robert is based in Bath and works throughout the UK and Europe.
Brief Profile Robert spent five years running training and consultancy programmes for entrepreneurial businesses at Warwick Business School. Running his own consultancy since 1998, he is now one of the UK's best-known and sought-after speakers on entrepreneurship.
'Textbook theories are inappropriate for growing businesses.'
He is not full of theoretical rhetoric; he offers practical solutions - tangible business results. Robert's work on marketing and strategy has been widely published and acted upon by thousands of growing businesses.
His four recent books Beating the Credit Crunch, Bright Marketing, Kick-Start Your Business and Customer is King, are all business best-sellers and have been described as 'truly inspirational' by The Independent.
'Chuck out the theory . and ask if staff get on with each other.'
Also, available for download from The Directors' Centre website - The Start-Up Essays which is a collection of Robert's essays, blogs and book chapters. A practical guide to help you start your business
Robert's track record at helping businesses is very impressive. Add to this his broad experience at board level and you will understand how and why he uniquely adds value to all the businesses that he works with.
'If you keep doing what you've always done you'll get the same results!'
Alongside his numerous speaking engagements, Robert also does consulting work for, and is personal mentor to the leaders of a number of growing businesses in the UK.
'Decide your goals and be prepared to pay the price.'
Robert runs The Directors' Centre, the award-winning management consultancy company.
Click Here to register and get pricing on booking Robert Craven for your next event!
Reviews
---
Business Scene In Bristol 3rd Oct

Very concise and direct. No flannel and fluff in the content, above all it made sense and was different from the standard marketing messages.

Graham Norris
Entrepreneur Country Growth Challenge workshop

Robert is a humorous, inspirational and sometimes to the point speaker. Very enjoyable and loaded me with the enthusiasm to 'go and get things done!'.

Nick Maison
Perth & Kinross Business Growth Week, June 2012

It was particularly engaging. No wasted breath, energetically, succinctly and clearly presented. Made the day, and the week, a great success. Tremendous.

Alan Frost
Entrepreneur Country

Robert was entertaining, informative, motivating and easy to listen to. He was a key part of a great day with Entrepreneur Country

Mark Chandler
Perth and Kinross Council Business Week

It was engaging, relevant, concise and Robert was entertainingly animated. I was inspired by what he said, so much information in such a short space of time

Nikki Brooke
Perth & Kinross Business Growth Week, June 2012

Robert entertained the audience as he made his recommendations interesting and seem as though they were easy to achieve. He had the ability to engage and hold the audience very well. It was intesting that I'd already started carrying out some of his 'action points' prior to attending the session therefore I found this extremely encouraging.

Liz (Elizabeth) Jackson FCIPD
Perth & Kinross Business Week

It was entertaining. There were a number of useful points made. The talk mentioned some actions that I had thought I should make but people kept telling me I was mad and don't do it. The talk also taught me to listen to MY instincts.

John Lindsay
Business Scene

An excellent speaker who really engages with his audience and talks sense!

Steve White

· Thornbury Collections
North East London Business Expo

I've heard Robert on several occasions and I'm always impressed with his talks. Very inspirational. A master of his craft. Sales motivation at its best. So thank you for speaking at the #NELBExpo

N E London Expo
15th May 2012, North East London Business Expo

Robert gave very practical advice which if implemented would help any Professional Services Firm. His book is also very practical and I would recommend it to every PSF.

Stella Hunter
NORTH EAST LONDON BUSINESS EXPO

Robert addressed the needs of small to medium business's

John White
Workshop, Lets Talk Business Preparing for Growth

It was highly encouraging and motivating, Great pointers on How to Win and Excel in your expectations and triumph for FUTURE GENERATIONS.

Carol Etienne
MWB Victoria

Robert Craven is a dynamic speaker where his topics are practical and relevant. There are no frills and academic business thinking. current and usefull business tips that works.
Third time I have heard him speak and will attend more of his sessions and definitely would recommend his sessions

Clive

Clive Whitely
Several Times, 2007,2008, 2009, 2010, 2011

Robert Craven has been there and done it himself. Written the books and probably could sell the T Shirts and the film rights. He cuts straight through the BS.

Robert Craven believes in KISS, Keep it Simple Stupid. Everything he talks about is simple to understand and simple to implement which is what makes it so powerful.

Mark Orr
Ashford, Kent 2003

Robert speaks in plain english and goes straight to the point. He is entertaining and engaging and most of all made me think. Would highly recommend him

claire pitts
Victoria MWB Nov 2011

A clear, succinct and insightful presentation delivered with humour and style.

Phil Pearl
Victoria MWB

First time I've seen Robert and it certainly won't be the last. Very inspirational, infectiously enthusiastic and with great dry humour. A master of his craft. Sales motivation at its best.

Kevin Eggleton
Victoria MWB

Robert was fabulous entertaining fun with lots of useful hints and motivational ideas.... great positivity and enthusiasm and his verve and zest was infectious........... in the best possible way!!! And I guarantee that nobody in the audience lost interest throughout. He clearly held all our attention and we all went home feeling inspired and enthused. And that's from me who is usually pretty cynical!!!

David Taylor
Ashridge Business School and Barclays seminar

Robert is an inspirational speaker but one who keeps his feet on the ground and never losses site of the audience he is addressing. He just cuts through the 'management speak' and comes up with so many intelligent but common sense approaches. He has a great sense of humour and is never patronising. The highest accolade I can give is that I'd like to persuade him to join our team at the springboard !

Robert Hastings
MD The Springboard

Robert Hastings
Mastermind Group, London in October 2011

Roberts delivery is knowledgeable, interesting, fast paced and thought provoking. Robert ensures you start focusing on the key issues which can really make a BIG difference to your bottom line.

Ceri Smith
Peterborough Barclays event

Robert is a provoking speaker with the ability to cut through the c**p to the things that will really make a difference in small businesses.

Nick Campling
Multiple times around the South West

Robert is an engaging speaker that will challenge you to think about how you work 'on' your business rather than constantly 'in' it. Highly recommended

Matt Fallon
Robert Craven's Mastermind Group with The Mastermind Agency

True to form, Robert led the Group from a place of genuine experience, deep knowledge and with a genuine heart felt desire to grow the members' businesses, fast. Robert is a pleasure to work with. Here at The Mastermind Agency, due to unprecedented demand, we are delighted to be launching another 2012 Mastermind Group with Robert. Watch this space for details...

Paula MacArthur

· The Mastermind Agency
London October 2011

Roberts diverse real life business experience mixed with academic research makes his perspective and consultancy highly valuable. I would recommend to anyone who can take the opportunity to have him consult on your business. I've witnessed and experienced Robert's professional approach with people as a presenter, facilitator and coach.

Karl Pearsall
Barclays Bank event in Newcastle

Robert is an inspirational speaker with added values. He motivated the audience with his sound knowledge of the topic and an oratory gift that is of no bound. More importantly, he made himself very easily accessible.

Engr 'Yomi Fowode MSc CEng FBCS CITP
Barclays invitation

It was quite motivational it also gave me a different slant on things. It was also fast paced which is good because it keeps it interesting

Eddie Black
Barclays Mobile Events, Carlisle United

Robert was enthusiastic and made everyone feel like getting off their backsides (quite literally in some instances) and doing something. His talk was succinct and insightful and highly motivating.

Graham Whittaker
22 September 2011 at Barclays event at Carlisle United ground

Robert provided the information he delivered in an enthusiatic entertaining way which made the learning experience feel like a natural task

Kirstie Somerville
Small business day - September 2011

Robert is an engaging and entertaining speaker, he also delivers his message in a clear, memorable and succinct manner. His presentation is delivered from experience, not theory.

Enjoable and outstanding

Ian Morris
Various Barclays business workshops and seminars such as "Let's Talk More Profit"

He speaks authoratively on essential business issues with expertise that is supported by 'Been There Done It" entrepreneurial experience, acedamic rigour (Warwick Business School) and market leadership (The Director's centre).

Julian Rowe
Barclays Seminars

Having seen Robert speak at variety of events I've always found Robert to be incredibly insightful and passionate about the topics he discusses. Working with him rececntly on my own business has been an absolute pleasure.

Kieron Botting
Robert has spoken at a number of events I have organised.

Inspirational, innovative and passionate. Robert manages to combine good common sense information on business with a light and humorous approach. Nobody falls asleep when Robert is on his feet. I've always enjoyed working with him.

Denis Palmer
Growth Challenge Event, 17th May, Nottingham

Robert is a highly engaging, humourous and personable business speaker. He challenges and inspires SMEs to punch above their weight to increase their competitiveness and growth. He is a pleasure to work with and has an impressive track record delivering events to businesses across the UK. I would have no hesitation of recommending Robert to other event organisers.

Anna O'Kane
Rob is the organiser of the Save Wooley Campaign to prevent unauthorised and inappropriate landuse impacts in an area of outstanding beauty.

Robert has an excellent understanding of the the law relating to Areas of Outstanding Natural Beauty. He has communicated the issues cleary to people and greatly empowered them to protect their environment by responding to planning applications. He has conducted the campaign with the interests of local people and the wider community at heart

Peter Essam
I have heard Robert on multiple occasions

Robert is a clever and genuinely accomplished business Expert who talks from years of experience and a deep understanding of what makes businesses succeed or fail. Highly recommended.

Paula MacArthur

· The Mastermind Agency
I haven't heard him speak, but he has organised a high profile and successful on-line petition to prevent development in the Woolley Valley, a beautiful and protected area just outside Bath.

Robert Craven is eloquent, deep-thinking and determined.

Linda Allan
Royal Naval College - Greenwich

Robert was knowledgeable and entertaining. He made the delegates answer tough questions of each other which really provoked thought and conversation. He helps you see the wood through the trees and bring you to those 'penny drop' moments

Graham Hall
Barcalys Seminars

Robert really knows his stuff and delivers it in an entertaining and enthusiastic way. He gets commitment from his audience, and supports what he says with examples and case studies. I've heard him speak several times and always take away something new.

Brian Holt
Barclays small business events

Very enthusiastic delivery backed up by good business examples and practical tips. The audience were very engaged.

Ros Leah
Many Times

Robert addressed our topinterim.com board level independent transformation leaders at our very first members continuous professional development forums in the Winer of 2001. We have held as many as 18 events a year around the country since then , but what he talked of then, the personal brand, created a lasting impact.A great and stimulating speaker. A wise friend. The art of oratory in the internet world to sway people and shift their thinking and thus behaviours is definitely not dead.Robert is an 'orignial'and highly recommended.

David Pinchard
Barclays event in Newcastle

Robert is truly inspirational. You cannot fail to be motivated by his presence and his wisdom. I am convinced that any business who is determined to adopt his 9 points for success will see their results transformed.

Roberto Lucherini
Jan 2011 Grange St Pauls

Very passionate, engaging, challenging and lots of action points which Robert persues doggedly even after you have left the seminar, so you cannot "fall asleep at the wheel" afterwards - very practical stuff, a breath of fresh air. Boundless energy!

Chantal Coady
Barclays events and one-on-one sessions

I have used Robert on a number of occaisions when my own business has needed a burst of inspiration to get me over a stumbling block and he's never failed to impress. The large events are only a taster of what he can offer - well worth speaking to Rob or one of his team on an individual basis.

Ed Ross
Various Barclays events in Sheffield

Robert has a very easy manner with his audience. He is a story-teller, an entertainer, and very clear in how he communicates the information that can transform your business. I am often surprised by the simplicity of what he shares but amazed how much of it I haven't been putting into action!

Bea Marshall
Barclays More Profit and start-up events (Bham City FC and WBA) a few years ago

I have attended Robert's events several times in recent years and am always impressed, learning at least one new thing on each occasion.

Robert's personable style, practical examples and realistic business language enabled the message to be driven home and remembered for years afterwards. His delivery style and content are very effective as everyone can find something in it for them.
The group work was useful as were comments made about our business cards during the interval.
The lasting message was the closure of the presentations with a call to action - in that all the positive thinking in the world won't make a difference to our businesses unless we take the necessary actions.
I regularly recommend his events to others.

Janette Rawlinson
Barclays Bank event, Solihull - Fri 8 July 2011

Robert stayed focused on a manageable number of real day-to-day problems that the audience could relate to, and many of which we could all fix. I liked the simplicity of the opening suggestion that you get on a train with your business partner, no phones, no laptops, just pen and paper, and you spend the outward journey working out what you have to do, then turnaround and go back to do it. I came away with my three actions but most of all the stark reminder for most SMEs that it is down to me. There was also the right balance between tutorial and audience engagement. Spot on for a lunch-time session.

Robert Blackadder
The Barclays "Driving Your Business Forward" event

I have heard a number of people speak at similar events but found Robert's talk to be refreshingly focussed and succinct.

In just an hour and a half I left with two things:

(a) Relief that despite these difficult times we were doing a number of things right.

(b) A clear idea on what else my business needed to focus on.

Some of his advice seems obvious but it is amazing how often we overlook the obvious. I could also associate with some of his anecdotes.

A very worthwhile session. The event exceeded my expectations.

Clive Margetts
Barclays sponsored event on more than 1 occassion

Excellent, have been to see him speak more than once and will go again. Very motivational and really get's to the heart of the tools to grow your business. Practical!

Carys Evans
Seminars and Networking Forums

I have known Robert for several years and every time I see him in action delivering his mantra, never fails to grab his audience with thought provoking and no nonsense content. His pragmatic approach to Marketing is fresh replacing boring text book theory and really does facilitate solutions, change and focus on your business. You be be enthused with his passion!

Graham Tom
Business Link Seminar, Bolton

I found Robert's humourous and very practical approach both insightful and inspiring. Some nuggets have proved really helpful in doing business in the recession.

Graham Sivills
Barclays Truck Event, Cardiff

Relevant, provoking, to the point.
Delivered with humour, but stilleto like!
Certainly keeps you awake too.
This is the third or fourth event of Robert's that I have attended. All have been first class - I never miss an invitation.

Peter Brooks
A number of times since 1995, first at Warwick Business School and recently at a business seminar in Nottinghamshire

Robert gets straight to the core business issues in a straightforward way and offers common-sense options to address everyday issues. Refreshingly jargon-free!!

Bob Bhabra
A couple of occasions around the W Midlands

I have run many training courses and talked on Marketing and Strategy, what Robert offers is straightforward, simple communication of what the issues are and what your should do. Easy going but thought provoking, you come away feeling you can really improve your business

Stephen Martin
Vistage CEO Groups, Spring 2011

I read an article Robert had written for a management journal and immediately contacted him to speak to the Vistage CEO groups that I run. He lived up to his promise - a fascinating workshop on the subject of Disruptive Marketing.

David Adams

· Vistage International (UK) Limited
Warwick University a few years ago -

Relevant - Clear - Engaging. He comes across as what he is: In touch with real business and a nice regular bloke - only brighter.

Suresh Munyal
Barclays Truck Event

It was relevant, interesting and thought provoking - and a little fun.

Whitewater Graphics
1994 onwards I booked Robert as a lead speaker at many West Midlands events for business managers and owners.

Robert's an original thinker, so you always come away with something new and thought-provoking. He's inspirational, a confidence-builder, and a real pro. He seamlessly adapts content and style to give each audience its best possible outcome, and that shows in his very high ratings in our audience surveys.

Harry Stott
At various Barclays Bank and Business Link events

Entertaining, knowledgeable, different.

Eric Woodhams
Vistage event 2011 on Disruptive Marketing

Inspiring and content rich, Robert talks a lot of pragmatic, powerful sense. If you take action on 2 or 3 of your insights from his session, I think it will make a radical difference to your business.

Carole Gaskell
Business Scene/Bristol Connections 2010

The presentation Robert Craven gave on marketing was a revelation. He spoke with clarity and relevance. I am only sorry that he wasn't allowed more time as I was really enjoying listening to him.

Ian Williams
some time in 2010

Practical, entertaining and challenging! Gets you to think and focus on pratical steps that will help you manage your business effectively.

Mustapha Koriba
Friday 1st July 2011 at the Barclays "Driving Your Business Forward" event in Syon Park.

Short, sharp & too the point! Amusing, intelligent, insightful & inspirational

Christopher Durkin
Barclays Event

Innovative and Inspirational. Cuts straight through to the key responsibilities of Company Ownership/Directorship with clear actions and timelines i.e. an awakening sense of 'now .. today'!

John Mack
Growth Challenge and events for Barcalys bank

Clear, constructive advice and discussion that aims to empower the business owner and direct them to make and take specific actions. He also happens to be a very engaging speaker, which helps.

Clent Life Science
Various Barclays Events

I have attended many of Robert's events organised by Barclays and Business Link and I have always found them to be interesting, entertaining and most importantly useful. His practical approach to marketing provides the tools and techniques to develop the business and provokes thought to why we are in business. His example using Pareto's Principle or the 80:20 rule is invaluable and I personally use it on a regular basis.

Al Brooking
Various Barclays Events

Be prepared for a little of the theatrical but a lot of common sense and REALLY good ideas from Robert Craven. He is not afraid to grasp the nettle and deal with both the large and small problems of running a successful business. Some of his ideas and advice are definately outside the mainstream but despite (or becuase of) this, they do work - I know, I've tried them in my own business!

Just don't take anyone called "Flossy" with you - they'll feel persecuted!!

Martin Williamson
April 2011

Robert's enthusiasm comes through so strongly that you can't but take his message on board! I suppose that his twinkly sense of humour helps too!

Mike Armitage
Birmingham 2010

Robert is one of the best speakers I have come across in business. His unique, yet 'common sense' approach grabs peoples attention. And once he has your attention, he never lets go! Engaging, inspiring and very passionate about helping businesses achieve their goals. Great sense of humour too!

Paul Griffiths
Basingstoke 2009

Roberts engaging talk grabbed your attention from the start. His logical approach to the subject provoked thought and made you question your direction and strategy

Peter Ash
Several occassions

An inspiring speaker who offers lots of marketing and financial, common sense, easy to carry out ideas which improve the state of your business.

Ceri Smith
Longbridge, Birmingham. 2010

Both Robert's interaction with the room and passion for the subject meant that it was very hard not to be engaged from the very beginning. It was also refreshing to have some clear cut answers and actions to put into place in order to improve our business.

Hannah Wolsey
2009 at the Concorde Centre, Manchester Airport

His messages came accross with passion and interest in a measured way all can both understand and keep up with!

Robert Carroll
Spring 2010 Bristol

Clarity of message, mixed with a world wise enthusiasm, ignited by conviction, make Roberts events explosive. Not just a kick start to business but the kind of take home that tattoos on your eye. Brilliant!

Tom Herbert
Bristol 2010

Engaging and innovative approach to marketing. Robert speaks clearly and passionatly about a subject that he knows intimately. He has that rare knack of being able to communicate a complicated message with clarity and confidence.

Robert Hook
8 June 2010 at Bank House Hotel in Worcester

Robert Craven has a unique manner of presentation and is informative and interesting. He has demonstrated that his methods work in business and so his comments had direct relevance to the business of which I am a director. I have found the courses that i have been on where Robert was the keynote speaker of lasting help to my business.

Paul Beer
Back in 2006 and 2010

Robert is a very entertaining and thought-provoking speaker.
I have seen him speak twice now and would recommend him as a speaker. I subsequently joined his Director's Centre business club to gain more valuable advice.

John Showell
Various Barclays events and some of his own events.

I have never tired of attending events when Robert is speaking. I always come away feeling totally inspired. "Dont work in the business, work on the business" always sticks in my mind - I am still working on that one though! Robert is an excellent speaker on all levels, he has a way of captivating the audience with his presentation and humour, he also really knows his topics.

Sue Hill
At a Barclays Bank event

Robert engaged with the audience from the start and was energetic and thought provoking. I have never left one of his sessions without new ideas on how to improve my business

Peter Golding
CIMA Members in Practice Conference 2010

Robert was the keynote speaker for the 2010 CIMA Members in Practice Conference. He's a fantastic speaker and through a combination of entertainment, humour, and really insightful content he holds the audience in his hand.

Antony Holdsworth
Business scene event

I found robert to be an energetic speaker with a fresh, no nonsense style. He engaged the audience and left me with a clear message on actions to take to improve my business.

Mike Rees
Various Barclays events

Robert Craven is one of the most thought provoking and challenging business speakers I have ever heard. In a world of mediocrity his style and unique humour will challenge you to take action. Phrases like "sack Flossy" "put up prices" and "sack half your customers" really strike a chord. Has made me rethink how I do business.

Mike Hunter
23rd May 2011 - Barclays Business Seminar

Robert is an excellent speaker putting into words the challenges every business and coming up with some simple but practical suggestions to raise your game....He's a pleasure to listen to & leaves the audience inspired, motivated & charged up to move on....

Janet Bebb
A number of London Based Barclays events

As a co-host I knew I could rely on Robert to engage the audience and provide some really worthwhile tools which would enable business owners to take action to improve their business performance. That in turn assisted our relationship with them.
If you are in a similar position I recommend asking Robert for his suggestions on maximising the potential of the event - he will reel off a list of ideas which can really make a difference.

Mark Bower
London 2011

It was highly entertaining and informative.

It made me think, it made me change, it made me take action to improve my business.

Albert Wright
30th March 2011 - Nottingham, UK

I particularly liked the structure Robert used in his talk - no waffle, straight to the point 10 Fast Action Tips to more profit. He clearly knows his stuff, gets it across in an efficient and understandable way and at the same time adds some entertainment as he goes. I very much enjoyed the flow and value of content. Thank You! :)

Carl Kilvington
Oct 2010, Barclays Bus Reading

Robert provides simple and pragmatic advice to SMBs. His approach is very engaging and his audience were entranced from the very beginning.

tanya shirlow
Barclay "Driving Your Business Forward", Finchley

Energetic, imformative and always good to get audience participation right at the start of the talk.

David Hodge

· East London Small Business Centre (ELSBC)
18th May, Middlesbrough

I found Robert's style and enthusiasm engaging and his knowledge and advice very insightful. I will be implementing aspects of his business strategy when we launch.

Paul Donaldson
London, spring this year.

He really knows what he is talking about, and also has a business growth consultancy that more or less guarantees that they can make companies grow. That shows real confidence!

Martin
Barclays Truck, Sheffield

I have heard Robert speak on numerous occasions and he always delivers practical, down to earth advice in a humorous and entertaining manner. I think one of his greatest strengths for dealing with SME's is the fact that he has been there, done that and got the t shirt.

Garry Thickett
Barclays Bank Event, Mmanchester

It's amazing how logical, straight thinking business decisions evade even the best of us!!!!
Robert Craven presentations put you in focus - Ralaxed and engaging - If you have the chance attend one of his presentations DO IT - Time and money well spent!

Mike Sharp
I have heard Robert Craven talk several times now over the last 10 years or so.

He is always entertaining and you go away with ideas you can implement immediately. Very down to earth and practical, delivered with enthusiasm and energy!

Lyn Cecil
Barclays Bank Event, Nottingham

A thoroughly enjoyable and inspirational session with Robert! His points are considered, relevant and delivered with the kind of passion that makes you want to take action. I attended this event at the very start of my new business - but it's contents were relevant to all. Totally enjoyable!

Nicola Piercy
Barclays Business Bus Seminar, Gloucester.

Robert is immediately engaging and it is impossible to "glaze over" in one of his seminars. (l have attended one before so l had some idea what to expect.
He imparts his practical experience with humour and a sense of urgency.....and he inspires you to go back to your business and really make a difference. His advice is easy to put into practice and although this particular seminar was quite short, so much useful information was covered.

Donna Chaney

· Animal Artistry
Barclays event at Gloucester RFC

Robert's enthusiasm is really infectious whenever you see him.
So many ideas which are straightforward to put into real action. Everyone who attends will tale away a nugget or two to improve their business. Well done to Barclays to on a well organised event.

Ian Hind

· AGD Systems Ltd
Norwich (twice)

What made Robert, one the the best speakers I have heard, is that the advice is sound, simple and quick to do. From the first talk, I got rid of under performing customers, raised prices for those were out of my area and from the second talk, I employed two people and now focus the profitable (but boring) sectors of my business.

He is energetic, enthusiastic - but its the bits of NLP etc that are in there to make you go away and DO SOMETHING, that matters to me.

ianstirling

· Objectives Reached
Manchester City Stadium

It was energetic, enthusiastic but also very motivational. The words 'Common Sense' also spring to mind, which is something we seem to be lacking at times.

Glen Lockett

· Henshaws Society for Blind People
Barclays Business Seminar, London

Robert made me sit up, think, listen and act. He's totally inspiring and his advice invaluable - he's been there, done it and proved himself, so you feel you can trust him and his advice.

Lorrae QJS
Barclays Truck event, Bristol

Roberts enthusiasm and humour always leaves me feeling positive and full of ideas to act upon to improve my business.

Zoe Wilkins

· Truly Bespoke Furniture
At the back of a (Barclays) truck

The talk was very practical and provided businesses with a quick and short burst of information/advice which was easy to assimilate and put into practice.

Kiley Tan

· Wosskow Brown
AT THE BARCLYS BUSINESS SEMINAR IN NOTTINGHAM

YES QUITE WELL, GREAT GUY AND GOOD TO LEARN SOME BUSINESS TRICKS FROM

Chris Ade-omooba
London 2009 and 2011

Roberts talks have motivated and inspired our business. His advice and no nonsense approach is great and we feel it's helped us improved our profits!
We'll be back for more! Thanks Robert

Bonnie
Barclays Truck event

Robert's presentation was clear, precise and very informative. He concentrated on the key issues, without straying into too much detail, which was perfect, I left the seminar understanding what my future objectives needed to be. Robert also kindly took the time to spare a few minutes after the event to discuss my particular business requirements.

Jerry Marshall

· Reflect Design Direction
Pembroke Dock

A very stimulating speaker. After the event I found the courage to implement his suggestions and it has made a dramatic and lasting difference to our bottom line.

Stewart Thompson

· Marina Telecom Ltd
Barclays Busines Seminar, Poole, Dorset

Short, sharp to the point and interactive, plenty of opportunity to ask questions and chat afterwards on specific detail. So impressed I brought the book!

Simon Wood Power

· Oval Stainless
We have enjoyed Robert as a speaker for Clear Vision on a number of occasions

Robert maintains a 'no nonsense' approach to advising business owners on how to market and develop their businesses. The insights he offers are frank, challenging and entirely practical for the owners of small businesses. Robert is a man who both inspires and engages.

Rob Walsh

· Clear Vision Accountancy Group Limited
Barclays Truck Event Middlesbrough

Robert is always a very engaging speaker. You leave feeling rather like you have spent a couple of hours with a very good and motivational sales manager!

Sue Donkin
Barclays Truck Event, Gloucester

Robert was entertaining, challenging and informative. His energy was infectious and the content of the presentation genuinely useful and appropriate. I wish I could have him join us for coffee every day for a top up!

Wendy Clifford

· Tripod IT Limited
Barclays Bank Event Exeter, Network Central Cardiff, Swindon, Bristol

I have been truely fortunate to have heard Robert on several occasions and each time have come away feeling inspired & prepared to deal with business issues with much more confidence.
Robert is unlike so many other speakers and has the audience in his hand from the start. Inspirational & also has a great sense of humour. Do not miss a chance to see him!

Debs Robbins

· Network Central
Barclays Business Presentation, Hillsborough, Sheffield 23rd May 2011

Robert had a good informed way of relating to the audience. The things that he spoke about and the message that he was getting across to the audience were understandable and not over the top.
Robert creates a very good rapport with the audience, in doing so he creates a trust which in turn allows the audience to relate and accept the information that is passed on.
The right amount of humour and interaction creates a good base to glean the facts that Robert is passing on.

Adam Glossop

· Quad Computer Services Ltd
Barclays Bank event,Northamptonshire 2011

Robert cuts through the tired conventions of the seminar circuit and never resorts to lame metaphors when dissecting business. You come away with a succinct insight into the way your business would be more effective, process driven and ultimately far more successful.

John Rose

· Wonkana Productions
Barclays Mobile Event, Bristol

Robert talked enthusiastically about running a business. I left event feeling enthused and excited about the road ahead. There was such a lot of information in such a small amount of time.

Louise Goulding
Barclys Bank event, Cambridge UK, April 2011

I had seen Robert once before, so my expectations were high. Nevertheless, his natural passion and the ease with which he gains the full attention of his audience meant they were exceeded; and of course... Robert does love his accountant!

Gordon Round
Barclays Seminars at Scotch Corner 2009, Leeds 2010

Robert is enthusiastic and passionate about his subject. He involves the audience and he holds your interest. I follow him on Twitter @Robert_Craven because he provokes you to stay focused and ask yourself where can I improve?

Anne Ma'aye
Barclays Mobile event, Cambridge, 2011

Over the years I have had the pleasure of listening to several speakers about business development, the does and don't. I can only say that of this list of people I can truly only remember the names of two of them. Why? because of the passion, content and the way they involved the audience. Robert makes you think about what you are doing and how you are doning it. Keep it up Robert.

Andrew Kent FIMI

· Andy's Kars Ltd
Barclays Seminar, Gloucester

Robert Craven gave a presentation which got to the heart of the message, was entertaining, and engaged the audience. He came across as someone who knew his subject and a nice guy.

Robin Cook

· FHE Consulting Ltd
Barclays mobile event, Nottingham

Robert is passionate about how to make a business grow and he inpires and enthuses his audience to take action. Even with a fairly limited amount of time, he actively involves the audience, so we're never allowed to be passive listeners.

Karen Kirby

· greenshoot coaching & training
Norwich May 2011 and on 2 previous occasions in Peterborough

I like Robert's relaxed style and always find him thought provoking. I go away with ideas on items, big and small that I need to focus on to make improvements in the business. I have also encouraged others in the compnay to attend his sessions to ehnace their overall business knowledge.

Babs Moore

· Amina Technologies Ltd
Various

I have heard Robert speak several times and he has presented to many of our clients over the years. He always gives insights that are practical and can be applied in real businesses. That sounds easy to do and Robert does make it seem effortless, but he is head and shoulders above most other speakers.

Steve McAteer
southwest based events

Real, relevant and engaging! Robert's focus is on delivering ideas that work. The world need more of those. Recommended.

Masseymo

· thehouse
Barclays Events

His clarity of thinking.

Paul Clegg

· BNI Somerset Wiltshire
I have seen Robert many times over the past 7 years.

Robert is all about no nonsense and useful ideas.Ideas that don't just stay as ideas but can actually be implemented with real results being achieved. The content of Roberts seminars are always good, it is, however, his delivery style that differentiates him from other speakers that allows the audience to truly believe they can make one or two changes within their business to achieve significant results. Try him out and see!

Louise Nicolaou

· Purple Training
May 2011 London

Robert tells it how it really is and what you need to do to get better results. Based on experience and not gobbledegook theory. Hugely entertaining, insightful and motivational. I have been to events where he has spoken and booked him to speak. Highly Recommended.

Dave Clarke

· NRG Business Networks Ltd
Most recent time 17th of June but many times now over the years

I have been fortunate enough to hear Robert on a number of occasions and I really enjoy his enthusiasm and energy and I love the fact that he reminds me to use what I already know.
Robert is the genuine article as he has actually done it all for himself, he has learnt from what he is sharing with us all and he continues to learn which I also admire. If you get a chance to see Robert don't miss it.It will be some of the best time you have ever spent working on your business as opposed to in your business

Angie Petkovic

· apt marketing & pr
Nottingham - Barclays event March 2011

I have heard Robert speak about half a dozen times now, he is by far the best speaker I have heard- His energy is infectious and highly motivating - but so are lots of speakers... what is different about Robert is that what he delivers enables you to make high impact changes to your business immediately. Robert is now working with out business to help us deliver the growth in our business plan.

Serena Humphrey

· Peopleshare Ltd
Accelerated Growth Programme, Barclays Business Profit and Marketing Seminars

I have had the pleasure of listerning to Robert speak at many Seminars and workshops over the years, usually as the Main Presenter or Key Note speaker. Not only is Robert extremely entertaining (one day he will master his juggling) he delivers an unswerving message, imparting a common sense, no-nonsense approach to Business. Roberts's innovative, pragmatic tips leave his audience highly motivated and equipped to apply change to their organisations.

Graham Errington

· Acorn Engineering Limited
Let's Talk... More Profit with Robert Craven

I enjoy Robert's relaxed style coupled with his knowledge and enthusiasm for his subject. I would have no hesitation in recommending Robert to anyone seeking a speaker or presenter.

William Montgomery

· TEN LTD
4Networking Business Breakfast, Ba

As a mortgage broker, it is good to talk to someone like Robert who have their fingers on the 'business pulse'. It was also good to recall with him how my business went from perilous to prosperous as a result of the coaching I had from Roberts organisation.

David Lossl

· The Really Useful Mortgage People
Barclays Bank "Lets talk more profit"

Robert is the first speaker that I've seen & heard who speaks with common sense and offers good practicle advice. I thoroughly enjoyed the session and try and once a year as it helps me remember the important things in business. I am so impressed with Robert's talks that I often quote him when I speak about debt collection or credit control.

David Baum

· Deanem Collections Ltd
Vistage group

Really engaging and easy to understand. The session really fired me up and got me thinking in a very different way about marketing.

Hannah Saxton

· Mychocolate
Many times from 1997 - 2010

Robert is chellenging and engaging. He doesn't talk bulls**t, he doesn't mind being a maverick, and he understands business owners' concerns and goals.

Keith Morton

· morton5275ltd.
Driver Hire Conferences, July 2009 and January 2010

Robert's sessions are entertaining, relevant and insightful. He understands the issues facing SMEs in today's climate. Unlike some speakers, you learn things from Robert that, properly applied, actually make a difference.

Richard Owen-Hughes

· Driver Hire
Cardiff Network Central in March 2011 and again at a Business Scene event 2011.

Because it made good sence and was inspirational, and as a business we put the advise into pratice and it worked!

Rod Major

· Network Central Ltd
I've seen Robert speak many times

I've loved every one of Robert's talks that I've been to, and I've been to at least 3 or 4. His style is relaxed and engaging and he breaks the concepts he speaks about down into simple easy to understand models that any business person can understand - from a start-up to a multi-million pound business.

No jargon, no nonsense, just good straight forward, solid business concepts and advice!

Kyle Newman

· Kyle Newman Inc.
2007 Hartham Park and later in Bristol

Robert cuts straight to the chase with his low jargon approach to both Business Development and Marketing with both a customer and a margin focus.
Highly engaging,thought provoking and propounding the importance of getting the basics right.

Ian Storey

· IAS Associates
Several times

Robert is a real pro. Comfortable with any audience and confident in any situation, he lives his subject and inspires people to do that all important little bit more. He's a star!

Robert Ashton
Peterborough years ago - maybe 8?

He was engaging and captivating but his words made such perfect sense that I remember them to this day. His ability as a storyteller was so good that I remember his frog story to this day.

Jo Parfitt

· Summertime Publishing
Business Growth Challenge - Nottingham - June 2011

It's really no use going to a business seminar if all one feels is a temporary, air-punching high that very quickly dissipates when hitting the grindstone and reality of one's business world once more. Robert's programme is unique, in that it's about identifying and facing up to problems that prevent growth, forcing sometimes uncomfortable change, and equipping directors and business owners with the confidence to carry change through. Witty, memorable and practical, Robert is highly recommended, unless you're the kind of business person that likes to stick your head in the sand.

Simon Pryce

· Skylight Media Limited
In Milton Keynes in 2005 and subsequently

Dynamic and to the point, Robert was excellent about the challenges for people working in and running businesses. A no-nonsense champion, he delivered some tough messages in an engaging way. Having heard some home truths, it would have been easy to get dispirited, but Robert turned that around with straightforward solutions and giving me a sense of being able to take action - success was in my hands. Outstanding - I left (and have done again since) with a clearer picture of what needed to be done, how to do it and a sense of optimism and drive.

Tony Quinlan
CIMA MiPs Conference

I think Robert has a very clear message which he imparts very well in his talks. None of it is rocket science but it is often stuff we just aren't doing!!

Fiona Bevan

· Bevan Financial Management Ltd
Several Business Link & Barclays events

Robert Craven is one of those annoying presenters/ communicators that manages to take well researched concepts and explain them in both a practical and engaging way to people involved in business.
If you want to learn about improving your business then Robert is one of the go-to people.

Highly recommended

Mike Morrison

· RapidBI.com
On several occasions. Attended a Masterclass run by Robert in 2010

Apart from being an inspirational speaker he is able to tease out the problems of small business having been there himself. Solutions are harder to come by but if Robert cannot encourage you to think of them then no-one can!

Francis Toye

· Unilink
Bath 2011

Robert tells it likes it is. He is engaging and he doesn't avoid difficult subjects. He really invigorated our staff and got them thinking about customer engagement.

Jo Bridger

· Eduserv
I've heard Robert speak a few times including for Barclays and Business Link in 2008

Robert is bold, brave and direct. His style is very practical giving his audience things that they can actually go out and apply in their businesses and lives.

Rasheed Ogunlaru

· Rasheed Ogunlaru: Coach - Speaker - Author
Barclays Let's Talk Seminar, Surrey. 2010

Robert is truly inspirational. As a small business owner I felt that he honestly knew the problems I was facing – he has certainly "been there – done that", and his advice was invaluable!

Gina Cherrett

· Cherrett Price PR
Numerous Marketing Talks

Robert is an excellent speaker when it comes to making what can be a daunting subject for many (marketing) very straightforward. People are visibly lifted and encouraged to go away and take action after the event, which is so often lacking at other events.

His real business experience makes his content even more valuable as he has been there and done it in terms of running real businesses (which so few experts can say).

Nick Jervis

· Samson Consulting Limited
17/2/2011 ISMM Seminar, Swindon

Engaging, humourous, interesting, to the point. It's all been said here, and I can but concur with the other reviewers. Robert is a very good speaker, taking important and quite complex material, especially for small businesses, and presenting it in a manner that makes it very simple to understand. First class!

Peter Quintana and Associates

· Peter Quntana
I read an article written by Robert about Disruptive Marketing

I invited Robert to visit the two Vistage Chief Executive groups that I chair/facilitate. The topic of Disruptive Marketing was exactly what I wanted to share with the group members. Robert's ability to understand the members' businesses and tailor his material accordingly received wide approbation from those fortunate enogh to be present.

David Adams

· Vistage International (UK) Limited
Barclays 'Let's talk' seminar Cambridge

I've been putting on monthly events with professional speakers for over six years so I've seen my fair share of good speakers and I must admit I attended the event with a fair degree of 'heard it all before'cynicism.
Many speakers are 'one-trick ponies' relying on one story with the same script and power-point presentation but because Robert has lived his subject he can tailor it to his audience and relate it to individuals at the same time as keeping the rest of the audience involved.
I was impressed with both the content and Robert's style of delivery as well as the way he interacted with members of the audience before and after his presentation.

Ann Hawkins

· The Inspired Group
Spring 2010, Crewe Hall - Barclays Seminar

It was delivered in a punchy, engaging way - he has a passion to deliver quality information.

EilidhMilnes

· The Confidence Press
Barclays-Gloucestershire Rugby Club

Robert has the ability to give you a good kick up the bum and remind you of the things you should be focusing on with a smile on his face. He is approachable, knowledgeable, and focused in what he is doing and how it will help you. Thanks for the time and the attention.

Alastair Hamill

· Exec Confidential
Many Barclays 'Let's Talk ....' seminars

Robert has many traits. Here is my observation on three of them. Firstly, he knows his onions. He understands how small businesses work and should be run. His advice is pragmatic, down to earth and action oriented. 'Do this - tomorrow!'

Secondly he is a consummate speaker. He is engaging and, dare I say it, charismatic. He can communicate comlex ideas simply and with emphasis. When you engaging 100 business owners for three hours and they are lapping it up you have to be doing something right.

Oh yes, the third thing is Robert's sense of humour. Dry and laconic but with no sense of 'I am'. Great stuff!

Martin Davies

· NRG Business Networks
Barclays London events and many other business events

Robert is unusual in that he can take a complex business issue and cut through the "bull" to the nub of the issue. He helps his audience see how to deal with the issue in the real business world - not some theoretical parallel universe that most business speakers seem to inhabit!

having put Robert's suggestions into practice in our business, I can report that not only do they work, but that they also help us grow our business profitably.

Simon West

· Nett Sales
"Driving The Business Forward - More Customers" Seminar, Leeds, 2011

Robert went over the best ways in which a company could win new customers whilst exploiting the opportunities that currently available customers presented. He focussed on marketing, presentation and networking and ran a couple of exercises with us in which we put his advice into practice.

I found all this invaluable, especially when attending networking events.

Johnny Dumbrava

· Business Enterprise Fund
Various www.Business-Scene.com events in UK

Robert is an exceptional speaker who we have booked on many occasions. He always gets top marks from our delegates and brilliant feedback.

If you are looking for a business speaker who can educate, entertain, inspire and amuse... Robert is your man.

Warren Cass
Barclays Business Seminar, London

The best business advice always has the ring of common sense about it... the sense that you already know what to do but still find reasons not to do it. Robert is brilliant at pointing these required actions out - adding a few you hadn't thought of. He also gives you energy to carry them out. We followed at least a half dozen of Robert's tips and, inevitably, they led to more business. We fired a rubbish client on his advice and freed up lots of my time to find some good ones. He's a very charismatic speaker and you could see energy levels rise among attendees - both in enjoying the moment but in determining to act. I've quoted him at several other networking business meetings.

Des Burkinshaw

· magnificent tv
I've been lucky enough to hear Robert speak many times, to large audiences, but also in an intimate Masterminding setting.

Robert does not faff about with metaphors and general concepts. He is able to drill down into specific business challenges and provide a "this is what you need to do tomorrow to change things" roadmap. He is also seriously clever and genuinely successful... why on earth would you want to hear from someone who isn't?

Paula MacArthur

· The Mastermind Agency
Directors Centre Masterclasses, 2010

I've heard Rob speak at his master-classes, Business Link breakfasts, and even at DTi 'Grow with Marketing' training. He's a sleeves rolled up guru. The material is fresh, seriously challenging and yet personal. I've always left a Craven event feeling I know what to do next, and how I can do it. At one event, he told me to fire my unprofitable clients. I gulped, and did. Saved us quite a bit. Chris Cardell eat your shorts.

Tim Cumming

· Wowi Digital
Barclays, London Bridge, 2009

I've heard Robert speak many times. What I really enjoy about listening to him is how he takes complex business challenges and simples them so that a plan of action can be developed to address them. There are many speakers on the circuit who paint abstract 'blue sky' pictures of how things should be. Robert concentrates on how things are and how to actually get to the next level which is why I admire him so much.

Pete Bennett
Get notified of new talks and events.
Follow