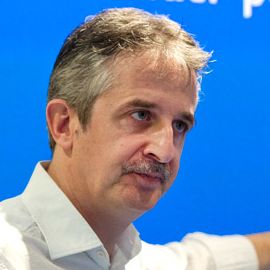 'Good businesses focus on: - People and Teams - Marketing and what customers want - Strategy and Planning
All else is commentary' says Robert Craven.
Robert Craven works with the ambitious directors of fast-growing businesses who feel that they could be doing even better.
As a keynote speaker his style is challenging, honest and goading; free of business school hyperbole he makes his audience think. Robert is based in Bath and works throughout the UK and Europe.
Brief Profile Robert spent five years running training and consultancy programmes for entrepreneurial businesses at Warwick Business School. Running his own consultancy since 1998, he is now one of the UK's best-known and sought-after speakers on entrepreneurship.
'Textbook theories are inappropriate for growing businesses.'
He is not full of theoretical rhetoric; he offers practical solutions - tangible business results. Robert's work on marketing and strategy has been widely published and acted upon by thousands of growing businesses.
His four recent books Beating the Credit Crunch, Bright Marketing, Kick-Start Your Business and Customer is King, are all business best-sellers and have been described as 'truly inspirational' by The Independent.
'Chuck out the theory . and ask if staff get on with each other.'
Also, available for download from The Directors' Centre website - The Start-Up Essays which is a collection of Robert's essays, blogs and book chapters. A practical guide to help you start your business
Robert's track record at helping businesses is very impressive. Add to this his broad experience at board level and you will understand how and why he uniquely adds value to all the businesses that he works with.
'If you keep doing what you've always done you'll get the same results!'
Alongside his numerous speaking engagements, Robert also does consulting work for, and is personal mentor to the leaders of a number of growing businesses in the UK.
'Decide your goals and be prepared to pay the price.'
Robert runs The Directors' Centre, the award-winning management consultancy company.
Related Speakers View all
---
Christi Tasker

Social Media Branding Queen and Keynote Speaker

LisaVanAllen

The Biz Doctor with prescriptions for your success!

Ron Broussard

STRETCHYOURSELF

Tara R. Alemany

Teaching Technophobes and Trendsetters for Over 20 Y...

Alan Berg

A leader in the field of marketing to brides for loc...

Michel Neray

Principal, The Essential Message: Learn To Different...

John Di Frances

Speaking to audiences real needs.

Candace Reese

The CEO Pundit: Empowerment Speaker, Inspirational C...

Rob Salisbury

Rob has been engaged over 1630 times as a speaker, c...

Mac Curfman

...because the work is hard!

Grant D. Fairley

Keynote Speaker, Group Facilitator, Seminar & Worksh...

Nicholas de Wolff

Startup Advisor, Executive Leader, Business Strategy...

Knauer Ulrike

You will have fun and learning about High-Performanc...

Don Shapiro

New Discoveries On Closing The Sale, Why People Buy ...

Peter Sylvester

MY business is to help YOUR business DO business

Micah Solomon
Warren Cass

Social Media Strategist & International Speaker

Craig A Nemitz

Disaster? What disaster? Are you really clueless?!?!

Ian Stirling

Speaker on Business Growth, Franchising and developi...

Bernadette Vadurro

Award-Winning Business Woman, Professional Speaker a...
More like Robert