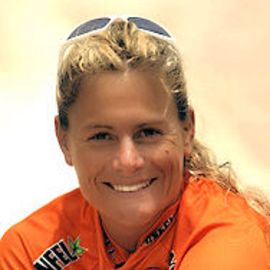 Robyn Benincasa is the founder of World Class Teams, a world champion adventure racer, a CNN Hero, former corporate sales expert and a full time firefighter who advises organizations on building World Class Teams of their own. One of the highest rated female speakers who regularly shares the stage with world leaders and business icons, her customers include many Fortune companies like Starbucks, Deloitte, Aflac, Fast Company, Boeing, Lockheed Martin, ARAMARK, Siemens, 3M, Coldwell Banker, Ameriprise, Microsoft, AT&T. With a background in marketing, she was previously in corporate sales with Baxter and Allergan and is currently a full-time firefighter. World Champion Eco-Challenge Adventure Racer, CNN Hero, Founder of the Project Athena Foundation (Survivors to Athletes!), 3x Guinness World Record Distance Paddler and proud owner of 2 metal 'bionic hips', Robyn definitely knows a thing or two about creating Human Synergy – "that magic that allows groups of ordinary people to accomplish extraordinary things together." Her New York Times best-selling book How Winning Works, published by Harlequin has been reviewed as "an excellent resource for all business owners on approaching challenges with a team mentality."
For the last 20 years, she and her teammates have been competing at the front of the pack in the most unique and compelling classrooms on earth – the jungles of Borneo, the Himalayan peaks of Tibet, the rivers of Fiji, the rainforests of Ecuador and the desert of Namibia – studying the good, the bad, and the not-so-pretty in extreme teamwork and mastering the skills required to inspire a group of semi-exhausted people through a seemingly endless series of checkpoints, in pursuit of a seemingly impossible goal, working against crazy deadlines, in constantly changing conditions and all in pursuit of a huge hairy audacious goal. Sounds a lot like your life as a business leader, right?
It is through these harrowing, life affirming and often hilarious experiences in the world's most grueling challenges that she has emerged with her refreshing and truly unique perspective on what it takes to build the kind of World Class Teams that succeed against all odds, that triumph in the face of adversity and that win as one in times of great challenge and change. Whether you're trying to beat the competition to market, scale a looming mountain of a project or simply get your team all marching in the same direction, Robyn's 8 Essential Elements of Human Synergy will coach you to the finish line of success.
NBC, ABC, CNN, ESPN, USA Network, The Today Show, Live With Regis, Dateline NBC, The Discovery Channel, Vogue, Harpers Bazaar, Runners World and Outside Magazine have all featured Robyn and her teams' amazing accomplishments. And Robyn accepts full blame for inspiring people to do insane things like climb Mount Kilimanjaro, run their first triathlon, start their own adventure racing teams, hike across the Grand Canyon with a group of Survivors, or start their own businesses.
This is, after all, who she is and what she does: Robyn Benincasa inspires people to grab life with one hand, grab their teammates with the other, and to create that special magic that makes all of us better together than we ever would have been alone!
Click Here to register and get pricing on booking Robyn Benincasa for your next event!
Reviews
---
September 17, 2016; Marion, Illinois

Robyn was an excellent choice for our event. She was a dynamic speaker and the response from the audience was all positive. She was very personable and easy to work with.

Lisa Mann

· So. IL Women for Health & Wellness Foundation
Destination Hotels & Resorts

I think that she was tremendous. More important her presentation was not just inspirational/motivational, but it resonated with all of us, and fit our message. Powerful stuff

Ari Hershberg

· See Agency
IHR 1n 1t to WIN it Sales Conference - Orlando, FL, June 2011

I attended Robyn's inspirational speech Why Winners Win. I have not stopped thinking about how I can incorporate her ideas not only into my work life but also into my own personal running goals. Her examples of encountering road blocks but continuing to pick herself back up have inspired me to keep going whether it's dealing with a difficult client at work or struggling with my 1/2 marathon training. I have also implemented Robyn's team ideas by collaborating with my successful colleagues, as well as running with and sharing tips with experienced marathoners.
I am so grateful to have attended Robyn's speech! It has made me reevaluate the way that I think and live my every day life. One day I want to be the next Robin Benincasa. :)

Celeste Smith

· Interstate Hotels & Resorts
Orange County Public Schools' Superintendent's Leadership Summit - Orlando, FL June, 2011

Robyn's engaging, funny, interactive and CONTENT-RICH presentation to 900 of our school leaders was nothing short of amazing. Her physical strength is NOTHING compared to the strength of her WILL and her HEART. She gave district leaders a new perspective on teamwork and life. Robyn is an inspirational human being and someone who models hard work, integrity, and wellness.

Wow. Best. Speaker. Ever.


Adam Palmese

· Orange County Public Schools
Women's Foodservice Forum Annual Conference, April 2011

Once in a while, a speaker just captivates you and you can't stop thinking about her message. Robyn Benincasa was that speaker for me this week during the Women's Foodservice Forum (WFF) annual conference. So rather than ooh and ahh about the wisdom-of-outgoing-chair-Maureen-Hurley/admiration-for-incoming-chair-Carin-Stutz/supportiveness-of-WFF-president-Fritzi-Woods/impressiveness-of-Ivanka-Trump/humor-of-Bertice-Barry/motivation-of-Peter-Sheahan, I'll focus on Robyn. Robyn embodies the very mission of the WFF; the fact that her session hit the nail on the head was as much an epiphany for me as were the lessons she imparted. I know I risk losing something in translation but will try to do her talk and her spirit justice.

Robyn is a two-time World Champion adventure racer, a term I learned during her talk. She's spent 15 years participating in races involving extreme physical activities in grueling conditions, and overcome adversity on numerous occasions. She was on Mark Burnett's Eco-Challenge reality show and has been featured in numerous other extreme athletic events. She lives on the edge, to put it mildly. She is also a San Diego firefighter and has translated her passion into a non-profit, Project Athena. Through her talk, "Ordinary People, Extraordinary Results," Robyn uses her adventure racing experiences to illustrate what it means to really work as a team.

Part of the reason Robin is so captivating is that I am amazed by people like her. For some time, I've been fascinated by tales of Everest climbs and the like. I loved Between a Rock and a Hard Place by Aron Ralston, and well as its movie, 127 Hours. I am in awe of those who test their limits. My fear threshold is far below what these experiences require, so the vicarious participation is a thrill. Robyn resonated so strongly for me because not only did she let me be a voyeur on her adventures, but she applied the learnings into the very lessons the WFF espouses. And she did so while entertaining a roomful of people, riveting us from the get-go.

The WFF's mission, as many know, is to elevate women leaders. All WFF programming is geared towards supporting women in leadership positions or striving for such positions. The WFF focuses on a variety of core competencies that enable women to succeed as leaders including risk-taking, tough-mindedness, driving for results, and more. Running my own business, I am certainly in a leadership position. But my development is my responsibility and often, other demands take priority over my own skill-building. Some WFF competencies come naturally to me, and others do not, but it's the rare seminar that hits home with a message I can readily translate to my business and to my growth areas.

I chose Robyn's session because team-building has been on my mind lately as Intellaprice grows. As Robyn used her racing experiences to illustrate lessons in teamwork, I began to see my team and my role as captain in a new light. I actually thought of ways I should support my team differently, to all of our benefit. I envisioned what it would look like if I was more motivational a different perspective when coaching team members, or had a more positive spin when offering feedback. As Robyn pointed out, there is a difference between winning and not losing. Lots of speakers can remind us of the nature of good teamwork and connection. Robyn, however, was able to help me think about this very clearly and I can put her teachings to use immediately.

Granted, conducting pricing research and analysis for clients is not the same pressure as say, walking along a death-defying ridge for hundreds of miles or swimming through muddy, leach-infested waters in Borneo. But as my staff can attest, we face our own challenges. Robyn's messages about working for the greater good of the team, checking your ego at the door, and carrying others who need it so that the team finishes and wins are definitely translatable.

If the WFF strives to strengthen our leadership competencies, and team building is a goal for me, then Robyn did more for my personal development in 90 minutes than anyone has in my entire career. She has helped the WFF fulfill its mission, which is quite remarkable. Her session alone would have made this conference worthwhile. That it was accompanied by many other positive aspects of the conference was a bonus.

Leslie Kerr

· Intellaprice
Drive Technologies, Extended Staff Meeting - New Orleans, LA, December, 2010

Robyn did a fantastic job of motivating the group and tying her message to the purpose of our meeting. We were focused on creating impact with our strategic initiatives and getting the team rallied behind the right behaviors and attitudes necessary to do so. Robyn was inspriring, entertaining, and challenging! Everyone left the session energized and ready to commit to action and impact. Simply fantastic!

Tami Wolownik

· Siemens Industry, Inc.
SSDAO CONFERENCE IN EUGNE OREON

YOUR DYNAMIC PRESENATION!
YOUR GREAT EXAMPLES FROM THE WORLD OF EXTREME SPORTS..THE POINTS YOU MADE IN REGARD TO LEADERSHIP SKILLS WAS RIGHT ON THE MONEY!

Mary Sause

· PORT OF GARIBALDI
2011 Sales & Marketing Meeting in San Diego

Hi Robyn! Thanks so much for the information. I am really going to try to do the Grand Canyon and see if I can recruit some others to join me!

We are so happy that you were able to speak at our Sales & Marketing meeting. Your messages were inspirational, motivational, and exactly in tune with our strategy. I heard extremely positive reviews from those who attended.

Can you please send me a link to your presentation so we can provide it to all attendees? Again, thank you. I truly enjoyed meeting and working with you. All the best to you Robyn!

Cindy

Cindy Stilp
Director of Marketing and Communications
SCA Tissue North America


Cindy Stilp

· SCA
Isle of Palms, SC on January 6th

Robyn was the motivational speaker for our 2011 conference. In the past we have had a few different speakers but this year they had Robyn only and she was awesome - we did not need more then her!
Robyn was fun and kept things real. She has helped me to re-focus on whats ahead of me, winning and to have the attitude to do it!!
PS- I love her chick card - used it already :)
Thank you for inspiring... me Robyn!!
Stephanie Zapata
DH&R

Stephanie Zapata
November 11th, 2010 Review

Robyn was absolutely fantastic at the ORD conference in Toronto. She has an outstanding ability to immediately connect with the audience and 'shush' them with her incredible story. All hearts and minds in the room were captivated by her presence and detailed account of her personal journey and that of others who complete these amazing eco-challenge events. What resonated incredibly well were the elements of teamwork and how each member takes turns being the leader when it makes the most sense, particularly from a skill set or capability perspective – and particularly when it counts, i.e. when the fun stops! She exudes courage, strength, compassion, determination, and fun! All qualities that we want to emulate as leaders. I definitely would love to have her come back again some time in the future – she is truly one amazing and inspiring person!

Senior Manager, Canadian Financial Services Organization

Ari Hershberg

· See Agency
October 4th, 2010

Our speakers bureau booked Robyn for a client event recently. She received stellar reviews from the client and the audience members. I would highly recommend Robyn to anyone looking for a dynamic, amazing team building speaker that delivers an important message. Robyn is one of our favorites by far!

Mike Frick

· Speakers Platform
Corporate Event

"My team had a FANTASTIC time with Robyn and her team. I can not 'glow' about the event enough! Everyone from World Class Teams was wonderful - they really worked with my executives and helped pull them out of their shells and make them work as teams. The events they had us doing were a lot of fun, challenging as well as meaningful for our team to get the most from the event (not to mention hilarious to watch!). The end of the day/wrap up session where we re-grouped on the day's activities and how everyone did also served as a learning lesson.

All in all, it was a great experience and we really enjoyed doing it and learning from it. It really did help bring my team together - from my executives that work Internationally and in US Satellite offices, to the people that work together on a daily basis in our LA office. Everyone got a keen sense of 'teamwork' and the challenges really made them bond. Not a bad word was said about the day (other than 'I'm going to be sore tomorrow!')."


Sherri Cahill

· Napster
Corporate Event

"Robyn - I thought I knew the importance of teamwork, but your presentation at our sales meeting drove home just how critical teamwork is in every aspect of life...business and personal! Thank you for bringing this to the forefront of my everyday dealings in life, you reiterated and drove home what I already thought I knew...just magnified it 1000 times. You truly are inspirational. After hearing you speak, I am truly inspired to be a better team member."





Lauren Harbour, Director of Sales

· Twinlab
Corporate Event

"Robyn has a singular energy which she transmits to her audience, allowing them, at least vicariously, to live what she has experienced. Her story is a call-to-action to be more active at whatever level in the great outdoors."


Lee Plesser Smith, Marketing Manager

· Timberland
Corporate Event

"I am back to my job and family life, but I have to tell you that the World Class Teams experience last week was very significant. Although I have done some teambuilding processes before, I felt your ideas were unique. I had fun, but I continually learned about giving, listening, planning, thinking, and pushing myself as far as possible.
"Robyn does a fabulous job of bringing the principles of adventure racing into the corporate environment. She did a great job of customizing her session to meet the needs and objectives of our national management meeting. The audience was riveted and our managers continue to talk about Robyn and the lasting impact she made!"



Debbie Rubin, Assistant to the President

· Aramark Educational Resources
Corporate Event

"The section of "Extreme Team String" that I brought home from our event still hangs in my office as a reminder of so many lessons, including "asking for help is a gift to the helper". I continue to be inspired by my experience with World Class Teams on the beach in San Diego. You made a profound impact in my life! Thank You!"



Amy Peterson, Director of Sales

· Credit Union National Association
Corporate Event

"I am still charged by my experience participating in Robyn's "AdventureTeambuilding" program, and have put a lot of her team ideas into practice in my business"


Scott McGarrigle, CEO

· AKI
Corporate Event

THANK YOU for a wonderful, inspiring
and uplifting presentation this morning. The buzz around the agency is fantastic, and many people have stopped by my office or sent me mails to tell me how much they liked it, and how much you amazed them.

-Annette, Chief of Staff New York

· Euro RSCG Worldwide
Corporate Event

"Robyn's background and experience provide us with a unique and much needed perspective for our RealTime participants, and her award winning adventure racing team embodies what it means to be a leader today. We always get an INCREDIBLE response to her 'Building World Class Teams' sessions and adventure events."

Gina Imperato

· Fast Company Magazine
Corporate Event

"Robyn , Thank you for a fabulous and outstanding presentation during our C3 Outfitters event this past week in Phoenix. Your presentation style and message really energized the attendees. We heard nothing but great comments and feedback from many of the attendees throughout the week.

Your flexibility to work with us on the message, theme and your overall participation was very refreshing and we appreciate all your efforts both prior and during the event. Your presentation was one of the highlights for the event and helped to make this one of our most successful C3 events to-date. Thank you from all of the management team and the C3 committee."

Trent Cross

· Hewlett Packard
Corporate Event

"We had so much fun with you. I literally received so many compliments on your message and comments about how your talk touched people - some wanted to go home and share with their husbands/wives/families. Several others said you were the best speaker they had ever heard (my opinion too by the way) and that more in Nestle should hear you! You SO over-delivered both in your speech and in your willingness to spend time with our team. I couldn't have asked for a more perfect message to be delivered at just the right time."

Lisbeth Armentano

· Nestlé Nutrition Division
Corporate Event

"I cannot thank you enough for your dedication and phenominal delivery at the Teambuilding/Bikebuilding event at our National Managers Meeting. I received SO many wonderful, positive comments about Robyn's presentation. The audience felt you were very authentic, passionate and that you really understood 'Jamba'. I/we were thrilled. I suspect there will be many upcoming occasions for us to work together. I look forward to it!"

Renee Kempler

· Jamba Juice
Corporate Event

"AWESOME!!!!! No other way to describe you or the presentation that you gave at our Summit meeting last week. I spent the week listening to a number of people talking about the session, your achievements and how they tied in so well to some of the issues that we are trying to implement on the one hand and overcome on the other. The 8 Human Synergies tied perfectly into the messaging that we had done earlier in the day and we tied a number of your key messages into the next two team building events we did in the afternoon.

You were inspiring for me personally and certainly for my team. No doubt you and adventure racing have approximately 140 new fans.

I look forward to watching you race again in your upcoming event.

My very best regards and thanks

Just Awesome!"

Anthonie Goudemond

· Siemens Medical Solutions,
Corporate Event

"Your presentation was extremely motivating--WOW!! Your life and the risks you have taken are truly inspiring and phenomenal! I am 53 and will never be climbing the Andes or any other peaks, but I strive to continue overcoming difficulty with a positive attitude. You gave me more hope and direction and reminded me of the little tiger I used to be. Thank you so very much! Keep sending your strong message of achievement and success! "

Linda J. Griffith

· Coldwell Banker/Sky Ridge Realty
Corporate Event

"I have known Robyn Benincasa for a number of years, and have utilized her talents as both a speaker, as well as a leader of team oriented events. While the SVP for the Western U.S. for Starbucks Coffee, I selected her as both the lead speaker, as well as the team leader, for our annual Store Manager Leadership Conference, held in Tacoma, Washington. The event was an overwhelming success. In fact, 6 years later, they are still talking about the key learnings, the fun, and the excitement of working together as a team. She also addressed the national Leadership Conference for Starbucks Coffee, speaking to about a 1000 attendees, including the Board of Directors, Howard Schultz, the founder, as well as the senior leadership team, the corporate office, and the entire field organization for Starbucks. She was a great success.
Likewise, 2 years ago I was the C.O.O. for It's A Grind Coffee Houses, and we invited Robyn to facilitate a one day team building event, as well as deliver the keynote address at the first ever national Franchisee Convention. She went above and beyond, ensuring the success of the event, and providing much in the way of key learnings the each Franchisee could take back to their individual businesses. I can recommend Robyn and her team to provide an exceptional event that will thrill the audience short term, and provide meaningful change in the long-term as she provides key insights into the synergies of building a World Class team. If you have any further questions, please do not hesitate to call. "

John Alderson, Zone V.P.

· Starbucks/C.O.O. It's a Grind
Corporate Event

"...It's been just over a year since we did that meeting with you and people still talk about being the best teambuilding meeting we've ever held."

Irwin I. Golub

· Northrop Grumman IT Solutions Team
Event

"Hey Robyn... i saw you speak at leadership academy in 2006 and you were my ABSOLUTE favorite speaker..I got goosebumps when i saw your video footage and so admire all your dedication and strength! You so inspire me and when I have a hard time with workouts...I think of how kick-ass u are...and keep going! So much love to you Robyn...u rock!"

Jennifer Brown

· Anthony Robbins Leadership Academy
Corporate Event

"The conference went great!!! You were so effective in teaching teamwork, setting the tone is an understatement!!! We really got it!! That evening we did set up our committee by vote. We also redistributed 300 existing client business accounts for service with eager cooperation from everyone. The next day we increased the state's incentive fund contribution, set up a recruiting fund and training fund. These are monies that are deducted from everyone's statements and used to cover contest, conference etc. Anyway, that went very well too.

Our moral has improved 100%. The meeting surveys were all positive and gave you lots of luv for your roll in our conference."

Steven W. Kaiser

· Aflac Hawaii/Guam
Corporate Event

I can recommend Robyn and her team to provide an exceptional event that will thrill the audience short term, and provide meaningful change in the long-term as she provides key insights into the synergies of building a World Class team.

John Alderson, Zone V.P.

· Starbucks
Corporate Event

"I've been in organizational development/sales management for 20 years and have seen hundreds of speakers. You TRULY are the best of the best!"

Terry Moore, Mastery Manager

· The Anthony Robbins Companies
Corporate Event

While adventure racing and Robyn's exploits are clearly larger-than-life, she is so natural and unassuming that her audiences are readily inspired and eager to put her lessons to work.

Christopher Mortell, Sr. Manager, HR

· Siemens Medical Solutions
Speech Topics
---
TEAMWORK/LEADERSHIP
The 8 Essential Elements of Human Synergy. What do the world's most successful teams have in common? --- The ability to upgrade their "teamwork" to Human Synergy! If your goal is to increase performance by inspiring your team to adapt, overcome, and win as ONE, this keynote is the perfect message to set the tone for your event. Through her 8 Essential Elements of Human Synergy keynote, Eco-Challenge Adventure Racing World Champion and San Diego Firefighter Robyn Benincasa takes your team on a fast-paced multimedia adventure that visually and viscerally imparts the attitude and mindset that allows groups of ordinary people to accomplish truly extraordinary feats together...especially when the stakes are high, the goals are audacious, and constant change is the only thing your team can count on (aside from one another!).
Attendees will leave the room buzzing with inspired ideas about how to raise their team to the next level against all odds, both personally and professionally, and take home some simple and easily applied skills that will allow them to create Human Synergy with all of the teammates in their lives. There is an old proverb that says "If you want to go fast, go alone. If you want to go far, go together." But the stories and videos that Robyn shares from the most epic, entertaining and meaningful moments in the sport of Adventure Racing will leave your team with a deep understanding that with true Human Synergy they will go farther AND faster in pursuit of their goals!
The 8 Essential Elements of Human Synergy:
Total commitment

Empathy and Awareness

Adversity Management

Mutual Respect

'We' Thinking

Ownership of the Project

Relinquishment of Ego

Kinetic Leadership
Building World Class Teams: The 8 Essential Elements of Human Synergy
What do the world's most successful teams have in common? — The ability to upgrade their If your goal is to increase performance by inspiring your team to adapt, overcome, and win as ONE, How-Winning-Works-this keynote is the perfect message to set the tone for your event. Robyn Benincasa takes your team on a fast-paced multimedia adventure which visually and viscerally imparts the attitude and mindset that allows groups of ordinary people to accomplish truly extraordinary feats together… especially when the stakes are high, the goals are audacious, and constant change is the only thing your team can count on (aside from one another!). During her "8 Essential Elements of Human Synergy" keynote, this World Champion Adventure Racer, CNN Hero and San Diego Firefighter has attendees buzzing with inspired ideas about how to raise their team to the next level (against all odds), both personally and professionally. And your team will take home simple and easily applied skills that allow them to create Human Synergy with all of the teammates in their lives. There is an old proverb that says, "If you want to go fast, go alone. If you want to go far, go together." The epic, entertaining and meaningful stories and videos shared in Robyn's "Building World Class Teams" keynote leaves your team with a deep understanding: with true Human Synergy they will go farther AND faster in pursuit of their goals! The 8 Essential Elements of Human Synergy:
Total commitment
Empathy and Awareness
Adversity Management
Mutual Respect
'We' Thinking
Ownership of the Project
Relinquishment of Ego
Kinetic Leadership
Why Winners Win
Inspired by a Fast Company Magazine article entitled Extreme Teamwork, which featured Robyn's team of World Champion adventure athletes as well as "Winners" from all walks of life, Robyn's keynote outlines the common traits, attitudes and mindset of the world's most consistently high performing leaders in their eternal pursuit of world class results.
The 'Best of the Best' experience times of great challenge and change just like everyone else. But with characteristic Courage, Luck (Opportunity + Preparation), Adversity Management Skills, and a keen ability to create Synergy with their colleagues, Winners possess the ability to continually motivate and inspire themselves and those around them to the top of the podium in any endeavor.
The icing on the cake of the 'Why Winners Win' keynote? Attendees will experience the thrill of peak performance and exceptional leadership through Robyn's incredible stories and breathtaking video footage of extreme teams in action. They will leave energized and empowered to create consistent world-class results in every aspect of their lives!
Leading Through Change
Change is the only thing that stays the same. It is our response to that change that dictates our success.
How do the world's most consistently high performing leaders ALWAYS find a way to get the finish line and achieve their goals against all odds? Are they lucky, blessed or immune to setbacks? Nope. Great leaders experience times of great turbulence, challenge and change in every aspect of their lives — but it is their attitude and mindset that carries them and their teammates to greater heights in the FACE of that change.
Leading through Change means Being Ruled by the Hope of Success versus the Fear of Failure, Embracing Setbacks as a Chance to Learn and Excel, and Never Letting the Pursuit of Perfection Hinder Progress. In her keynote, Robyn shares incredible stories and videos from the worlds of Adventure Racing and firefighting that illustrate how great leaders succeed against all odds and triumph in the face of adversity.
And your entertained and amazed attendees will walk away with some easily applied leadership skills that will help them shatter the norm, see challenges versus roadblocks and inspire their teammates to once again see a future full of possibilities.
Stay SAFER: How Great Leaders Inspire "Commitment" Versus "Compliance"
In her "why bad accidents happen to good people" safety keynote, Robyn Benincasa takes your team on a compelling and unforgettable multimedia adventure, including video footage and analysis of preventable disasters and thrilling safety success stories from the worlds of adventure sports and firefighting. This World Champion Adventure Racer, San Diego Firefighter, and New York Times Best Selling Author offers unique, simple, yet extremely effective tools for inspiring the people that we work with and work for to be SAFER every day! Why Do Bad Accidents Happen to Good People? According to research, it's as simple as ABCD:
A – Attitude: Not Me, Not This Time, Not My Place, Not My Job B - Background and Preparation C - Circumstances (Preventable or Non-Preventable? Hint: 80% are preventable!) D - Decisions
How Do We Inspire People to be SAFER?
S – Synergy: Seeing one another as TEAMMATES vs simply colleagues. We are better…together! A – Adapt – Situational awareness, focus on what it takes to "win" when it comes to safety/survival versus "not lose" F – Follow your R's! Rules, Roles, Regulations and Routine Procedures restore order to extraordinary circumstances E - Educate and Engage: Move your teammates from Compliance (because they'll be caught) to Commitment (because they CARE) R – Respect the risk/benefit ratio of your actions, and respect yourself, your teamates and your family to DWR (Do What's Right)
Attendees will go home feeling truly inspired and empowered to keep themselves and their teammates safe because they 'want' to, not because they 'have' to. And they will leave with the desire to be a hero to their new teammates–not just the kind of hero that rushes into danger to save them, but the kind of hero that KEEPS them from endangering themselves and others. With a SAFER mindset, we ensure that the most important goal of all is achieved at the end of the day…Everyone Goes Home.
Get notified of new talks and events.
Follow