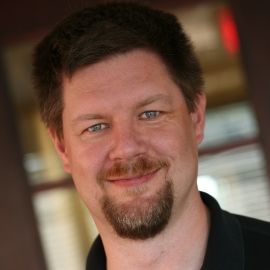 Rockford Lhotka
Rockford Lhotka is the creator of the popular CSLA .NET development framework, and is the author of numerous books, including Expert 2008 Business Objects.
Rockford Lhotka is the creator of the popular CSLA .NET development framework, and is the author of numerous books, including Expert 2008 Business Objects. He is a Microsoft Regional Director and MVP, and a regular presenter at major conferences around the world. Rockford is the Principal Technology Evangelist for Magenic (www.magenic.com), a company that specializes in planning, designing, building and maintaining your enterprises most mission critical systems.
Click Here to register and get pricing on booking Rockford Lhotka for your next event!
Videos
---
Reviews
---
VSLive2010

I've hade the opportunity to watch Rocky talk on several occasions over the past decade. Most recently at VSLive2010 in Seattle. I think what strikes me the most when listening to Rocky is his pragmatic approach to solving problems. You can tell when you follow his rock solid logic that he is someone who has given thorough considerations to his views and more importantly has walked the walk rather than gleaned his information from other sources. I believe that when Rocky tells you that you should or shouldn't do something a certain way it's because he has struggled with that topic himself and has wrestled it to the ground. I consider him to be a world class authority in our field and someone who views the field of software development as a craft with the passion it deserves.

Wayne Richmond
VSLive Vegas Conference 2007

As a Senior Software Engineer, I look to the industry for those that can share their knowledge and help grow others. Rocky Lhotka hits a key on this as he does well speaking and conveying new and interesting topics in the .NET realm to those in our industry. I 1st heard him speak at a VSLive! conference a few years back, and enjoyed his Object Oriented discussions and lectures. He was giving away as a raffle (2) books he wrote; I won neither, but the guy that did was not a VB.NET developer so I graciously ended up with it. His "Expert Business Objects" books do a great job explaining Object Oriented Programming and Design and uses his CSLA.NET framework to demonstrate his teachings in a real world application. I am amazed being a family man myself how much he actually accomplishes each time I hear what he is involved with in the same 24 hours a day 7 days a week that I have. If you get the chance to go to a Visual Studio Live conference, I recommend going to one of Rocky' pre or post workshops he typically does in Object Oriented Design. Rocky is the type of industry peer I would thoroughly enjoy working with if I had the opportunity.

Allen Conway
Get notified of new talks and events.
Follow
Related Speakers View all
---
Caio Proiete

Independent Developer and Technical Training Consult...

Matthew Evans
Life Michael

Software Development Evangelist

Bil Simser

Web and Collaboration Architect

Brandon Satrom

Open web developer, writer and technical speaker

Roy Osherove

Team Leadership, Agile Development, Test Driven Deve...

Caleb Jenkins

Published Author, Engaging Speaker. Have a great tim...

Jon Steinberg

Founder Cheddar; Former CEO Daily Mail, Former Presi...

Scott Dorman

Scott is a CMVP and has been involved with computers...

Scott Hanselman

Software Architect, Engineer, Speaker, Author, Teach...

Tobin Titus

Software Engineer, Program Manager, Speaker, Author,...

Dmytro Mindra

Expert in software development and team management

Hal G.

Helping Bridge New Technology into Existing Public S...

Gyorgy Balassy

Software Architect, Speaker, Author, Teacher, Ethica...

G. Andrew Duthie

Developer Evangelist for Microsoft Corporation and a...

Glenn F. Henriksen

He'll gladly talk about technology and how we can wo...

Joel Cochran

Joel Cochran is an Expression Blend MVP, an INETA Co...

Ariel Coro

Technology Expert, Author, Columnist

Isis Wenger

Platform Engineer, Women Who Code Advisor and Founde...

Tara R. Alemany

DwVMZz <a href="http://tbrvwssacamq.com/">tbrvwssac...
More like Rockford