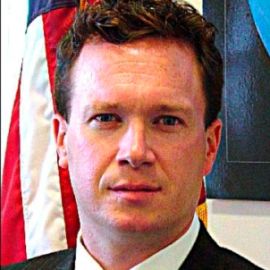 Roger W. Cressey is president of Good Harbor Consulting, LLC, providing clients with strategic advice on homeland security, cyber security and counterterrorism issues. Consulting many high-profile technology companies and corporations that rely on secure networks for business, Cressey is an expert on software and Internet security with regard to corporate America. He is currently an on-air counterterrorism analyst for NBC News.
Previously, Cressey served as Chief of Staff to the President's Critical Infrastructure Protection Board at the White House from November 2001 to September 2002. From November 1999 to November 2001, Cressey served as Director for Transnational Threats on the National Security Council staff, where he was responsible for coordination and implementation of U.S. counterterrorism policy. During this period, he managed the U.S. government's response to the Millennium terror alert, the USS Cole attack, and the September 11th attacks.
Prior to his White House service, Cressey served in the Department of Defense, including as Deputy Director for War Plans. From 1991 to 1995, he served in the Department of State working on Middle East security issues. He has also served overseas with the U.S. embassy in Israel and with United Nations peacekeeping missions in Somalia and the former Yugoslavia. While in the former Yugoslavia, he was part of a United Nations team that planned the successful capture of the first individual indicted for war crimes in Croatia.
Cressey received his B.A. in Political Science from the University of Massachusetts at Lowell in 1987 and a M.A. in Security Policy Studies from George Washington University in 1991. He is currently an adjunct professor at Georgetown University, where he teaches a graduate course on U.S. counter-terrorism policy. He is a former term member of the Council on Foreign Relations.
Cressey is the recipient of the State Department's Meritorious and Superior Honor Awards and the Defense Department's Exceptional Civilian Service Award.
Links
---
Related Speakers View all
---
Myung Sun Choi

Co-Founder, CompactCath; Graduate Student, Stanford ...

Peter Trick

Senior Vice President, Booz Allen Hamilton

Richard Wilhelm

Executive Vice President, Booz Allen Hamilton

Angela Messer

Senior Vice President, Booz Allen Hamilton

Francis J. Henry Jr.

Executive Vice President, Booz Allen Hamilton

Bret Stephens

The Wall Street Journal's Deputy Editorial Page Edit...

George J. Mitchell

U.S. Senator, 1980 - 1995 & Former Special Envoy for...

Pervez Musharraf

Former President of Pakistan

Thomas Friedman

Three-Time Pulitzer Prize Winning Commentator, New Y...

Dina Temple-Raston

NPR National Security and Counterterrorism Correspon...

Kevin Chi

Co-Founder, CombatIV; Graduate Student, Stanford Sch...

Jim Brown

Jim Brown is to running backs what Superman is to ca...

Ronald Brownstein

Editorial Director for Strategic Partnerships, Atlan...

Katie Couric

Award-winning Journalist, Best-selling Author, & Co-...

E.J. Dionne, Jr.

Syndicated Washington Post Columnist; Political Anal...

Diana L. Eck

Professor of Comparative Religion & Indian Studies

Mickey Edwards

Former US Congressman/Professor

Michael D. Eisner

President and CEO, The Tornante Company; Former CEO ...

James Fallows

National Correspondent for The Atlantic

Richard Florida

Renowned Economist and Author, The Rise of the Creat...
More like Roger