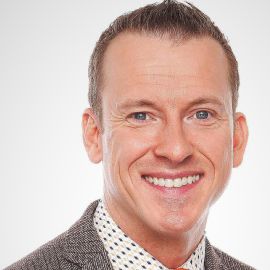 Ron Clark
"America's Educator", NYTimes Best Selling Author, Disney's American Teacher of the Year, and Founder of the Ron Clark Academy
Ron Clark is living an incredible life. He was named Disney's Teacher of they Year in 2001, his life story is currently being turned into a made-for-TV movie titled "The Ron Clark Story," he has appeared on the Today Show with Katie Couric, and he has been featured on the Oprah Winfrey Show on two separate occasions. Ms. Winfrey has even named him as her first "Phenomenal Man." Matthew Perry, Chandler from "Friends," is playing the lead role. The movie will air on TNT in 2006.
Ron brings charisma, energy and devotion to the education profession.  His first teaching job was in rural North Carolina working with minority students in a low wealth area where he conducted innovative projects with his students that garnered worldwide attention. His programs were so effective that his classes were invited to the White House to be honored by the President on three separate occasions. 
When Ron saw a TV show about low test scores and the lack of teachers in inner-city New York, he  packed his car and headed to Harlem. After being warned by the principal that the class was the worst she had seen in terms of discipline, Ron prepared himself by visiting the home of each student before the first day of school. Ron involved his students in projects around the city and state, and his "low achievers" soon began to excel; and by the end of the year, their scores were higher than the "gifted" classes in his district. 
As Ron speaks to groups around the country, he tells of the uncanny adventures he has had in the classroom and of his experiences teaching in Harlem.  Within his humorous and heartwarming stories, he delivers a message that pertains to all of us.  It is a message of hope, dedication and the will to never let anything stand in the way of your goals or dreams. 
In 2003, Ron released the New York Times Bestselling book "The Essential 55" which includes the 55 expectations he has of his students, as well as all individuals, young and old. Ron's second book, "The Excellent 11," released in August 2004, is a "Must Read" for teachers, parents and everyone who wants the children in their lives to find happiness and achieve success!
Most recently, Ron is devoting the majority of his time to opening a school in Atlanta for students from low-wealth areas. The Ron Clark Academy will truly be unique as it applies a curriculum that is based on travel around the world. Each year the students will journey on international adventures, and by the time they are in 8th grade each child will have visited every continent.
Across the country, Ron Clark's message has been met with resounding applause, standing ovations and admiration. Current information and product on Ron can be located at his website: www.ronclark.info
**Speech Topics
Programs include:**
• Education • Ethics & Values • Inspiration • Leadership • Motivation • Team Building
Links
---
Related Speakers View all
---
Michelle Rhee

Founder & CEO, StudentsFirst

Devin Hughes

Devin C. Hughes-The Chief Inspiration Officer

Mak Man

Dynamic Motivational Speaker and Published Author . ...

Jon Bergmann

Co-Author of the Best-Selling Book on the "Flipped C...

James Munton

Author/Deception Expert/Identity Theft Speaker

Tiffany Odutoye

Social Media Brand Equity Coach, Author and Speaker

Dr. Brad Johnson

Expert Speaker in the Field of Education and Leadership

Bill Smoot
Eric Gnezda

Humorist, songwriter and inspirational speaker. Crea...

Mitch Resnick

Mitchel Resnick is LEGO Papert Professor of Learning...

Jesse Miller

Topics focus on Social Media Awareness & Education, ...

Bruce Weinstein

"The Ethics Guy"

Willie D. Spears Jr.

The decisions you make today will determine your lif...

Jim Brazell

Technology Forecaster; STEM Advocate; Education Futu...

Craig Rudling

Keeping things right (internet safety, bullying, per...

Adora Svitak

Writer, Speaker, Education Advocate, and Child Prodigy

Yannick Tona G

A Rwandan Survivor's Journey to inspire.

Judith Diaz Porto Robles

PhDc Medical Anthropology CISM, Mental Health, Disab...

Andy Mouncey

Ultra-distance Athlete, Author, Goal-Setting Expert

Jean Bailey Robor

Jean Bailey Robor, award-winning author and inspirat...
More like Ron