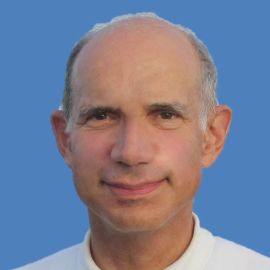 Ronald G. Shapiro
Highly Useful, Engaging, Interactive, Entertaining, Game Style Presentations
Ronald G. Shapiro, Ph.D., a Fellow in the Human Factors and Ergonomics Society (HFES), the American Psychological Association (APA), the Eastern Psychological Association (EPA) and a Certified Human Factors Professional (CHFP), is an independent consultant in Human Factors/Ergonomics, Human Resources, Education/Learning and Career Development. He has managed Technical Learning, Human Factors, New Employee Orientation, University Tuition Payment Programs and Career Services for a Fortune 500 company.
Ron has served as the Secretary Treasurer of HFES and on its Executive Council. He is a past-president of the Applied Experimental and Engineering Psychology Division of the APA. Ron has also served as the chair of National Ergonomics Month, the HFES Speakers Bureau and HFES Volunteers Committee.
He is listed in Who's Who in America, Who's Who in Science and Engineering and Who's Who in the World. Ron received his B.A. from the University of Rochester and his M.A. and Ph.D. from Ohio State in Experimental Psychology. He has taught at Ohio State, Denison University, University of Connecticut and Dutchess Community College.
He has presented for a number of professional societies including HFES, APA, EPA, National Society of Black Engineers (NSBE), American Indian Scientific and Engineering Society (AISES), Institute of Industrial Engineers (IIE), National Council of Teachers of Mathematics (NCTM), Documentation and Training (DocTrain) and Medical Product Safety network (MEDSUN). He has also presented for a number of businesses and at numerous High Schools, Colleges and Universities.
Ron's other professional affiliations include Sigma Xi (Scientific Honorary Life Member), Phi Kappa Phi (Academic Honorary Life Member), Society of Industrial Psychologists (SIOP) and AISES (Sequoyah Fellow).
Click Here to register and get pricing on booking Ronald G. Shapiro for your next event!
Reviews
---
At the APA annual conferences in 2006, 2007, and 2008

I co-presented with this speaker at two different APA annual conferences. Dr. Shapiro is very proficient in the area of Human Factors and uses a variety of games and demonstration techniques to get the audience's involvement and understanding. His enthusiasm is aparent not only during the presentation, but also afterwards when he diligently sends out photos for the volunteers to enjoy. He makes this topic fun and hands-on, and thereby memorable.

Sharon Grossman
New York Behavioral Research Conference

It was interactive and fun filled. We read concepts in psychology over and over again, but to see it cleverly demonstrated, was awarding.

Nritya Ramani
Embry- Riddle Aeronautical University

Dr. Shapiro's presentations were engaging and lots of fun to participate in. He definitely captured the ideal learning situation, one in which you can have fun but from which you can take away very important lessons.

Colleen Williams
Great Plains Students Psychology Convention -- Missouri Western State University (2010)

"Dr. Ronald Shapiro put the spotlight on Human Factors during our 2010 hosting of the annual Great Plains student conference. His keynote address entitled, "Games to explain human capabilities and limitations" got everyone moving and laughing as he demonstrated our easily overlooked weaknesses. By the end of the presentation, the audience was blaming product designs, instead of themselves, for everyday usability mishaps."

- Jeremiah Still, Ph.D., Assistant Professor at Missouri Western State University (Original note on file)



Dr. Jeremiah Still

· Missouri Western State University
New York City 2008 -> 2010

From 2008-2010, Maestro Ronald G. Shapiro of Providence RI has offered 3 interactive 90-minute workshops in New York City on his remarkable work on "Games to explain human factors."

He is truly a master in science education, whose work has been uniformly praised — from novice students to seasoned colleagues — who participated in these NYC workshops. -- Harold Takooshian, PhD, Past-President, APA Division on International Psychology (original note on file)

Dr. Harold Takooshian

· Past-President, APA Division on International Psychology
American Psychological Association Annual Conventions

Ron's workshop on Games to Explain Human Factors is full of interactive demonstrations. The audience is engaged and entertained while learning about findings in psychology and human factors. Games is always well attended and enjoyed by all.

Dr. Patricia R. DeLucia
EPA, APA

Ronald Shapiro delivers highly engaging and educational presentations. I have had the opportunity to be in the audience for several of his presentations, and have acquired great takeaways from each one. His presentations are very dynamic and thoughtfully prepared!

Margarita Posada
Comment from Student Attendee at 2009 Mesa College Presentation

Your presentation was thought provoking, interactive, but most importantly fun. You have a natural gift to "edu-tain" and keep the audience engaged. Comment from Student Attendee at 2009 Mesa College Presentation (original signed copy available upon request)
Speech Topics
---
Activities to Facilitate Career Planning and Gaining Meaningful Employment
Games To Explain Human Factors: Come, Participate, Learn & Have Fun!!!
Effective Leadership Involves Working Through Others
Problem Solving and Communication Skills for Millennial Employees
Did You Hear What I Think I Said?
Activities to Facilitate Solving Problems
Using Psychology Games and Activities of Yesteryear to Prepare for our Future
Preparing for Your Career with a Psychology Degree
I'm Awesome But I Have My Limitations
Understanding Human Capabilities and Limitations: An Essential Ingredient For Ethical Management
Games to Illustrate Human Sensation, Perception, Assumptions, Learning, Decision Making & Responding
Unique Birthday Celebrations
Practitioner in Residence: Perfect for Your Psychology Department
Get notified of new talks and events.
Follow
Related Speakers View all
---
Jesse Miller

Topics focus on Social Media Awareness & Education, ...

Grant D. Fairley

A master story teller who encourages and motivates a...

Mak Man

Dynamic Motivational Speaker and Published Author . ...

Andy Mouncey

Ultra-distance Athlete, Author, Goal-Setting Expert

Jim Brazell

Technology Forecaster; STEM Advocate; Education Futu...

Kristi LeBlanc

Premier Expert on Recruiting-Engaging Purposeful, Pa...

Jean Bailey Robor

Jean Bailey Robor, award-winning author and inspirat...

David Hyner

Professional Speaker, "The Massive Goal Principle"

Tiffany Odutoye

Social Media Brand Equity Coach, Author and Speaker

Adora Svitak

Writer, Speaker, Education Advocate, and Child Prodigy

Tim Rooney

Today, PeopleMation is living out his dream to "Help...

Joseph Covelle

Speaking From the Heart To Help Change Minds

Dawnna St Louis

Uninhibited Action For Unprecedented Business Growth

Will Richardson

Will Richardson is known internationally for his wor...

Tina Marie Jones

Connecting with the audience through the style of a ...

Adam Leotta

You don't need to be famous to be a great speaker

Peter Frampton

Following his Grammy Award-winning instrumental albu...

Eric Gnezda

Humorist, songwriter and inspirational speaker. Crea...

James Munton

Author/Deception Expert/Identity Theft Speaker

Charlie Alejandro

Motivational Speaker, writer, actress and radio talk...
More like Ronald