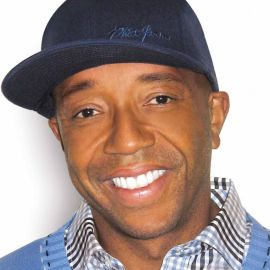 Russell Simmons
Legendary Hip-Hop Pioneer and Entrepreneur; Lifestyle and Media Visionary; Chairman and CEO, Rush Communications
Forbes Magazine recently named him one of "Hollywood's Most Influential Celebrities." USA Today chose him as one of the "Top 25 Most Influential People of the Past 25 Years." Hailed as a "hip-hop pioneer" for his groundbreaking vision, Russell Simmons is a cultural vanguard that has impacted music, television, film, fashion, finance, jewelry and philanthropy for nearly three decades. From his seminal Def Jam Recordings in 1984 to the 2007 publishing of his New York Times bestseller Do You! 12 Laws to Access the Power in You to Achieve Happiness and Success and his latest New York Times bestseller SUPER RICH: A Guide To Having It All, Simmons is globally renowned for his exceptional savvy, acumen and entrepreneurial approach to both business and philanthropy.
Giving back is of primary importance to Simmons, and as Chairman and CEO of Rush Communications, he has consistently leveraged his wide-ranging influence and commercial interests to help those less fortunate. A devoted yogi, Simmons also leads the non-profit division of his empire, Rush Community Affairs, and its ongoing commitment to empowering at-risk youth through education, the arts, social engagement, and promoting racial harmony and strengthening inter-group relations. In addition, Simmons serves as UN Goodwill Ambassador for The Permanent Memorial to Honor the Victims of Slavery and The Trans-Atlantic Slave Trade.
Speech Topics
---
Get Your Money Right!
Founded in 2003 to meet the needs of underserved communities, UniRush revolutionized the payments industry when it launched one of the first prepaid Visa debit cards. The Prepaid Visa RushCard provided instant access to a set of basic financial services for over 48 million Americans who could not previously establish traditional banking relationships.
A pioneer and prepaid card industry leader, RushCard empowers cardholders to take control of their financial futures, create a positive credit file and achieve their personal and financial goals. Join Russell Simmons, entrepreneur, philanthropist and founder of RushCard, to learn about the importance of building wealth credit, budgeting, investing and home ownership to successfully manage money and gain financial freedom.
Business Karma: Doing Well by Doing Good
The past two decades have seen an explosion in entrepreneurship, and no more dramatic than in the social sector. Just as business entrepreneurs create and transform whole industries, social entrepreneurs act as the change agents for society, seizing opportunities others miss in order to improve systems, invent and disseminate new approaches and advance sustainable solutions that create value - both social and monetary.
Russell Simmons is a social entrepreneur extraordinaire. One of America's shrewdest businessmen, Simmons parlayed a career as a hip-hop producer into an empire consisting of record labels, clothing and jewelry lines, and TV and film ventures by staying focused on building organizations, experiences, and opportunities that create long-term value rather than exploiting short-term gain. Maintaining only one bottom line, he believes, is what keeps people in a vicious cycle of chasing money. Building businesses for the future?based on what people actually want creates double and triple bottom lines, resulting in personal satisfaction AND monetary gain. Simmons' most successful venture of his entire career, RushCard, is a financial empowerment tool founded to meet the needs of underserved communities.
In a conversation-style interview, Simmons reveals his techniques for setting meaningful goals, delves into purpose-driven principles that keep him energized and focused, and shares the fundamental practices of being a good giver so you can be an even better getter.
Super Rich: Maximizing Results for Yourself and Others
The recent global recession has dramatically altered the traditional paradigms of wealth as well as the mechanisms for creating it. No longer are tried-and-true methods reliably effective and new constructs and perspectives must be sought-out and employed for future stability and security. Russell Simmons is just the man to help guide this revolution in richness. A master entrepreneur and visionary who is living proof that his advice works, Simmons believes that being rich has much more to do with how you live than what you have. He wisely realized early in life that following certain principles can lead to monetary and personal fulfillment.
Super Rich takes audiences on an eye-opening journey that provides them with innovative ideas and practical tools for greater levels of performance and prosperity. It isn't simply a tutorial in making money but rather a roadmap for achieving success - personally and professionally, for oneself and others - beyond traditional measures of wealth. Using personal anecdotes, real-world examples, and proven practices and philosophies, Simmons engages and energizes audiences with his inspiring message to harness the power of each individual's unique gifts and tap into them to become Super Rich.
Links
---
Related Speakers View all
---
John Legend

Nine-Time Grammy® Award Musician & Philanthropist; K...

Sir Richard Branson

Founder of Virgin Group

Cody Adams

Managing Editor of The Floating University.

Kurt Andersen

Host, "Studio 360 from PRI and WNYC"; Author

Steven Mazie

Associate Professor of Political Studies, Bard High ...

Dan Gilbert

Psychologist; Happiness Expert

Van Jones

CNN Contributor, Best-selling Author; Human Rights, ...

Jeffrey Israel

Jeffrey Israel has taught religion and political phi...

An Phung

Multimedia Journalist

Neil Giuliano

President, GLAAD

Moby

Musician, DJ, Photographer

Patrick Byrne

Founder & CEO, Overstock.com

Jimmy Carter

Former United States President (1977-1981), Author

Parag Khanna

The World's Leading Geo-Strategist; Author of Second...

Zac Posen

Fashion Designer

Jimmy Wales

Co-founder of Wikipedia and Mobile Phone Carrier The...

Graham Hill

Founder, Life Edited

Sebastian Copeland

Photographer, Extreme Athlete, and Environmental Act...

Jim Lehrer

Anchor, Co-Anchor and Executive Editor, PBS Newshour...

Niall Ferguson

British-American Historian; Laurence A. Tisch Profes...
More like Russell