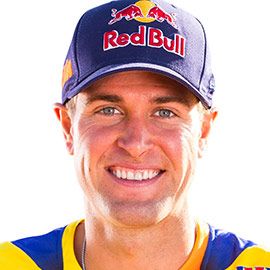 Ryan Michael Dungey (born December 4, 1989) is an American professional motocross racer competing in the AMA Supercross and Motocross championships. Ryan Dungey is the current 450cc class Monster Energy Supercross champion and AMA 450 Motocross Champion.
Born in Belle Plaine, Minnesota , Ryan Dungey currently resides in Tallahassee, Florida, with his wife Lindsay Dungey. He currently rides for the Austrian motorcycle manufacturer, KTM, on their premiere North American factory racing team, RedBull KTM. Ryan Dungey trains with legendary trainer Aldon Baker and is mentored by Red Bull KTM team manager, Roger DeCoster. Ryan Dungey has the distinction of being one of the few professional motocross athletes to turn pro directly from the "B" class in amateur racing; a feat that has not been successfully accomplished many times.
Dungey has won every major title in American Motocross and Supercross. Dungey has also been crowned the champion of the world's largest international motocross race, the Motocross des Nations, three times. In total, Ryan Dungey currently has seven major AMA championships which place him among the best motocrossers of all time. Dungey is tied for 6th place in all-time 450 Supercross race wins (31) and 6th place in all-time Supercross combined wins (43). In motocross, Dungey is in 2nd place in all-time 450 motocross overall wins (39) and 3rd place in all-time combined motocross overall wins (46). Finally, Ryan Dungey is in 4th place in all-time combined Supercross and Motocross wins with 77 total race wins. Apart from his championships, Dungey is known for his friendliness, charity work, consistent podium finishes and near-textbook riding style.
Dungey was born to Troy and Michelle Dungey in 1989. He has two brothers, Jade and Blake. Ryan's brothers and father were amateur racers as well. In 2006, at the age of 16, Dungey auditioned and was signed to a pro contract. Dungey married girlfriend Lindsay Siegle on November 1, 2014. They met at Annie's Cafe in Belle Paine, Minnesota in 2007.
Dungey is a spokesperson for LIVESTRONG after losing his grandmother to cancer in 2005. He became a member of the Global Envoy Team in 2011. After partnering with Target in 2012 and 2013, Dungey held the MN River-to-River Ride to benfit St. Jude's Children's Hospital.
Click Here to register and get pricing on booking Ryan Dungey for your next event!
Get notified of new talks and events.
Follow
Related Speakers View all
---
Mel H. Abraham

He has a riveting presence, created by his absolute ...

Milt Abel

Milt Abel is a corporate-clean stand-up comedian tha...

Mike Abrashoff

Former Commander of USS Benfold and Author of "It's ...

J.J. Abrams

Director, Producer, Writer, Author; Known for His Wo...

Melvin Adams

Former Harlem Globetrotter with a Passion for Reachi...

Kirk Acevedo

Actor Best Known for His Roles on "Dexter," "Band of...

Jose Antonio Abreu

Founder of El Sistema, Which Helps Venezuelan Childr...

Carol Adelman

Carol Adelman is a senior fellow and director of Hud...

Newton Aduaka

Newton Aduaka's award-winning Ezra, told through the...

Janus Adams

Award-Winning Journalist

Jenoyne Adams

African-American Novelist.

Khandi Alexander

Khandi Alexander (born September 4, 1957) is an Amer...

Shaun Alexander

NFL Great

Laila Ali

Undefeated 4 Time World Champion Boxer 24-0 with 21 ...

Alan Alda

Actor, Writer, Science Advocate, and Director

Adewale Akinnuoye-Agbaje

Fashion Model & Actor Known for "Lost," "Oz" & "Suic...

Jane Alexander

Actress and Former Director of the National Endowmen...

Bruce Aitken

Bruce Aitken was born in Invercargill New Zealand wh...

Gary Aldrich

On Independence Day, 1996, former FBI Agent Gary Ald...

Marilyn Albert

Dr. Marilyn Albert received her PD degree in Physiol...
More like Ryan