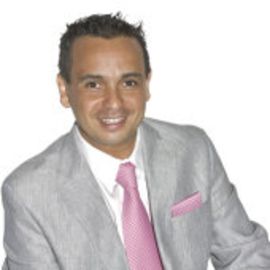 It is not our intention to satisfy our customers; our intention is to amaze them. ~ Said El Kadri
Said El Kadri is shaking up the speaking industry and entertaining audiences with his unlimited creativity, boundless energy, and fresh perspective. Saids customized presentations inform, inspire, empower, and motivate audience members. It comes as no surprise he has quickly become one of the most requested international speakers and consultants for a variety of industries.
Said, corporate trainer, idea consultant, coach, and successful entrepreneur, has worked in over 17 countries on 4 continents. His international experience (he can present in English, Spanish and French) combined with humor and a charismatic approach helps him connect with audiences from all backgrounds and all levels of business. This connection is what leads to Sads unparalleled ability to create immediate and sustainable transformations within a company.
Said challenges the status quo with his unconventional thinking on everything from communication and creativity to leadership and motivation. One of Saids areas of expertise is customer service; he emphasizes TLC (Think Like your Customer) and teaches businesses, often as a personal advisor to the CEO, how to infuse customer service into their company culture.
Said also offers innovative training tailored specifically for each client. His training programs emphasize involvement rather than lecturing to create a high-energy learning environment and stimulate the imagination. Those attending Sads programs better retain what they learn, helping improve performance and creating greater value for the company.
A little more about Said Said El Kadri, a native Belgian, began his career in the hospitality and entertainment industry over 20 years ago when he became one of the youngest managers for a prominent tourism company. During his tenure he worked in 17 countries including Austria, Korea, Jamaica, Israel, Spain, Malaysia, Cuba, the Ivory Coast, Senegal, Switzerland, Thailand, Dominican Republic, Portugal, Turkey, France, Morocco and Mexico. Said has produced more than one hundred shows during his entertainment and hospitality career; this experience is what makes Sad successful at connecting with an audience from any industry and background.
Sad took advantage of his international employment and became fluent in six languages:
French
Spanish
English
Dutch
German
Italian

In 2005, after 15 years in the corporate world, Sad launched his own business so he could share his extensive experience, passion, and innovation with clients across the globe.
Memberships & Associations
President, Toastmasters Club (Playa Del Carmen, Mexico)
National Speakers Association
International Coach Federation
Association for Professional Consultants
International Association of Business Communicators
Global Speakers Federation

Testimonials
Bernard Meyer, General Manager, Mallorca Marriott Son Antem Said makes things happen!
Miguel Beltrn, Real Estate Director, Walmart Mexico Creative thinking on demand.
Henri de Bodinat, President, TIME Equity Partners Saids straight talk about leadership impacted us all. It was an eye-opening event that was both enjoyable and entertaining.
TC Sferra, Owner, Decadence Productions, LLC When it comes to customer service, Said transformed our entire workforce with simple words and an amazing style!
Click Here to register and get pricing on booking Said El Kadri for your next event!
Reviews
---
2009 in Köln

Dieser Vortrag mit Said hat mich sehr überzeugt. Es war sehr interessant und zugleich äußerst unterhaltsam. Said ist ein echter Entertainer mit fundiertem Wissen.

Susanne Voet
Cancun MX

I've worked with many of the top speakers in the world (Brian Tracy, Jack Canfield, Les Brown, Tony Alessandra, Bob Proctor, etc) and I can say that Said El Kadri is right up there with the best of the best. He's extremely knowledgeable, and pays great attention to detail. Looking forward to experiencing his training again in the future.

MIchael Jeffreys

· Seminars on DVD
NEW YORK, 2010

I AM A READING SPECIALIST IN NORTHERN NEW JERSEY. BEING AN EDUCATOR, AND SPEAKING IN FRONT OF GROUPS MADE IT EASY FOR ME TO ASSESS SAID. HIS DELIVERY IS EXTREMELY UPLIFTING AND ENTERTAINING. iT WAS VEREY HELPFUL TO WATCH sAID INTERACT W/ THE AUDIENCE. IT WAS EDUCATIONAL AND INSIGHTFUL.

SANDRA THOMAS
Cancun, Mexico 2119

Said El Kadri spoke before our group about SUCCESS! Although it was 2 years ago, much of it has stuck with me. Also, I've been to many motivational speakers but he stands out with his creative and energetic way. It was fun but mostly inspiring. It made me challenge myself. I would see him again if I had the opportunity.

TC Sferra

· Decadence Productions, LLC
2010, Montreal

Exactement ce dont nous avions besoin! Remettre les pendules a l´heure nous a permis de mieux comprendre les nouveau défis et les résultats obtenus depuis ont été spectaculaires. Je tiens à vous remercier personnellement pour votre enthousiasme et l'intérêt que vous avez porte au succès de notre convention.

Laurent
Montreal, Canada, 2010

Mr El Kadri is a born speaker. The words, he uses, ensure the maessage is well understood. The structure of the conference is everything but boring. I have learned so much and I strongly recommend the experience to eveyone.

laperriere
2009,Stockholm Sweden

väldigt energisk och positiv talare, som verkligen kan konsten att fånga upp ens intresse. Det märks att Said är professionell och att han brinner för det han gör. Mycket imponerande!

Anna Vestlund
2009, Guadalajara

Very pleased, excellent speaker. His presentation is direct, energetic and entertaining. He engages the audience, use thought-provoking questions and make it fun for everybody.

Robert Kudnetzky
2010, Mexico City

Said's presentation was great! He keep it simple with the words. Innovative with the content and very skilled to create a great experience for the audience.

Ernesto
Get notified of new talks and events.
Follow