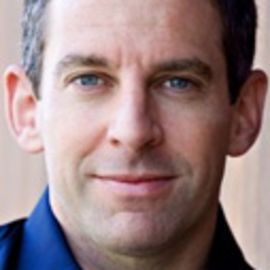 Sam Harris has been identified as one of the "Four Horsemen of Atheism" -- company he shares with Richard Dawkins, Dan Dennett and Christopher Hitchens. An outspoken proponent of skepticism and science, his two books -- The End of Faith and its follow-up Letter to a Christian Nation -- have become best-sellers.
In The End of Faith, Harris showed "a harrowing glimpse of mankind's willingness to suspend reason in favor of religious beliefs, even when these beliefs inspire the worst of human atrocities." After receiving thousands of angry letters in response, he wrote Letter to a Christian Nation, which centered on religious controversies in the United States: stem cell research, "intelligent design," and links between religion and violence.
Harris received a degree in philosophy from Stanford and a Ph.D. in neuroscience from UCLA. He is the co-founder and CEO of Project Reason, a nonprofit devoted to spreading scientific knowledge and secular values in society.
Related Speakers View all
---
Dan Ariely

Behavioral Economist, Professor at Duke University, ...

Dan Gilbert

Psychologist; Happiness Expert

Sir Richard Branson

Founder of Virgin Group

Steven Pinker

Professor of Psychology, Harvard University

Jimmy Wales

Co-founder of Wikipedia and Mobile Phone Carrier The...

Jeffrey Israel

Jeffrey Israel has taught religion and political phi...

An Phung

Multimedia Journalist

Steven Mazie

Associate Professor of Political Studies, Bard High ...

Graham Hill

Founder, Life Edited

Slavoj Žižek

Philosopher

Parag Khanna

The World's Leading Geo-Strategist; Author of Second...

Peter Rojas

Co-founder of Gizmodo and of Engadget

Kurt Andersen

Host, "Studio 360 from PRI and WNYC"; Author

Cody Adams

Managing Editor of The Floating University.

Anna Deavere Smith

Award-Winning Actress, Playwright, Social Commentator

Daniel Dennett

Professor of Philosophy, Tufts University

David Bellos

Translator

Jonathan Haidt

Psychologist, Widely Considered Expert in Psychology...

Moby

Musician, DJ, Photographer

Professor Richard Dawkins

English Ethologist, Evolutionary Biologist, Charles ...
More like Sam