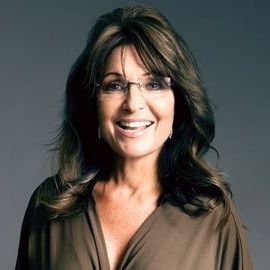 Known for the meteoric rise that captured the hearts and minds of a global audience, Sarah Palin is a groundbreaker who speaks on todays issues and her vision for energy independence, national security, fiscal responsibility, health care, education, small government and advancing the cause of special-needs children.
Sarah Palin is a trailblazer who understands the challenge of overcoming adversity on both a personal and professional level. Rising from small-town origins to become a dominant figure on the national scene, she served as the first female governor of Alaska and was the first woman to be a vice presidential candidate for the Republican Party. A fearless and independent voice, Palin has the unique ability to unite, engage and attract audiences far and wide as she sheds keen insight into the issues facing our country today. One of TIME magazine's "100 Most Influential People" and Forbes magazine's "World's 100 Most Powerful Women," Palin's magnetic personality shines in her customized, standing-room-only presentations as she inspires and motivates each individual to look to the future with hope and courage, while her compelling message provides a sense of resolve into the issues of the dayreducing spending, shrinking government, developing domestic resources and creating a fiscally responsible health-care model to benefit all Americans. Palin is a powerful, no-nonsense advocate for principles and reform, from protecting taxpayers from wasteful spending to advancing the cause of special needs children. Her memoir, Going Rogue: An American Life, and her inspirational book, America by Heart: Reflections on Family, Faith, and Flag, were immediate best sellers. Her new book, A Happy Holiday IS a Merry Christmas, will be released November 2013.
Click Here to register and get pricing on booking Sarah Palin for your next event!
Videos
---
Speech Topics
---
Today's Issues and the Impact on Our Future
In her engaging and standing-room-only presentations, Palin tailors her remarks for each audience as she addresses today's most critical issues both at home and around the world. Topic areas include energy independence, national security, fiscal responsibility, education, health care, small government and advancing the cause of special-needs children.
Inspiring Lives: A Message of Resilience and Hope
Capturing the hearts and minds of millions of Americans as the 2008 Republican Vice Presidential candidate, Sarah Palin continues to use her voice to inspire and connect with others from all walks of life. Holding steadfast to her convictions while in the midst of personal and professional challenges—including her landmark political career—Palin lets her values be her compass as she navigates her role on the global stage with grace. The many roles she has embraced in her life—devoted wife, military mom, public servant and champion for children with special needs—have given her a far-reaching perspective into the struggles we all face. Meeting with people from around the world since coming onto the national stage in 2008 has further enriched her life and given her a unique vantage point from which she shares the importance of looking for the best in everyone. Attracting record-breaking crowds, Palin's inspirational message of resilience and hope, combined with her warm personality, will touch the spirit of each audience member and remind them that the best possible life is never out of reach.
Get notified of new talks and events.
Follow
Related Speakers View all
---
Bristol Palin

Daughter of Sarah Palin; Contestant on "Dancing with...

Karl Rove

Senior Advisor to President George W. Bush (2000-2007)

Kirsten Powers

USA Today Columnist, Daily Beast Columnist & Fox New...

Mike Huckabee

Politician; Former Governor of Arkansas

Bob Beckel

Political Consultant and Former Diplomat

Laura Ingraham

Political Commentator, Radio Show Host & Journalist

Cal Thomas

America's Leading Syndicated Op-Ed Columnist

Mitt Romney

Former Governor of Massachusetts, 2012 Republican Pr...

Rudy Giuliani

One of the World's Most Respected Leaders, 107th May...

Michelle Malkin

Award Winning Conservative Columnist, Best-Selling A...

Linda Chavez

Conservative Political Commentator

Dana Perino

Political Commentator and Co-Host of Fox's "The Five...

Fred Barnes

Executive Editor, The Weekly Standard and FOX News C...

Andrea Tantaros

Co-host of the hit show "The Five" on Fox News Channel

Bill O'Reilly

Host of "The O'Reilly Factor," Bestselling Author, a...

Greg Gutfeld

Host, "Red Eye With Greg Gutfeld"; Author, "The Bib...

Evan Bayh

Former U.S. Senator (D-IN)

Neil Cavuto

Senior VP, Anchor and Managing Editor Fox News Chann...

Bret Baier

FOX News Chief Political Anchor and Host, Special Re...

Juan Williams

Award-Winning Journalist, Healthcare Authority
More like Sarah