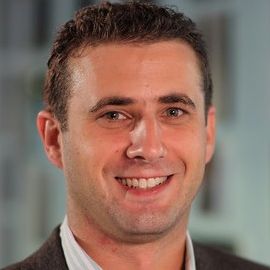 As the son of Steve Farber (former VP of the Tom Peters! company) I have grown up around the leadership concept of LEAP. LEAP, which is an acronym for Love, Energy, Audacity, and Proof, is the framework behind the leadership concept explored in the Steves best-selling book The Radical LEAP.
As a certified facilitator of this content, I am able to help lead your team through an exploration and dialogue about leadership. These workshops work best with small groups of approximately 15 people, are affordable, and provide lasting value. We price this program on a per seat basis of 125 dollars for materials, plus a small facilitator fee (which I am happy to discuss with you). I am able to structure a full day (up to eight hours) or a half day session (approximately four hours) depending on what you feel fits your schedule best.
To learn more about bringing the extreme leadership workshop into your organization, please drop me a note and I will be in touch with you momentarily.
A veteran of the industry, Saul shares his musings about meetings on SpeakingAgent.com. Saul speaks on growing industry trends and provides quick and intelligent speaker recommendations, feedback, and industry news for meeting professionals around the country He gives clients as much information as they need all the selling points, research, and consensus-building materials to help them communicate well with their internal planning committees and book the best speaker for their event.
By day, Saul Farber is a keynote speaker agent and program consultant in Washington DC. He is well-versed in a realm of speaking topics, and one of his favorites is team building and leadership development. Some of Sauls cant-miss speaker recommendations on this topic: Pat Lencioni, Steve Farber, Marshall Goldsmith, AG Lafley, and General Stanley McChrystal.
Saul has booked speakers such as Ambassador Nicholas Burns, Donna Brazile, Erik Wahl, Margaret Spellings, Naomi Tutu, Peter Sheahan, Marshall Goldsmith, Neil Howe, Rigoberta Menchu Tum, Eric Greitens, Nick Bilton, Neal Petersen, Jim VandeHei, Charlie Cook, Peter Hart, General Mike Hayden, General Stanley McChrystal, Al and Laura Ries, Jeffrey Skiles, Joe Flower, Dana Perino, Ed Gillespie, Keith Ferrazzi, Donald Ratajczak, David Stillman, Lynne Lancaster, Seth Matison, Amy Walter, Stuart Rothenberg, Jonathan Kozol, Anya Kamanetz, Secretary Carlos Gutierrez, Steven Squyres, Chris Brogan, Peter Beinart, Governor Tim Pawlenty, Tommy Spaulding, Jonathan Alter, Michael Durant, Michael Corcoran, Michael Rogers, Tom Vander Ark, Arianna Huffington, Leslie Sanchez, Jon Corzine, Robert Kriegel, Kevin Coupe & Michael Sansolo, Scott Deming, A.G. Lafley, Dan Coughlin, Marcus Buckingham, Rolfe Carawan, Christopher Cox, Erik Peterson, Alexis Glick, Jeanette Walls, Erik Weihenmayer, Drew Rosenhaus, Leonard Nimoy, Rob Jolles, Jim Donald, Chuck Todd, Dylan Ratigan, Reggie Brown (as Obama), Barry Posner, Jehan Sadat, Blake MyCoskie, Cary Mullen, and countless others for engagements on the speaking circuit.
Related Speakers View all
---
Roberto Alas

Reaching and identifying the potential in every sing...

Ron Broussard

STRETCHYOURSELF

Lori La Bey

Driving Change How Caregiving is Perceived, Received...

Ryan Peck

Ryan Peck serves as the Assistant Athletics Director...

Keisha Owens

Accessible technology, performance improvement, moti...

Kristi LeBlanc

Premier Expert on Recruiting-Engaging Purposeful, Pa...

Jim Carroll

One of the World's Leading Global Futurists, Trends ...

Michael J. Fagel, PhD.,CEM

Emergency Manager, Planner, Key Note Speaker, Ground...

Helder Falcao

"PALOP"| Portuguese & English Speaker | Business Net...

Tim Rooney

Today, PeopleMation is living out his dream to "Help...

Bernadette Vadurro

Award-Winning Business Woman, Professional Speaker a...

Gillian Muessig

Thought Leader in Global Entrepreneurship

Michelle Courtney Berry

Breakthrough Expert, Founder and CEO of LifeFlowPlan...

Charlie Alejandro

Motivational Speaker, writer, actress and radio talk...

David Nour

Social Networking Strategist

Linda Villatore

Award Winning Trainer

Candace Reese

The CEO Pundit: Empowerment Speaker, Inspirational C...

Robert K. Maxfield

World Class Video Speaker

Marty Stratton

Entrepreneur Spirited Speaker; Driven for Your Success!

LisaVanAllen

The Biz Doctor with prescriptions for your success!
More like Saul