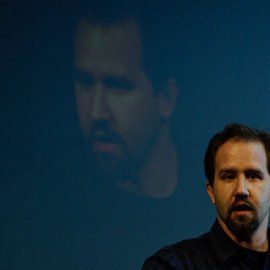 Scott Hanselman is a Principal Program Manager Lead at Microsoft, aiming to spread good information about developing software, usually on the Microsoft stack. Before this Scott was the Chief Architect at Corillian Corporation, now a part of Checkfree, for 6+ years. Scott was also involved in a few Microsoft Developer things for many years like the MVP and RD programs and will speak about computers (and other passions) whenever someone will listen. Scott's presentations are a mix of technology, comedy and sparkle fingers.
Click Here to register and get pricing on booking Scott Hanselman for your next event!
Reviews
---
Software Architect, Engineer, Speaker, Author, Teacher, Comedian is a fabulous topic i appreciated that article you writing.

aliyan hashmi

· Panda Cloud Cleaner 1.1.5
Microsoft, MVP Summit 2012

Scott is irreplaceable speaker! One of the very few which can make you forget the time while listening to him. He has very unique way of showing technical stuff and always, always ready to make the audience understand what he's talking about. Person who can put smile on your face even if you're not smiling at all :).

Hajan Selmani
MIX09, MIX10

Anyone can give a good demo when things are going fine, but it takes a skilled and fluent speaker to be able to riff through the inevitable errors and keep a presentation engaging while fixing the error. Some people just can't do it (I'm looking at you, Dean Hachamovitz).

But beyond that, Scott puts in the time to ensure that there is a reason for everything that is going into the talk. I would go to a talk of Scott's on just about any topic.

Kevin Stevens
Yesterday in Brussels

He shares more than just tech stuff, also personal experiences like how he works remotely from home in a good and healthy balance. Also, he's hilarious. He's the man. He rocks!

Koen Verheyen
PDC10

Wow, what an engaging speaker! I got excited just seeing how excited he was.
Also, he can code in front of an audience which takes skill, practice and nerves.

Jason Kendall
PDC10

Very well-grounded speaker with a good sense of humor and a phonomenal grasp on the material. Easy the best presenter at PDC10!

John McConnell
PDC09 (LA) and MIX10 (Vegas)

Makes everything seem simple. Takes a direct approach to problems. Interesting and funny guy!

jon jarnsater
Online (Dev Days / PDC10)

Great speaker and tremendously charismatic. His talks are informative, easy to comprehend and funny at the same time.

Marius Schulz
Various Screencasts

He has a very down to earth approach to everything he does and makes it easy to identify with people and his subject matter.

Jake Markhus
Online, every opportunity I get..

He seems to be a down to earth type of guy and very knowledgeable. Best of all, he can transfer it with elegance/humor capturing the full attention of his audience regardless of the length of the talk.

Henok Girma
Microsoft PDC10

Great speaker and tremendously charismatic. He has mastered the art of making fun and educational presentation, he's has reached Zen. He makes programming problems seem easy and exciting, and makes has the gift of making every problem he tackles easy to comprehend.

Francisco Noriega
AZ Groups 7th annual "Day of Gu"

Scott does a remarkable job at breaking down complex issues and making them seem "well duh!" simple. He keeps the presentation upbeat and light, and seems to have a great amount of disdain for presentation slides, choosing instead to utilize a number of code demos to convey his message. Scott knows his subject material, providing enough technical information to be useful in leading his audience to follow up with their own research.

Quite simply one of the best technology presenters I've seen.

Jeremy McCliment
TechEd Australia 2008, Sydney

A very entertaining and informative presentation by Scott. When Scott presents it is very motivational and his passion for technology shines through.

In this presentation he was presenting a very foreign concept to a lot of .NET developers - ASP.NET MVC 1.0 and did a great job in selling its advantages and planned direction.

Nick Josevski
PDC, MIX

Scott is amazing at breaking down complicated technical topics to simple, succinct, easy to grasp discussion. His enthusiasm and passion for developing software is really brought out in his discourses. His lack of reliance on a PowerPoint presentation shows how confident of a speaker he is, and his analogies often drive the practicality of his points home.

Christopher Harris
CodeMash 2008

Great lunchtime keynote about IIS 7. Scott demonstrated several new features of IIS 7, as well as how IIS now runs PHP lightning fast. Very funny and well prepared.

Pete Shearer
Microsoft Professional Developers Conference 2010

Perhaps one of the most informative and funniest sessions at the show. Good stuff!

Jarem Archer
2009 Tech Ed LA & Numerous Online Presentations

Knowledgeable & Funny.

Scott has a knack for finding a way to teach you whatever he is presenting in an interesting, entertaining and funny way. He clearly has a passion for technology and life and he inspires others to have the same.



Joel Duvall
Microsoft Tech Days 2010, Belgium

An excellent mix of technical knowledge, humour and experience. Great to watch and listen to. Open for conversation after the presentation.
Would attend again!

Mel Gerats
MS Webcamp, Sydney, Australia, 2010

Good technical depth with the experience to talk through pretty much any question from the floor. Makes dry stuff interesting and funny. Case in point, his pitch for the .Net 4.0 marketing slogan: "We suck 0.5 less than last time."

Simon
Devscovery Conference (by Wintellect) and various online talks

Excellent speaker all around. In depth knowledge of topic, very clear explanations and great examples to illustrate his point. Adds a lot of humor to the talk which makes a huge difference in an environment that can produce very dry speakers.

jim n.
Online, PDC

Makes dry technical talks fun. A funny guy.

Phil Jones
2010 Blogging While Brown Conference

Gave an informative, engaging and funny presentation in an incredibly short period of time. I think it was "# of Ways To Make You Blog Suck Less".

He even reads tweets and actually communicates with you after a presentation.

Mz. Muhammad

· LexTown Publications
PDC, Tech Ed

Knowledgable, good pace, clear voice and he is engaged in his topics. Hanselman obviously enjoys the technology; you can't fake that.

TTilghman

· NRECA
MIX 2010, MVC's Videos, VS 2010, & ASP.NET Training Video

Crystal clear speech, linkage to real world situation, Impressive personality, good sense of humor, knows how to attract audience....

SohelElite
June 2010 at the Blogging While Brown Conference in DC

His "32 Ways to make your blog suck less" presentation was the best "do better online" one I've seen yet. And I've seen many.

And he managed to do it in 30 mins

Luvvie
Several videos and podcasts

This is by far the best speaker I have heard.

His use of comedy and overall presence is something that can't help but get you in a good mood and just keep listening.


Jens Christian Rasch
On-line on videos from conferences 2008+

Highly engaging and interactive.
Doesn't take himself too seriously
Adds a personal touch
Knowledgeable without arrogance



Nathan Pledger
Pnp Summit: Redmond 2006, Quebec 2008

Makes listening to tech talk entertaining. Great attention to detail in his presentation technique.

Darrel Miller
MIX 10

Great demos, concise content. Down to earth and keeps you engaged with humor.

kindohm
Vegas, 2008?

Awesome speaker. I think it was Vegas 2008 but I can't remember. I've seen a lot of his webcasts.

Ben's too short
Videos from Microsoft DevDays 2010 in The Hague in The Netherlands

Excellent grasp of the material and amazing ability to communicate it even to the novice user. Would love to see him speak in person someday.

Paul Gower
MIX10

Scott makes tech sessions a blast. And even on a podcast he's incredibly engaging while asking the tough questions. Live he's a riot. The preshow is the best too. And when he and Haacke show up together....brilliant.

dodegaard

· WhoCanHelp
DevConnections Las Vegas 2008

Very entertaining! His way of presenting keeps everyone interested and wondering what's next. I wish I could see him present more.

Chuck Foster

· Perks.com
Online

able to give me what I need to know with out overwhelming me. Great passion and very knowledgeable.

mattben

· www.ecst.csuchico.edu/~mattben
A number of online videos about ASP.NET MVC

Hilarious! I usually go into a webcast assuming the person knows what they're talking about, which Scott obviously does, but I don't think that's necessarily a "pro". What is is the fact that he can convey the material in an accessible and ofter humorous way without sounding forced or scripted; I hate speakers who try to hard to get a laugh. Every talk I've watched has helped my development and has always been enjoyable.

Jesse Williamson
Tech Ed 2008 and Web Camp Sydney

I must say it's a gift, a talent to present with so much passion and fun & rare among geeks. Most of the technical stuff we can learn through online help or blogs but listening to his style of presentation is awesome and something to admire about.

I like his super-ninja-monkey-death-karate style :)

Prashant Brall
Mix, DevTeach Toronto

Informative and witty

Danno
November 2008; DevConnections - Las Vegas

Dynamic (i.e. rolls with the punches in a lively interactive way)

Enjoyable, Practical, Funny.

John Weldon

· TransCore
If you're using xcopy, you're doing it wrong

Great speaker, funny and very interesting, knows how to keep his audience awake.

Yann Robin
asp.net mvc video

Scott gives a well structured delivery of information with a nice build up from first principles to more complex ideas. He is amusing and keeps it interesting and engaging from beginning to end.

David

· Avida
Several videos, live at MIX09, and I can't remember exactly where else...

Although he hasn't spoken at our user group yet (hey, if you're ever in the area...), but I've seen him elsewhere. Very passionate. Subtle humor. Avoids slides. Gets to the point. Great at the technical stuff, yet I often find his non-technical (but field-related) talks even more engaging.

Mark Freedman

· Fairfield / Westchester .NET User Group
Online

Charismatic and entertaining, Scott has a great way to transmit deep technical information in a very enjoyable way. His passion is clear, and contagious. You'll always walk away with something new from his talks.

Francisco Noriega
Many times

*Always prepared
*Very enthusiastic
*Knows his stuff
*Very into the correct techniques for presentations
*Superb at balancing his talk for the general audience knowledge level
*Seems to really care about developers

Brett
Online TechEd PDC...weekly

Very informative, entertaining, and engaging speaker. One of the best public speakers I have ever heard...

Mark Greenway

· AVIAF
Online and NDC

My favorite speaker. Makes every session easy to understand, entertaining and makes me want to try out the things he's talked about.

Vidar Nordnes
EADNUG inaugural meeting & other user group meetings

Scott agreed to drive over 100 miles to Eugene to speak at the first ever EADNUG meeting last year and help us get the group going. His draw was fantastic--in this non-tech town we got over 40 attendees to hear Scott speak (and after 18 months, EADNUG is still going strong thanks in part to this great start). His presentation was interesting, informative and funny, as always, and everybody both enjoyed it and learned a lot. Scott's one of the best and most intelligent extemperaneous speakers I have ever seen and his humor is a real crowd pleaser. I have traveled significant distances to hear his talks because I know they will be good.

Ted Glick

· Eugene Area Dot Net Users' Group
2008 DevTeach keynote - TVBug talk

Very passionate. Excellent communication skills, very well prepared.


Hernan Garcia
Belgium Techdays 2010

Funny
Good techinacal knowledge
knows how to capture the attention of the audience
Reachable (open to the public)

chrissie1
Online

really gets you to enjoy what he's saying, regardless of the content.
also very funny... can make a GOOD comedian ;)

Mohammad Azzam
2010 Phoenix Scott Guthrie Day of .NET

Has a passion for tech and infects his audience with it.

hafthor
Several videos regarding ASP.NET MVC, and also .NET 4

- excellent grasp of material
- does not "dumb-down" topics
- entertaining/attention keepers
- useful features

Michael Haren
Get notified of new talks and events.
Follow
Related Speakers View all
---
Matthew Evans
Bil Simser

Web and Collaboration Architect

Jonathon Colman

Webby Award-Winning Content Strategist, Internet Mar...

José Colucci

José Colucci, a Health & Wellness lead for IDEO in B...

Melissa Pierce

Filmmaker, Risktaker, Innovator, and Idea Pollinator

Krista Neher

Marketing Strategist, Bestselling Author, Internatio...

Becky McCray

Retail store owner and cattle rancher

Narges Nirumvala

Executive Speech Coach, Sales Presentation Skills Tr...

Anthony Ha

Writer at TechCrunch

Pete Cashmore

CEO and Founder of Mashable and one of Time Magazine...

Mac Blake

mascotwedding + stagcomedy + theHustleShow + microph...

Daniel Van Kirk

he like sports, funny things and the Wonder Years. C...

Phil Gerbyshak

Social Media and Call Center Management Expert

Lou Kerner

Founder, The Social Internet Fund

Alexandra Samuel

Harvard Business Review Social Media Blogger & VP So...

Elaine Fogel

Professional Speaker, Marketer, Brand Evangelist, Au...

Baratunde Thurston

Supervising Producer at "The Daily Show"; Technology...

Laura Fitton

HubSpot, Founder of oneforty.com; co-author Twitter ...

Mark Grimm

Former TV Anchor Is Thought-Provoking Speaker

Luca Sartoni

Media professional and photographer for passion
More like Scott