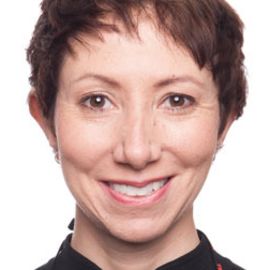 Shereen El Feki
Shereen El Feki is a TEDGlobal Fellow who works and writes on sexuality and social change in the Arab world.
Dividing her time between London and Cairo, TED Fellow Shereen El Feki works on issues related to health and social welfare in the Arab region -- including intimate attitudes toward sexual (and political) freedoms, as explored in her new book, "Sex and the Citadel."
Half-Egyptian, half-Welsh, El Feki was brought up in Canada. She started her professional life in medical science, with a PhD in molecular immunology from the University of Cambridge, and later worked as healthcare correspondent at The Economist. She also is a former vice chair of the United Nations' Global Commission on HIV and Law. While she has worked in regional media as a presenter with the Al Jazeera Network, and continues to write on social issues in the Arab world, her passion lies in projects that aim to better understand, and surmount, the social challenges facing Arabs, particularly young people
Click Here to register and get pricing on booking Shereen El Feki for your next event!
Speech Topics
---
Sex and the Citadel: Intimate Life in the Changing Arab World
If you really want to know a people, start by looking inside their bedrooms. As political change sweeps the streets and squares, parliaments and presidential palaces of the Arab world, Shereen El Feki has been looking at upheaval a little closer to home—in the sexual lives of men and women in Egypt and across the region. The result is an extraordinary, informative and engaging account of an aspect of Arab society that is still largely hidden from view.
Sex is entwined in religion and tradition, politics and economics, gender and generations, making it the perfect lens for examining the region's complex social landscape. In this talk, El Feki takes a fresh look at the sexual history of the Arab region, and brings new voices to the debate over its future. With a look back at changing sexual attitudes in the Middle East, and West, El Feki examines what has been driving a shift towards today's anxieties in the Arab region, and how this plays out in everyday lives: from the taboo of premarital sex to trouble in the conjugal bed; from sexed-up writing to censored movies; from debates over sexual education and abortion to the incendiary topic of unwed motherhood; from the booming business of sex work to the struggles of those who break the heterosexual mould. This is not a talk about what's wrong in the Arab world. It's about what's right: from national policies to community projects to individual choices, El Feki explores how people are finding solutions to their problems, while staying true to their religion and culture, and what this means for the future of democracy across the region.
Get notified of new talks and events.
Follow
Related Speakers View all
---
Parag Khanna

The World's Leading Geo-Strategist; Author of Second...

Annie Lennox

Eurythmics Singer Known for "Sweet Dreams," Politica...

Erik Hersman

Blogger (AfriGadget, WhiteAfrican), geek and power n...

Mark Bittman

Food Writer & Chief Innovation Officer at Purple Carrot

James Howard Kunstler

Novelist, Urban Planning Advocate, Journalist & Soci...

Malcolm Gladwell

Bestselling Author, "What the Dog Saw," "Outliers," ...

Larry Brilliant

Pioneering Physician and Leading Public Health Exper...

Paul Bloom

Professor of Psychology, Yale University

Sir Richard Branson

Founder of Virgin Group

Amory Lovins

CEO of the Rocky Mountain Institute and World-Class ...

Juan Enriquez

Co-founder, Synthetic Genomics Inc.; Managing Direct...

Van Jones

CNN Contributor, Best-selling Author; Human Rights, ...

John Hodgman

Resident Expert on "The Daily Show with Trevor Noah"...

Jimmy Wales

Co-founder of Wikipedia and Mobile Phone Carrier The...

Matt Ridley

Best selling author of "The Rational Optimist" and "...

Cameron Sinclair

World-Class Visionary; Co-Founder of Architecture fo...

Naomi Klein

Award-Winning Journalist, Columnist, and the #1 Inte...

Nate Silver

Founder, FiveThirtyEight.com; Author, "The Signal An...

Wade Davis

Anthropologist and Explorer; Explorer-in-Residence, ...

Barton Seaver

National Geographic Fellow, Ocean Conservationist, C...
More like Shereen