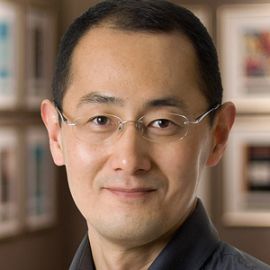 Shinya Yamanaka
Japanese Nobel Prize-Winning Stem Cell Researcher; Director of Center for iPS Cell (induced Pluripotent Stem Cell) Research and Application
Click Here to register and get pricing on booking Shinya Yamanaka for your next event!
Get notified of new talks and events.
Follow
Related Speakers View all
---
Ahmed Zewail

Scientist Lauded as the "Father of Femtochemistry" &...

Steven Weinberg

Theoretical Physicist and Nobel Laureate in Physics;...

Noam Chomsky

Professor of Linguistics and Philosophy at MIT, Fore...

Niall Ferguson

British-American Historian; Laurence A. Tisch Profes...

Richard Florida

Renowned Economist and Author, The Rise of the Creat...

Bill McKibben

Author & Environmental Activist

Vilayanur Ramachandran

Director of the Center for Brain and Cognition, Univ...

Sean Carroll

Geneticist & Evolutionary Scientist

Daniel Goleman

Internationally Recognized Psychologist & New York T...

Dr. Jane Goodall

Internationally Renowned Primatologist, Founder of t...

Jaron Lanier

Scientist, Musician, Visual Artist & Author of the N...

Jonathan Haidt

Psychologist, Widely Considered Expert in Psychology...

Daniel Kahneman

Eugene Higgins Professor of Psychology; Author, "Thi...

Garry Kasparov

World Champion Chess Expert and Strategist

Stephen Hawking

English Theoretical Physicist, Cosmologist, Author a...

Paul Krugman

Author and Professor; Winner of the 2008 Nobel Prize...

Ray Kurzweil

Chairman, Kurzweil Technologies & A Director of Engi...

Daniel Dennett

Professor of Philosophy, Tufts University

Professor Richard Dawkins

English Ethologist, Evolutionary Biologist, Charles ...

Edward O. Wilson

Scientist hailed as "the new Darwin," author and pro...
More like Shinya