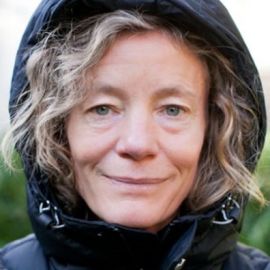 Stacy Allison
Businesswoman, Adventurer, Author, & Motivational Speaker; First Woman to Summit Mt. Everest
Stacy Allison brings a vast range of experiences and knowledge to her energetic and dynamic presentations. Ms. Allison is best known as the "First American woman to summit Mt. Everest." Stacy Allison is also the president of her own residential building company. Ms. Allison serves on the Board of Trustees of National University and is the Chairperson for The Oregon Lung Association's fundraiser, Reach the Summit. She is also a successful author and committed mother of two.
At the age of 21, Stacy Allison began major alpine climbing and achieved rapid success. Within a year, she reached the top of Alaska's Mt. McKinley, the highest point in North America, and was part of the first successful women's ascent of Ama Dablam, the 22,495 foot peak known as Nepal's Matterhorn. These accomplishments provided the groundwork for much greater achievements, including the ascent of the tallest peak in the Russian Pamir Range, as well as her first Everest challenge.
On her first attempt on Mt Everest, Stacy Allison did not summit. Stacy later returned to Mt. Everest with the Northwest American Everest Expedition, and on September 29, 1988, after twenty-nine days on the mountain, Stacy Allison became the first American woman to reach the summit of Mt. Everest, the world's highest mountain at 29,028 feet.
Stacy Allison then went on to become the leader of a successful K2 expedition, the world's second highest mountain, considered to be the most difficult peak on Earth to climb. Three of the team of seven made it to the top; after an accident to the third, in keeping with her view of teamwork and leadership, Ms. Allison and the others descended. "In any endeavor, leaders should inspire members of the team with a passion for success, " Stacy says, "but within the framework of team effort. One of the most crucial things to realize, feel and remember, is that when one team member succeeds, the entire team succeeds."
Links
---
Related Speakers View all
---
John Amatt

Mountaineer

Tom Flick

Former Pro Athlete / Business Consultant

Neal Petersen

Adventurer, Author, World- Class Motivational Speaker

Emory Austin

Authority on Leadership, Change & Customer Service

Richard Searfoss

Colonel, USAF Retired, Astronaut/Space Shuttle Comma...

Captain Gerald Coffee

Former Vietnam Prisoner of War and Inspirational Spe...

Pat Williams

Motivational Speaker and Sports Executive; Senior Vi...

Derek Daly

International Racing Champion, CEO and Founder of Mo...

Mark DeVolder

Change Management and Employee Engagement Speaker

Howard Putnam

Former CEO of Southwest Airlines

Steve Donahue

Steve Donahue builds Epic Organizations that thrive ...

Benjamin Zander

Conductor, Teacher, Speaker on The Art of Possibility

Jeff Salz

Explorer, Anthropologist, Author, TV Personality

Robert Stevenson

Author of "How to Soar Like an Eagle In A World Full...

Larry Brudnicki

Captain of the Coast Guard ship that performed two d...

Vince Poscente

Founder FULL SPEED AHEAD Leadership and Sales Growth...

Brian O'Malley

Adventurer, Mountaineer & Award-Winning Photographer...

Dr. Sheila Murray Bethel

Global Leadership, Change, Motivation Expert; Author...

Mark Sanborn

Leadership, Teamwork & Performance Expert; NYT Bests...

Steve Gilliland

Entertaining and Inspiring Business Speaker; Certifi...
More like Stacy