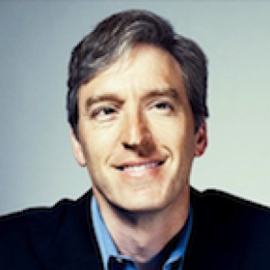 Steven Levitt
Economist, NY Times Bestselling Author of "Freakonomics," "SuperFreakonomics" and "Think Like a Freak"
The Wall Street Journal has said, "If Indiana Jones were an economist, he'd be Steven Levitt." When Stephen Dubner (co-author of FREAKONOMICS) profiled Levitt in The New York Times Magazine, he was beset by questions, queries, riddles and requests - from General Motors and the New York Yankees to U.S. senators but also from prisoners and parents and a man who sold bagels. A former Tour de France champion called him to ask his help in proving that the current Tour is rife with doping; the Central Intelligence Agency wanted to know how Levitt might use data to catch terrorists. Winner of the highly esteemed John Bates Clark Medal, as the most influential economist in America under the age of 40 (which is frequently a precursor to the Nobel Prize), Dr. Levitt has an enormous curiosity and is set on course by personal experiences and the incongruities he sees in everyday life. He is an intuitionist. He sifts through a pile of data to find a story that no one else has found and devised ways to measure an effect that veteran economists have declared unmeasurable. He has shown other economists just how well their tools can make sense of the real world.
The No. 1 business book hit the bestseller lists on its first day in print and continues to be phenomenally popular in the U.S., Europe, Canada, and around the world, selling over 4 million copies worldwide. FREAKONOMICS introduced to the world a new way of thinking a way of getting beneath the surface of modern life and the title itself has become a catchphrase spoken everywhere from college campuses to corporate boardrooms. The book has won numerous awards and its way of thinking also lives on the popular FREAKONOMICS blog, which has been called the most readable economics blog in the universe. SUPERFREAKONOMICS offers an entirely new set of lessons to be learned. The book delves into the biggest issues of our time, such as healthcare, terrorism, global warming, the financial crisis, and much more.
The FREAKONOMICS documentary is an anthology based on different chapters of the book. Variety calls the film "a revelatory trip into complex, innovative ideas and altered perspectives." The documentary spent weeks among the Top 10 iTunes film downloads.
Click Here to register and get pricing on booking Steven Levitt for your next event!
Speech Topics
---
Freakonomics and the Power of Incentives
No matter what your program theme, consider bringing Levitt and Dubner to put a unique spin on any topic as incentives are key to all of them. Their presentations are as entertaining as they are illuminating as they offer data-based stories that show audiences how to inspire change in their own company and community. But in order to change aspects of our world, we first have to understand it. Believe it or not, if we can understand the incentives that lead a schoolteacher to cheat, we can understand how the global economic crisis has come to pass.
Business & Management Lessons from Freakonomics & SuperFreakonomics
In this engaging presentation, Levitt & Dubner address the fact that the old rules of business just don't apply and therefore the ideas they have presented in Freakonomics and SuperFreakonomics make even more sense now than they did a few years ago. It's a new world, and that demands a new way of thinking. They offer audiences a way of getting beneath the surface of modern business practices. Using humor and first-rate storytelling, they discuss the sort of topics that are on every business person's mind these days: the ways to create behavior change, the incentives that work and don't work, and the value of asking unpopular questions. The difference between the Freakonomics presentation and other "economic" presentations is that while most economics presentations present great tools for coming up with answers, they don't come up with the interesting questions. This presentation offers both. Here is a sample of additional questions that Levitt & Dubner address:
Why is behavior change so difficult? How can I change the behavior of my employees? Why are our incentive programs not working?

How can I capture more customers from my competitors? How can I influence current customers to increase loyalty?

Why am I not getting the project outcomes I expected? How do I keep the tyranny of emotion, opinion and anecdote out of my project plan?

Why is consensus building often a waste of time and resources?
Think Like A Freak
Taking their successful Freakonomics ideas to the next level, Levitt and Dubner offer an engaging NEW program, based on their highly anticipated new book of the same name, that offers a toolkit to help people gain interesting insights on problem solving in their personal and professional lives. Each idea presented by Levitt and Dubner will be illustrated by a story or example, in their ever-popular counterintuitive style, that will provide your audience with illuminating thoughts for profitable thinking!
Get notified of new talks and events.
Follow
Related Speakers View all
---
Stephen Dubner

Journalist, New York Times Bestselling Author, "Frea...

Guy Kawasaki

Chief Evangelist of Canva, a Graphics-Design Online ...

Sir Ken Robinson

Internationally Acclaimed Expert on Creativity and I...

Ray Kurzweil

Chairman, Kurzweil Technologies & A Director of Engi...

Simon Sinek

World-Renowned Leadership Expert & Best-Selling Author

Malcolm Gladwell

Bestselling Author, "What the Dog Saw," "Outliers," ...

Mark Zuckerberg

Founder and Chief Executive Officer, Facebook, Inc.

Sir Richard Branson

Founder of Virgin Group

Peter Diamandis

Thought-leader & Founder and Chair of the X Prize Fo...

Seth Godin

New York Times Bestselling Author, Purple Cow, Linch...

Dan Ariely

Best-selling Author, "The (Honest) Truth About Disho...

Steve Wozniak

Co-Founder, Apple Computer, Inc.

Richard Florida

Renowned Economist and Author, The Rise of the Creat...

Tony Hsieh

CEO of Zappos

Gloria Allred

Lawyer, Activist, Advocate

Sheryl Sandberg

COO of Facebook

Larry Page

CEO of Alphabet & Co-Founder of Google

Bill Nye

AKA Bill Nye the Science Guy; Science Communicator, ...

Nouriel Roubini

World Renowned Economist

Gary Vaynerchuk

Co-Founder & CEO, VaynerMedia
More like Steven