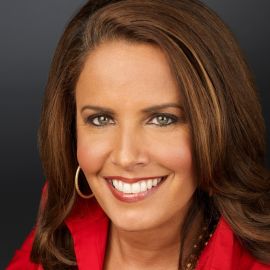 Suzanne Malveaux is an anchor for CNN's "Newsroom." Malveaux, who has worked in CNN's White House unit for nearly a decade, has played a key role as a member of the network's Best Political Team on Television and as the primary substitute anchor for "The Situation Room with Wolf Blitzer." During her tenure with CNN, Malveaux has covered three presidents, presidential campaigns, and key stories including the war in Iraq, Hurricane Katrina, and the economic crisis. Based in Atlanta, she joined the network in May 2002. Prior to that, Malveaux was a correspondent for NBC News based in both Chicago and Washington, DC. During her tenure, she covered the September 11, 2001 terrorist attacks in Pennsylvania and at the Pentagon; the Kosovo and Afghanistan wars from the Pentagon; and President Clinton's impeachment trial.
Videos
---
Related Speakers View all
---
Myung Sun Choi

Co-Founder, CompactCath; Graduate Student, Stanford ...

Hala Gorani

Anchor and Correspondent, CNN

Gloria Borger

Political Columnist, U.S. News & World Report and Se...

Candy Crowley

CNN Political Correspondent

Carol Costello

Current Anchor on CNN Newsroom

Anderson Cooper

Anchor, CNN's "Anderson Cooper 360°"

Christiane Amanpour

CNN's Chief International Correspondent & Anchor of ...

Wolf Blitzer

Journalist and TV News Anchor for CNN since 1990

Fredricka Whitfield

CNN News Anchor

Brooke Baldwin

Host of CNN Newsroom

Andrea Mitchell

Chief Foreign Affairs Correspondent, NBC

Jim Brown

Jim Brown is to running backs what Superman is to ca...

Ronald Brownstein

Editorial Director for Strategic Partnerships, Atlan...

Katie Couric

Award-winning Journalist, Best-selling Author, & Co-...

E.J. Dionne, Jr.

Syndicated Washington Post Columnist; Political Anal...

Diana L. Eck

Professor of Comparative Religion & Indian Studies

Mickey Edwards

Former US Congressman/Professor

Michael D. Eisner

President and CEO, The Tornante Company; Former CEO ...

James Fallows

National Correspondent for The Atlantic

Richard Florida

Renowned Economist and Author, The Rise of the Creat...
More like Suzanne