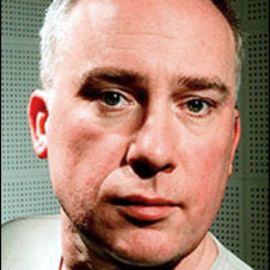 Ted Dewan is an internationally acclaimed award-winning Anglo/American author/illustrator and artist. He is best known as creator of the Emmy-Award-winning animated television series Bing currently screening in over 40 countries featuring the voice of Oscar-winner Mark Rylance. His work ranges from best-selling picture books to large-scale steampunk exhibition pieces and fiery public art installations. He spearheaded an unlikely road safety campaign that led to the creation of Britain's only "Do-It-Yourself Street" where residents built their own imaginative shared-space road installation. All his work centers around the theme of celebrating the precious gift of young people's imagination, and how adults can apply theirs to work and life. Dewan trained as an engineer at Brown University, graduated in 1983, and taught physics at the prestigious Milton Academy in Boston from 1983-1988, developing a new physics curriculum, before moving to London. He lives in Oxford with author/illustrator Helen Cooper, and their daughter, Pandora. He is currently developing three new animated television projects, and writing a YA novel based on one of his exhibitions.
Click Here to register and get pricing on booking Ted Dewan for your next event!
Videos
---
Speech Topics
---
Creativity
Community Projects
Socially Useful Public Mischief
Get notified of new talks and events.
Follow
Related Speakers View all
---
Mel H. Abraham

He has a riveting presence, created by his absolute ...

Milt Abel

Milt Abel is a corporate-clean stand-up comedian tha...

Mike Abrashoff

Former Commander of USS Benfold and Author of "It's ...

J.J. Abrams

Director, Producer, Writer, Author; Known for His Wo...

Melvin Adams

Former Harlem Globetrotter with a Passion for Reachi...

Kirk Acevedo

Actor Best Known for His Roles on "Dexter," "Band of...

Jose Antonio Abreu

Founder of El Sistema, Which Helps Venezuelan Childr...

Carol Adelman

Carol Adelman is a senior fellow and director of Hud...

Newton Aduaka

Newton Aduaka's award-winning Ezra, told through the...

Janus Adams

Award-Winning Journalist

Jenoyne Adams

African-American Novelist.

Khandi Alexander

Khandi Alexander (born September 4, 1957) is an Amer...

Shaun Alexander

NFL Great

Laila Ali

Undefeated 4 Time World Champion Boxer 24-0 with 21 ...

Alan Alda

Actor, Writer, Science Advocate, and Director

Adewale Akinnuoye-Agbaje

Fashion Model & Actor Known for "Lost," "Oz" & "Suic...

Jane Alexander

Actress and Former Director of the National Endowmen...

Bruce Aitken

Bruce Aitken was born in Invercargill New Zealand wh...

Gary Aldrich

On Independence Day, 1996, former FBI Agent Gary Ald...

Marilyn Albert

Dr. Marilyn Albert received her PD degree in Physiol...
More like Ted