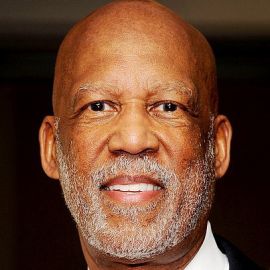 Dr. Terrence Roberts was one of the Little Rock Nine (the nine children who were the first to integrate the Little Rock Public Schools in 1957). In his presentation, Dr. Roberts guides participants through the exploration of the lessons to be learned from the chaotic episode at Central High School. He believes that there are still great strides to be made in terms of interactions across lines of demarcation. He endeavors to alleviate the confusion in all the various arenas of difference and diversity that characterize our nation. Little Rock offered dramatic examples of negative approaches to difference and the problem those approaches create. The major part of Dr. Roberts' presentations is devoted to identifying the lessons and urging the audience to commit to using this information.
Dr. Roberts holds a PhD in Psychology from Southern Illinois University and a MSW from the University of California, Los Angeles. He is licensed in California as both a psychologist and a social worker. He has served since 1975 as CEO of Terrence J. Roberts & Associates, a management consultant firm. This group has provided consultation to a wide variety of clients including Cedars Sinai Hospital, Federal Bureau of Investigation, Internal Revenue Service and Pepperdine University. The group offers expertise in several areas, including managing racial and ethnic diversity and developing multicultural awareness.
Dr. Roberts is the author of Lessons from Little Rock, a memoir about his life experiences, and the recently published Simple, Not Easy: Reflections on Community, Social Responsibility, and Tolerance. Both books provide insight into Dr. Roberts' depth of concern about the future of the United States.
Topics
• Lessons From Little Rock
• Leadership & Teamwork
• Healthy Stress Management
• Effective Communication
• Learning to Cope with Change
• Choosing to Lead an Ethical Life
Videos
---
Speech Topics
---
Healthy Stress Management
Learning to Cope with Change
Choosing to Lead an Ethical Life
Links
---
Related Speakers View all
---
Ernest Green

Member of the "Little Rock Nine" / Consultant

Chris Edley

Dean and Professor of Law

Kandi Burruss

Singer, Songwriter, Producer, and Star of The Real H...

Melba Pattillo Beals

Journalist, Author of "Warriors Don't Cry" and Membe...

Harvey Alston

Educator & Motivator

Minnijean Brown Trickey

Civil Rights Activist; One of the "Little Rock Nine,...

Tina McElroy Ansa

Author

Carlotta Walls LaNier

Youngest of the "Little Rock Nine," Civil Rights Adv...

T.J. Holmes

Award-Winning Journalist

Etan Thomas

NBA Player & Poet

Molefi Kete Asante

Leading Black Scholar

Derrick Ashong

CEO & Founder of Amp.it; Creator of "Take Back the M...

Elizabeth Atkins

Best-Selling Author & Screenwriter

Michael Ford

Founding Director, Center for the Study of the Ameri...

Ambassador Shabazz

Daughter of Malcolm X and Diplomat

Angela Bassett

Award-Winning Actress

Keith Beauchamp

Emmy-Nominated Documentary Filmmaker

Kemba Smith

Criminal Justice Advocate, Author of "Poster Child,"...

Myron Rolle

Pro Football Player, Rhodes Scholar & Humanitarian

Black Ice

Award-Winning Spoken Word Artist
More like Dr.