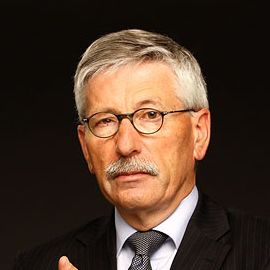 Thilo Sarrazin
German Politician, Writer and Former Member of the Executive Board of the Deutsche Bundesbank
Thilo Sarrazin is a German politician (SPD), writer and former member of the Executive Board of the Deutsche Bundesbank. He previously served as senator of finance for the State of Berlin from January 2002 until April 2009, when he was appointed to his position at Bundesbank.
In his 2010 book Deutschland schafft sich ab ("Germany Is Doing Away With Itself" or "Germany Is Abolishing Itself"), the most popular book on politics by a German-language author in a decade, he denounces the failure of Germany's post-war immigration policy, sparking a nation-wide controversy about the costs and benefits of the idea of multiculturalism.
In 2012 another book by Sarrazin was published, Europa braucht den Euro nicht ("Europe doesn't need the euro"); the book argues that the introduction of a single currency in Europe, in the form of the Euro, was a bad idea and one that should be overturned.
Related Speakers View all
---
Hans-Werner Sinn

German Economist and President of the Ifo Institute ...

Helmut Traitler

Vice President of Innovation Partnerships, Nestlé.

Alain de Botton

Swiss Writer, Philosopher & Television Presenter

Jared Diamond

Author of the Pulitzer Prize Winning "Guns, Germs an...

Niall Ferguson

British-American Historian; Laurence A. Tisch Profes...

Richard Florida

Renowned Economist and Author, The Rise of the Creat...

Thomas Friedman

Three-Time Pulitzer Prize Winning Commentator, New Y...

Francis Fukuyama

Global Affairs Thought-leader and Professor; Author ...

Murray Gell-Mann

Murray Gell-Mann started early. He entered Yale Univ...

Daniel Goleman

Internationally Recognized Psychologist & New York T...

Dr. Jane Goodall

Internationally Renowned Primatologist, Founder of t...

Al Gore

45th Vice President of the United States, Nobel Peac...

Jonathan Haidt

Psychologist, Widely Considered Expert in Psychology...

Daniel Kahneman

Eugene Higgins Professor of Psychology; Author, "Thi...

Garry Kasparov

World Champion Chess Expert and Strategist

Rem Koolhaas

Dutch Architect, Architectural Theorist, Urbanist an...

Ray Kurzweil

Chairman, Kurzweil Technologies & A Director of Engi...

Lawrence Lessig

Director, Edmond J. Safra Center for Ethics, Harvard...

Amory Lovins

Co-Founder and Chief Scientist of Rocky Mountain Ins...

Tom Peters

Speaker, Professional Agitator at Tom Peters Company...
More like Thilo