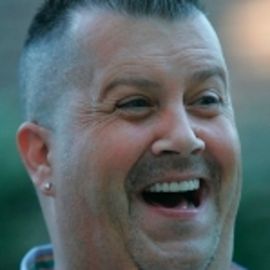 What happens when a "tech guy" with a love for history gets laid off during The Great Recession of 2008? You get Thomas MacEntee, a genealogy professional based in the United States who is also a blogger, educator, author, social media connector, online community builder and more.
Thomas was laid off after a 25-year career in the information technology field, so he started his own genealogy-related business called High Definition Genealogy. He also created an online community of over 3,000 family history bloggers known as GeneaBloggers. His most recent endeavor, Hack Genealogy, is an attempt to "re-purpose today's technology for tomorrow's genealogy."
Thomas describes himself as a lifelong learner with a background in a multitude of topics who has finally figured out what he does best: teach, inspire, instigate, and serve as a curator and go-to-guy for concept nurturing and inspiration. Thomas is a big believer in success, and that we all succeed when we help each other find success.
Click Here to register and get pricing on booking Thomas MacEntee for your next event!
Reviews
---
Legacy webinar

He is very articulate,informative and very pleasant to listen to. I felt like he was in my living room and talking directly to me.

Debby Stewart-Sinera
3 Oct 2012 Legacy Family Tree Webinars on Privacy

I have listened to several of his Weinars on Legacy and have found all of them very helpful. I enjoy the way he speaks. It is more like a conversation than just speaking. His information is clear and percise. Look forward to hearing him more.

Shirley Kyne
Legacy Family Tree Webinars

Mr. MacEntee's enthusiasm brings researching to life. Most importantly it helps us become more successful in our research and time usage. I look forward to listening to more lectures.

Vic Poulson
Mesa, AZ


Vic-Gloria Poulson
Oct 3, 2012 Privacy Webinar

Thomas explains everything so well and always shares
his own personal experiences. He is easy to listen too
and has o much information to offer.

Marilyn Talbot
FGS Conference

I have attended as many of Thomas's sessions as possible. His talks are a perfect marriage of technology and genealogy. He is open and sharing and I enjoy his presentation style. Having put many of his "tools" and suggestions into practice, I find that I have a much more organized and portable office.

Sherry Chapman
Aug 8 at Legacy Webinar " Wikis for Genealogists"

He gave a great, understandable talk about wikis. It was well organized, clear and interesting.

LBSheehan
Explorinar on Evernote

I read some reviews on Evernote and thought I should try it, but never had the time to learn it. I listened to your explorinar and learned so much that I will use it now! I was following along with your presentation and setup a note and an trunk. Thank you for all the time you spend educating us!

Karen Baughman
Legacy Family Webinar - Tracing New York Ancestors

Thomas's speaking style is clearly enunciated and upbeat. I have always found him to be wonderfully easy to follow and listen to.

Meg Staton
Legacy Family Tree Webinar on using social media safely. 22 Jun 2012

Information was top notch and Thomas showed in real time how to do the things he was suggesting on the site that it pertained to. Most excellent!

Frank McCollister
Legacy Webinar June 22. 2-12

Excellent information and presentation as usual from Thomas. He sets the bar really high for himself and never disappoints.

Lois Stifel

· Foxy G. Knits
Legacy Family Tree Webinar - Tracing Your New York Ancestors

First, I love the way Thomas does his presentations. He speaks clearly, slowly enough for me to get notes, and understand what he is saying. I just pulled up an obituary for my Great Aunt from the Northern NY Library for St Lawrence County and it answered family history questions I have been researching for almost 3 years! Thank You, Thomas, from Kerry Ann Benton, Victoria, BC, Canada

Kerry Benton
Legacy Family Tree Webinar - Tracing Your New York Ancestors

I have listened to five genealogy webinars done by Thomas MacEntee. They have all been excellent. Be prepared, he moves fast!

Geoff Brown
SCGS Webinar 16 May 2012

The Research Toolbox Webinar was great with lots of awesome information and ideas!

Jana Last
SCGS Webinar 16 May 2012

"Research Toolbox" had so many good websites and links to look at! Thanks, Thomas!

Susan Howard
SoCal Genealogical Society Webinar

Very informative. Thank you for all of the links!

MaryLou Eveland
Enoch Pratt Library, Baltimore, MD March 31, 2012

Thomas is an excellent presenter. His information is timely and accurate. He knows his topics "inside out," and he can instruct and engage people of all levels of experience and expertise. His seminars are well prepared and well worth any effort made to attend. I'm looking forward to learning a lot more about genealogical research and technology through Thomas' lectures and webinars.

Carol Petranek
Family Tree University Virtual Conference and more

Thomas always delivers..he stays focused and to the point and extremely organized. He is not just presenting information, he is "guiding" the participants through the information. He consistently includes actual examples by walking thru the steps. I have listened to several of Thomas's talks and tuned in every Friday night on GeneaBloggers Blog talk radio! I will not miss any of Thomas's presentations.

familytreegirl
Legacy Family Tree 1940 Census Webinar

I've now listened to several of Thomas' webinars and always find that it is worth the time. The information he provides in his webinars reflects a depth of experience with and investigation of the topic that is greatly appreciated. I also appreciate that the material in the presentations is well organized.

Sharon Christenson
An Introduction to GoToWebinar webinar

Thomas was thorough in presenting the information. Not only did he provide hand-outs, he walked the attendees through the process of setting up an actual webinar. I learned a lot from this presentation. Great job, Thomas!

Kathryn Hogan
Saturday, Feb., 18, 2012, Indiana Historical

I enjoyed the presentation of both the Reasearch Toolbox and Bloggers. I went home and set up my first Blog. Thank you Thomas
Robin Phillips, Elkhart, Indiana

Robin Phillips
February 18, 2012, Indiana Historical Society

Thomas' presentation "What's In Your Research Toolbox?" today was both informative and fun. He provided many good tips for organizing genealogy research links and finding new content. I especially liked how he gave us some options, or things to consider in making the choices of how we organize our own personal research resources. I am studying his online toolbox and the links he gave us to decide how to reorganize (and backup) my toolbox.
Thanks,
Nancy Hurley

Nancy Hurley
Evernote Explorinar

Thomas provided a jam-packed hour of valuable information. As a new Evernote user, I truly appreciated this. I've watched the explorinar twice now - once when I was just starting with the program and again to look for more detailed options now that I've been using it for a week or so. Thank you, Thomas!

Jennifer Zinck
Explorinar on Facebook Pages v. Groups - recorded version

I want to thank you for the Explorinar on Facebook Pages v. Groups. It was very clear and concise and gave good review and several tips for someone who is already familiar somewhat with Facebook but needs to expand my knowledge.
Thanks again. I am now ready to "explore" the Explorinars about Evernote and Weebly. Here we go!
Nancy Hurley

Nancy Hurley
Legay Family Tree Webinars - 2011

I have heard Thomas give numerous talks. He is my go-to speaker for learning new technology. He must not sleep because I can't find any other way for him to manage to stay on top of all they new technologies that come out. He is able to learn technology and understand how to adapt it for the genealogical community and then be able to present it to people like me who aren't as quick at learning it. Thomas is an amazing speaker and highly recommended.

Marian Pierre-Louis
It is Well with my Soul, Legacy Family Tree Webinar, 9 Nov 2011

very organized, useful information for my genealogy research. Thomas provided many helpful resources. Thomas is so easy to understand. Sometimes he is very funny, but always enlightening. Thank you Thomas for sharing your wealth of knowledge.

Margaret Ann Tull
27-Oct-2011 Explorinar: Facebook Pages vs. Facebook Groups

Good information and presentation, easy to understand and follow. I was late for the live explorinar so I appreciate the recorded version...ready to create a page:D

Rose Lehne
Explorinar: Evernote - Easy Note

I was ambivalent about Evernote (tried it years ago) until I viewed Thomas' Web Explorinar. Now it's time to get serious and use Evernote. His teaching and explanations were excellent!

George Geder
Legacy Family Tree Cruise Oct 2011

I've heard Thomas speak many times, most recently on this cruise. He's a fun, humorous speaker and knows his subjects. I really appreciate his willingness to share his knowledge during presentations and being approachable well beyond the speaking event. I always learn from him and have successfully put several of his suggestions into action.

Denise Richmond
Podcase on Family Tree

It answered the questions I had regarding using Facebook for genealogy purposes. He is so entertaining, explains everything clearly, and is so enthusiastic. He knows his material.

Mary Komon
FGS 2011, Jamboree 2011, and Legacy Webinar

I always learn something new from Thomas. That's the main thing...but add to that his enthusiasm and his wicked sense of humor...what's not to love.

Kim von Aspern
Facebook for Genealogists Webinar - Viewed 18 Sept 2011

While I am an active user of Faceboook for genealogy purposes, I picked up several new ideas from Thomas' webinar. This session was made available by Legacy Family Tree genealogy webinars. It was yet another excellent presentation by Thomas on using social media. It was very easy to understand, even for a beginner.

Susan Petersen
Legacy webinar, "Facebook for Genealogists" , 14 September, 2011.

I found Tom MacEntee's comments on Facebook for Genealogists to be the best primer on safe use of Facebook that I've encountered yet. I highly recommend that anyone contemplating opening a Facebook account view this webinar before opening an account. The webinar would also be valuable for those now using Facebook. In addition, Tom MacEntee's tips on how to use Facebook for genealogy were extremely valuable.

This was one of the most useful webinars (of 24) I have attended yet!

John Zimmerman

John Zimmerman
Legacy webinar - 9-14-11

Thomas has a great presentation style. Even when I'm sure I know about the subject I still come away with new information I didn't have a clue about. Thomas also answers questions on the fly making sure he leaves no one behind in his presentation.

Leslie Brinkley Lawson
Legacy webinar -- Facebook for Genealogists

Thomas has a rare talent based in sincerity and, like Diane Arnold, I appreciate the lack of condescension in his approach. His presentation "Facebook for Genealogists" answered just about every question I needed answered about Facebook, especially in much publicized area of Facebook security.

Sandy Arnone
September 14, 2011 legacyfamilytree.com

My first webinar at legacyfamilytree.com. Enjoyed it very much. Interesting and informative. Thanks!!!
Pat Dobson

Pat Dobson
September 14, 2011 webinar via Legacy Family Tree

Thomas has such a comfortable presenting style. He never talks down, he explains things clearly and with humor, and there are always little tips and tidbits that come out. He manages Q&A very well.

Dianne Arnold
14 Sept 2011 via Legacy Family Tree Webinar

I always enjoy Thomas' webinars. He speaks clearly and slowly and takes time to answer listener questions. Even when I think I know all there is to know about a topic, I learn something new from his talks.

Cindy Harris
www.legacyfamilytree.com/webinars.asp.

Gave information on Facebook that I either didn't know or had forgotten. Always explains in clear simple terms and with visual aids.

Joyce Street
Evernote Explorinar 1 Sep 2011

He not only explained how to use Evernote but gave examples showing how he used it. I've had the software for a few months and puttered around with it. Now I can use it productively. Like Julie, I was ready to put it to use at the end of the explorinar. His presentation was logical and practical. He made everything seem easy and that is just what I needed.

Ellen Hilborn
2 September 2011, explorinar on Evernote

I turn to Thomas Macentee's webinars and explorinars to learn about the techie tools that I just don't have time (or courage!) to tackle on my own. His presentations are thorough but easy to follow. His technical knowledge combined with a friendly style makes for a very accessible learning experience; I'm ready to try a tool the minute the webinar is over! I'm very appreciative of the work that he puts into his presentations.

Julie Michutka
http://networkedblogs.com/mtwwH

As an experienced user of Evernote he seemed to cover practically everything a new user would need to know.

Randy Clark
Legacy, Evernote, Weebly

He is very informative. I am able to understand and apply things that I might have been too overwhelmed to try by myself. Even though he explains things simply, I do not feel he is "dumbing" it down. I love to be taught something new in this manner. I will try to attend any webinar, explorinar or seminar he gives. Thank you for taking the time to explain these new technologies to us.

Kathy Chastain
EverNote Explorinar

Thomas makes learning about the current technology fun and easy! And that gives me the courage to use it!

Sherry Kline

· Family Tree Writer
September 1, 2011

Thomas explained everything so clearly. He answered question well, and illustrated the wonderful features with ease! I learned a lot about Evernote!

Angela Y.Walton-Raji
Many Webinars / Exploreinars

Easy to listen too, doesn't get too technical. Great Presenter


Russ Worthington
Explorinar on Evernote

What a great presentation. I've used Evernote, but learned I haven't been using it to it's fullest. He made using Evernote so much easier. Thank you!

Diane Manley
Today, Wed 1 Sep 2011 - Web "Explorinar" on Evernote

I have been a professional seminar speaker on technical subjects .. it's always a joy to see and hear a master presenter at work .. Thomas is an engaging and creative presenter, technically competent, and light-hearted .. a good balance of skills.
His Evernote presentation today was informative and helped me resolve some issues I have had in learning to use this complex software.

Tony Burns
Explorinar: Weebly August 25, 2011

I enjoy EVERY talk Thomas does, I try not to miss any of them. Even if it is a subject I am comfortable with and know, I learn something from him every time! He gives wonderful presentations, works hard and has a great personality. I love listening to Thomas talk about anything! I appreciate his work ethics, kindness, generosity and devotion to the genealogy field. Now...when is the next lecture?


Cheryl Fleming Palmer
Explorinar: Weebly - Easy Webpage Creation

Thomas is well prepared for his presentations; he can pace his delivery to interact with the attendees and still move through the material. Good sense of humor; clear explanations; easy style.

Dianne Arnold
Explorinar: Weebly - Easy Webpage Creation

Thomas covers the basics so you can learn from the ground up. He engages the attendees and answers as many questions as possible. He is organized and prepared. An enjoyable hour.

Pamela Wile
Webinars 8/25/2011

I have listed to him several times and greatly enjoy him every time! Very informative and responsive to the audience.

Teri Chaffin
Land Records and Genealogy Symposium, Beatrice, Nebraska

Thomas' expertise in using technology for genealogy is the best in the business. He presented two sessions at this symposium: social media for genealogists and Google for genealogists. Even with my own knowledge of these tools, I picked up a lot of new ideas from Thomas.

Susan Petersen
Google Forms for Genealogists 06/01/2011 Legacy Webinar

I've never used Google Forms, and I've never heard Thomas MacEntee present. After this webinar, my head is swimming with possibilities. And isn't that the hallmark of an excellent instructor? Mr. MacEntee moved seamlessly, both visually and verbally, between his presentation slides and live examples. He spoke in a very "down-to-earth" fashion without being condescending. The moderator only presented 1 of my 4 questions, but I think I learned enough to figure out the answers on my own. I'm now a follower and can't wait to hear more! This is the top webinar I've attended from any source.

Reed Morgan
Webinar, June 1, 2011

Watched webinar on Google Forms for Genealogist. I always learn something when watching Thomas MacEntee. His webinars are organized and easy to understand. Thanks for all you do in the genealogy community.

Tina Telesca
6/1/11 Webinar

Interesting. Did not know those sorts of uses of Google Forms were available. Your speaking voice was clear and you did a nicely paced presentation.

Concetta Phillipps
On legacy webinar, May 18, 2011

I've heard you on several occasions and always learn something new. You are very hands-on. You show us what works and why, not just a bunch of theory.

Carole Cornell
May 18, 2011 - Google Docs for Genealogists

Enjoyed your talk because it will help me in my own Genealogy Research AND with our Sumner County Historical & Genealogical Society indexing and other work!

Thanks, Thomas!

Sherry Kline

· Family Tree Writer
Legacy Family Tree Dropbox Webinar

I learned more details about Dropbox that I was unaware of and I was able to get more organized.

Cheryl Palmer
Dropbox for Genealogists

Clear, precise instructions: thorough preparation. What more can I say? I always enjoy listening to your presentations.

Maureen West

· Making Connections Genealogy
21 April 2011 FT Dropbox for Genealogist

The webinar went very smoothly. The slides were clear, transitions between Dropbox and Win 7 were smooth, and your explanations were clear and to the point. I felt like I learned a lot more about the app.

Aileen McNair
Legacy Family Tree Webinar on Dropbox for Genealogists

I loved getting to know how to maximize my use of dropbox. I have been listening to Thomas for almost a year and he is consistently excellent.

Donna Peterson
Legacy Family Tree's "Dropbox" Webinar

You can take a complex subject and make it do-able for us 'regular' folks! Not only that, you make it interesting and Fun!

You make me think "well, heck, I (think I) can do that!"

You have improved my genealogy skills in ways that I appreciate, and didn't think I ever would attempt!!


Sherry Kline

· Family Tree Writer
4/21/2011 Dropbox Webinar

Interesting topic, excellent preparation, good vocal tone - as a former high school speech and English teacher you covered all the bases.

Diana Biddle
March 2011 Webinar on Backing Up

Last night my laptop decided to just go out. I have had to send to shop, not knowing what I will get back once fixed, a clean slate or my data still there. When I took this Webinar, I decided to put what I learned into practice and saved a lot of info to Mozy.com and to a flash drive. I am not in the panic I would have been had I not done this. Just an example of how instrumental Thomas' Webinars are to those who watch them. Thanks, Great job and really saved me!!!

Tina Sansone

· Tina Sansone's Genealogy Services
Legacy Webinar Dropbox for Genealogy on April 21, 2011

I have been wanting to learn about dropbox for a while and have been waiting for this webinar. I now feel confident enough to download dropbox and give it a try.

Thanks for all the good information. You are a very good speaker and present the information in an easy to follow manner.

Thanks Thomas for all you do.

Tina Telesca
April 2011 Legacy Family Tree Webinar

Your Genealogy Tool Box webinar was excellent, even for experienced researchers. You showcased some options I was not familiar with, and I look forward to browsing your online toolbox. Excellent content, moved right along, good visuals. Thank you! Sue Clark

Sue A Clark
Building a Research Toolbox Webinar

The presentation was clear, conveyed a lot of useful information, and inspired me to think about new ways of organizing my research.

Walt Quering
4 Apr 2011 LegacyFamilyTree Webinar

Very easy to follow with lots of material covered

Nira Chambliss
Building a Research Toolbox

Once again, Thomas, your presentation taught me new things in a clear, concise and organised manner. A pleasure to listen to.

Maureen West

· Making Connections Genealogy
Legacy Family Tree - Research Toolbox webinar

You are always clear and concise in your explanations. That is so helpful, and when you know people might be confused, you always repeat at just the right time!

Leslie Brinkley Lawson

· Lawson Research Services, LLC
Legacy Family Tree webinar

It was about using a Research Toolbox and I learned some very good tips and practices. Thank you for making it worth my time!

Becky Jamison
Legacy Family Tree webinar

It was about using a Research Toolbox and I learned some very good tips and practices. Thank you for making it worth my time!

Becky Jamison
Legacy Family Tree Webinar Apr 6, 2011

I have really enjoyed the webinars (I've heard others besides todays)that I have heard you present. You speak very clearly and explain what you are talking about so anyone can understand. I don't feel like you rush thru your explanations but are careful to be sure you are understood. You also have excellent examples and I can tell that you really enjoy what you do.

Annette Berger
Online couresy of Legacy Family Tree.

The information presented in the webinar "Backing up Your Genealogical Data" was relavent to me. It was clear and concise and presented in a way that I could follow along. I've used the tips in the webinar and prepared my own backup plan. Thank you!

Lisa Ellam
March 2011-Backing Up Your Genealogy Data at Legacy Family Tree

Thomas captivates his audience with helpful tips for all computer users. His clear, concise, and organized presentation allows the audience to leave the webinar and start using the information provided.

Brenda Leyndyke
Data Backup Webinar

I missed the live version, but watched the archived version. Great information. I have not been very dedicated to backing up as I did not know alot about it. Now that I see what my options are and how easy it can be, I will back up, starting today. I love the way you teach things so simply that it is easy to comprehend. Thank you for sharing your knowledge with us. I look forward to hearing more of your Webinars.

Tina Sansone

· Tina Sansone's Genealogy Services
Legacy Family Tree Webinar on Data Backup

Excellent speaker, very comfortable with webinar format, worked through your slides well (good information, clearly laid out, you added insight to what was on the slides), you are comfortable moving between the presentation slides and going online in real time so we can see how something actually works. All in all - easy on the ears and a real pro!

Tessa Keough
Legacy webinar March 23, 2011

You offered good information and are articulate and engaging. You brightened my day after I had attened a funeral for a 16 year old girl.

Marilyn Dahneke
Backing Up Genealogy Data Webinar

Your webinar had good content and was appropriate for both the beginner and the more advanced webinar participants. Your presentation was very easy to follow, and you have great presentation skills! Thoroughly enjoyed and am already signed up for Drop Box on April 21st.

Lois Stifel

· Foxy G. Knits
The Legacy Webinar 23 Mar 2011 Backing up your Genealogy Data Review

I enjoyed the various backup methods that included some I did not know about. Your presentation style and visuals were clear and understandable. Thanks!

Paula Stuart-Warren
The Legacy Webinar 23 Mar 2011 Backing up your Genealogy Data

The presentation was excellent because you gave us valid, current, specific details that we could easily apply to our own practices. You were very well prepared and covered the topic thoroughly.

Becky Jamison
Legacy Webinar March 23 2011 Backing Up Your Genealogy Data

Thomas covered everything a person needs to know to successfully backup data. His webinar included regular backup, offsite backup and cloud computing. He offered a good discussion of various online sites that offer backups and cloud computing. He made this topic very understandable.

Susan Petersen
March 23, 2011 on Webinar from Legacyfamilytree

I have been waiting for more information on backing up my data and other things on my computer. You reminded me of how important it is to do this and to set up a schedule to do it. Thanks again and I plan on attending the next one.

Sharon Haas
Wed 23 Mar 2011-Legacy webinar

I totally enjoyed the webinar. Really was good! Very informative! Learned quite a bit. Will be attending any more he plans to do!

Paula Towne McRonald
LEGACY WEBINAR - BACKING UP YOUR GENEALOGY DATA

As usual Thomas was super organised, logical and informative. I always enjoy and learn new information in any seminar he presents.
Maureen West

Maureen West

· Making Connections Genealogy
Legacy webinar - Backing up Your Genealogy Data

Presentation was outstanding and enjoyable! Clear, well-organized, direct and informative. Caught and kept my attention. Worth my time and attention! Thank you!

Jeannette Drake
Mar 23, 2011 Legacy Webinar

Learning about the different storage sites that are no available.

Ron Hodacsek
10 March 2011, Fox Valley Genealogical Society, Naperville, IL

Thomas's presentation "Facebook For Genealogists" is exactly what any newbie to Facebook needs and I believe everyone in attendance learned something. Navigating the audience through the set-up procedure, personal settings, privacy settings and the wall helped to alleviate some of the fears and misunderstandings that those new to Facebook sometime experience, myself included. The posting to the wall demonstration and immediate post from the Friends of Thomas was the perfect way to see Facebook in action. The specific examples of how to use Facebook for genealogy research made the all-important connection between the title of the presentation and the expectations of society. Throughout the presentation Thomas answered questions (there were many) easily and his great sense of humor kept the group entertained. At the end of the evening, I had an understanding of how Facebook is another way to connect with the genealogical world. Thomas gets a big "thumbs up" from me.

Janice Fritsch
SCGS Webinar on Social Networking Review

Even though I'm a heavy facebook and twitter user I actually learned quite a bit from this webinar! I liked the interactive part of it ... much better than just slides.

Nira Chambliss
SCGS Webinar on Social Networking

The talk was very well done and easy to understand. It covered a lot of ground in a short amount of time. I learned Facebook tips, how to use Twitter, and how to start a blog.


Kyla Sandberg
SCGS Webinar on Social Networking

Thomas is knowledgeable about his topic, well prepared and is able to explain his topic so that both beginners and experienced users can benefit from his presentation. His knowledge of the subject allows him to articulate answers to any questions that are posed to him.

Susan Petersen
SCGS Jamboree Extension Series:Social Networking - New Horizons for Genealogists

I loved the fact you mixed the power point slides and live demonstrations. This kept the interest going. You could have gone on for hours but kept it focused on the basics and intermediate levels which was awesome. Thanks for a great webinar. Looking forward to more of them

Vicki Hilb
Social Media Webinar, Saturday March 5, 2011 - Review

I enjoyed your talk as I learned about software websites that I hadn't known about before. It's always good to see Facebook and Twitter in action as I learn something everytime. And I was interested to learn about Stumble.

Pamela Wile
SCGS Webinar

Nice mix of slide and live demonstrations to show the power of the Social Networking Technology that you were speaking about. Thank you.

H R Worthington
Social Media Webinar, Saturday 5 March, 2011

I enjoyed your Webinar talk because it presented possibilities about which I previously had little or no information, or knew about but had been reticent to include in my online practices. In particular I appreciated suggestions about using Stumble to post to both FB and Twitter, advice about privacy on FB, and advice about finding/controlling the quality of Twitter followers.

JENNIFER GERAGHTY-GORMAN
December, 2010 - Salt Lake Christmas Tour

Thomas's lectures were a hit with my Christmas Tour group in Salt Lake City. He gave 8 lectures, including the Monday night dinner lecture. All of the programs dealt with social networking in one form or another, and they were very informative. I recommend him to any genealogy-related group.

Leland K Meitzler

· Family Roots Publishing Co., LLC
Google for Genealogists on Legacy Webinars

I learned so much from Thomas' lecture on how to more utilize the different features Google offers. He explained things in a clear way that I understood exactly how to go back after the lecture and use the features.

Tina Sansone

· Tina Sansone's Genealogy Services
June/Oct/Dec 2010 and RootsTech

For a fellow who could probably talk a 1000-words-a-minute, Thomas is remarkably patient with every member of his audience and never speaks faster than they can comprehend nor does he speak over their heads (to his own gratification). He is the quintessential "Uncle Thomas" and we his grateful nieces and nephews. We learn the technology he's presenting because he makes learning so pleasurable.

Donna Potter Phillips

· Eastern Washington Genealogical Society
RootsTech, 2010

Thomas brings any room to life with his vivacious and energetic presence. His presentations are inviting and empowering -- I can't count the number of times I've heard people commenting with excitement after one of his presentations, "I can do this!"

Tami Osmer Glatz

· Relatively Curious
Family History Expos - various locations and RootsTech 2011 in Salt Lake City, UT

Your presentations although rooted in using technology for genealogy are presented at a level that anyone can understand and enjoy. Excellent presentation style. I also appreciate that you inject humor into what can often be some very dry topics. You make the audience feel at ease while teaching them important concepts.

Lisa A. Alzo
Rootstech 2011, Salt Lake City; AFHS: New Horizons in Genealogy, Calgary, Alberta; SCGS Jamboree, Burbank, California; Family History Expo, Mesa Arizona

I first had the pleasure of hearing Thomas MacEntee speak
over a year ago at a regional genealogy conference and
subsequently several times since, including presentations at the national and international level.

Articulate, knowledgeable and humorous, Thomas knows how
to engage his audience while providing value. He is a skilled facilitator and panel chair, as well as a social media, and genealogy technology expert.

From my viewpoint as a long time genealogist, Toastmaster
and public speaker, I heartily recommend Thomas to all who
are looking for top notch delivery, content and value at their next conference or seminar.

Joan Miller

· Luxegen Genealogy
Get notified of new talks and events.
Follow
Related Speakers View all
---
Elyse Doerflinger

Genealogy Speaker with a specialty in technology, U....

Lisa Louise Cooke

Producer and host of the Genealogy Gems Podcast www....

Krista Neher

Marketing Strategist, Bestselling Author, Internatio...

Dan Lynch

Technology expert sharing family history & genealogy...

Amanda Hill

Social Media Speaker | Trainer | Mentor | Strategist

Kevin T. Ryan

Internet Marketing Speaker & Author

Tami Osmer Glatz

Optimizing genealogical research online, using indus...

Tami Glatz

Tami Glatz is a lecturer, author and researcher, spe...

Jennifer Holik

Piecing the Past Together

Ryan Charles

Mobile Guru (Former Zagat Mobile Head), CPG Entrepre...

Alex Navas

Guiding entrepreneurs to create passionate, profitab...

Diane L Richard

Introducing Genealogists to Often Under-Utilized Int...

Jeremy Blanton
Eduardo Gonzalez Loumiet, MBA, PMP

Cuban. Entrepreneur. Technologist.

Lynette Young

Lynette Helps Small Businesses with "The Business of...

Jon Steinberg

Founder Cheddar; Former CEO Daily Mail, Former Presi...

Bernard Martin

B2B & B2C Front Line Social Media Selling

Christi Tasker

Social Media Branding Queen and Keynote Speaker

Matthew Evans
Larry Bailin

Business Motivational Speaker and Digital Marketing ...
More like Thomas