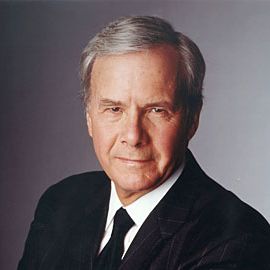 Tom Brokaw has spent his entire distinguished journalism career with NBC News beginning in 1966 in the Los Angeles bureau where he covered Ronald Reagan's first run for public office, the rise of the Sixties counter culture, the assassination of Bobby Kennedy and the 1968 presidential campaign.
From Los Angeles, Brokaw went to Washington as the White House correspondent during Watergate and as the principal back up for John Chancellor as anchor of "NBC Nightly News." Next stop: New York and "TODAY" followed by his appointment as anchor and managing editor of "NBC Nightly News with Tom Brokaw."
He took over "Meet the Press" for the 2008 campaign when his close friend and colleague Tim Russert died.
In addition to his daily news gathering responsibilities, Brokaw reported on more than thirty documentaries covering subjects ranging from AIDS, Los Angeles gangs, race, education, medicine, immigration and global warming.
He has an impressive list of firsts, including the first interview with Mikhail Gorbachev; the first network report on human rights abuses in Tibet accompanied by an exclusive interview with the Dali Lama; the only American network anchor to report from Berlin the night the Berlin wall came down.
In 1998 Brokaw published his first book, "The Greatest Generation," one of the most popular non-fiction books of the 20th century. He followed that with five other books, including "BOOM! Voices Of The Sixties" and most recently, "The Time Of Our Lives."
He is also a popular essayist for publications ranging from The New York Times to Rolling Stone and a wide assortment of other periodicals and newspapers.
Brokaw has won every major award in his craft, including Peabody, Duponts, Emmys and lifetime achievement recognition.
Speech Topics
---
The Voice of a Generation
Tom Brokaw draws on a rich career in network news, throughout which he has traveled the world to cover elections, summits, wars, political turmoil and major news events of every description. The legendary newsman entertains, enlightens and informs audiences with his experiences and observations of events around the world. His presentations, like his broadcasts, provide in-depth analysis of the important economic, political and social issues in the headlines -- and the people behind them. It is an unparalleled world-view that will provide a new understanding of the global village.
Related Speakers View all
---
Arianna Huffington

Former President & Editor-in-Chief of The Huffington...

David McCullough

Historian and Celebrated Author

Eric Schmidt

Executive Chairman and Former Chief Executive Office...

Geoffrey Canada

Inner-City Youth & Education Advocate

Cory Booker

US Senator from New Jersey and Author of "United"

Chrystia Freeland

Editor of Thomson Reuters Digital; Previously the U....

Katie Couric

Award-winning Journalist, Best-selling Author, & Co-...

Bill Clinton

Former President of the United States (1992 - 2000)

Joseph Stiglitz

American Economist; Professor at Columbia Universit...

Chelsea Clinton

Daughter of Bill and Hillary Clinton; Clinton Founda...

Salman Rushdie

British Indian Novelist Known for "Two Years Eight M...

Archbishop Desmond Tutu

Nobel Laureate & Human Rights Activist

Robert Reich

Economic Analyst, CNBC Contributor, Professor, Autho...

Gary White

Executive Director & Co-Founder of Water.org with Ma...

Annie Lennox

Eurythmics Singer Known for "Sweet Dreams," Politica...

Ray Kurzweil

Chairman, Kurzweil Technologies & A Director of Engi...

John Battelle

Tech and Innovation Entrepreneur, Journalist, Profes...

Jeff Immelt

Chairman and CEO, General Electric

Nouriel Roubini

World Renowned Economist

Sonal Shah

Heads the White House Domestic Policy Council's Offi...
More like Tom