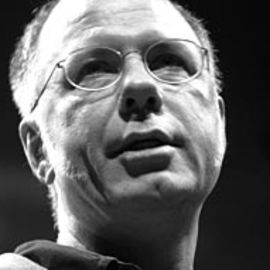 Tom Shannon
Sculptor, Independent Artist
Artist and inventor Tom Shannon's sculpture has been exhibited in galleries and institutions all around the world, including the Centre Pompidou in Paris, the Stedelijk Museum in Amsterdam and the Museum of Modern Art in New York City. His clever orchestrations of hidden magnets and tiny suspension cables make otherwise inert materials such as steel and wood take on a truly otherworldly quality -- bringing objects like planets, stars and atoms to a scale you can understand (and touch).
Shannon also holds the patents for the first tactile telephone, a color television projector and a synchronous world clock that is in the collection of the Smithsonian Institution. He is developing a spherical helium airship whose entire surface is an LED video screen.
Click Here to register and get pricing on booking Tom Shannon for your next event!
Get notified of new talks and events.
Follow
Related Speakers View all
---
David E. Goldberg

Entrepreneur, Scientist & Pioneer of Artificial Inte...

Judith Grunert

Professor, Syracuse University

Duane Nason

Duane Nason is a web developer and entrepreneur.

Daniel Libeskind

Architect, Denver Art Museum

Joshua Klein

Hacker, H4X Industries

Robert Lang

Origamist, Langorigami.com (Sole Proprietorship)

Ben Cameron

Arts Administrator, Doris Duke Charitable Foundation

Barbara Gross Davis

Assistant Vice Provost, Jossey-Bass

Jessica Green

Professor, University Oregon

Craig E. Dauchy

Partner, South-Western College Pub

Constance E. Bagley

Associate Professor of Business Administration, Harv...

Terry Moore

Thinker, Radius Foundation

Wilbert McKeachie Et Al

Professor Emeritus of Psychology, University of Mich...

David Logan

Professor Of Management, CultureSync

Tom Honey

Priest, Exeter Cathedral

Steven K. Gold

Author, Learning Ventures Press

Patricia Burchat - Duplicate

Particle Physicist, BaBar Collaboration

Ethel

String Quartet, Ethel

Suzanne Erickson

Associate Professor, Seattle University

John Vinturella

Consultant, JBV
More like Tom