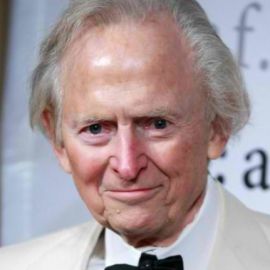 He was educated at Washington and Lee (B.A., 1951) and Yale (Ph.D., American Studies, 1957) universities. In December 1956, he took a job as a reporter on the Springfield (Massachusetts) Union. This was the beginning of a ten-year newspaper career, most of it spent as a general assignment reporter. For six months in 1960 he served as The Washington Post's Latin American correspondent and won the Washington Newspaper Guild's foreign news prize for his coverage of Cuba.
In 1962 he became a reporter for the New York Herald-Tribune and, in addition, one of the two staff writers (Jimmy Breslin was the other) of New York magazine, which began as the Herald-Tribune's Sunday supplement. While still a daily reporter for the Herald-Tribune, he completed his first book, a collection of articles about the flamboyant Sixties written for New York and Esquire and published in 1965 by Farrar, Straus, and Giroux as The Kandy-Kolored Tangerine-Flake Streamline Baby. The book became a bestseller and established Wolfe as a leading figure in the literary experiments in nonfiction that became known as New Journalism.
In 1968 he published two bestsellers on the same day: The Pump House Gang, made up of more articles about life in the sixties, and The Electric Kool-Aid Acid Test, a nonfiction story of the hippie era. In 1970 he published Radical Chic & Mau-Mauing the Flak Catchers, a highly controversial book about racial friction in the United States. The first section was a detailed account of a party Leonard Bernstein gave for the Black Panthers in his Park Avenue duplex, and the second portrayed the inner workings of the government's poverty program.
Even more controversial was Wolfe's 1975 book on the American art world, The Painted Word. The art world reacted furiously, partly because Wolfe kept referring to it as the "art village," depicting it as a network of no more than three thousand people, of whom about three hundred lived outside the New York metropolitan area. In 1976 he published another collection, Mauve Gloves & Madmen, Clutter & Vine, which included his well-known essay "The Me Decade and the Third Great Awakening."
In 1979 Wolfe completed a book he had been at work on for more than six years, an account of the rocket airplane experiments of the post World War II era and the early space program focusing upon the psychology of the rocket pilots and the astronauts and the competition between them. The Right Stuff became a bestseller and won the American Book Award for nonfiction, the National Institute of Arts and Letters Harold Vursell Award for prose style, and the Columbia Journalism Award.
"The right stuff," "radical chic," and "the Me Decade" (sometimes altered to "the Me Generation") all became popular phrases, but Wolfe seems proudest of "good ol' boy," which he introduced to the written language in a 1964 article in Esquire about Junior Johnson, the North Carolina stock car racing driver, which was called "The Last American Hero."
Wolfe had been illustrating his own work in newspapers and magazines since the 1950s, and in 1977 he began doing a monthly illustrated feature for Harper's Magazine called "In Our Time." The book In Our Time , published in 1980, featured these drawings and many others. In 1981 he wrote a companion to The Painted Word entitled From Bauhaus to Our House, about the world of American architecture.
In 1984 and 1985 Wolfe wrote his first novel, The Bonfire of the Vanities, in serial form against a deadline of every two weeks for Rolling Stone magazine. It came out in book form in 1987. A story of the money-feverish 1980s in New York, The Bonfire of the Vanities was number one of the New York Times bestseller list for two months and remained on the list for more than a year, selling over 800,000 copies in hardcover. It also became the number-one bestselling paperback, with sales above two million.
In 1989 Wolfe outraged the literacy community with an essay in Harper's called "Stalking the Billion-footed Beast." In it he argued that the only hope for the future of the American novel was a Zolaesque naturalism in which the novelist becomes the reporter—as he had done in writing The Bonfire of the Vanities, which was recognized as the essential novel of America in the 1980s.
In 1996 Wolfe wrote the novella "Ambush at Fort Bragg" as a two-part series for Rolling Stone. In 1997 it was published as a book in France and Spain and as an audiotape in the United States. An account of a network television magazine show's attempt to trap three soldiers at Fort Bragg into confessing to the murder of one of their comrades, it grew out of what had been intended as one theme in a novel Wolfe was working on at that time. The novel, A Man in Full, was published in November 1998. The book's protagonists are a sixty-year-old Atlanta real estate developer whose empire has begun a grim slide toward bankruptcy and a twenty-three-year-old manual laborer who works in the freezer unit of a wholesale food warehouse in Alameda County, California, owned by the developer. Before the story ends, both have had to face the question of what is it that makes a man "a man in full" now, at the beginning of a new century and a new millennium.
A Man in Full headed the New York Times bestseller list for ten weeks and has sold nearly 1.4 million copies in hardcover. The book's tremendous commercial success, its enthusiastic welcome by reviewers, and Wolfe's appearance on the cover of Time magazine in his trademark white suit plus a white homburg and white kid gloves—along with his claim that his sort of detailed realism was the future of the American novel, if it was going to have one—provoked a furious reaction among other American novelists, notably John Updike, Norman Mailer, and John Irving.
In October 2000 Wolfe published Hooking Up, a collection of fiction and non fiction concerning the turn of the new century, entitled Hooking Up. It included Ambush at Fort Bragg and, for the first time since their original publication in the Herald-Tribune, his famous essays on William Shawn and The New Yorker, "Tiny Mummies!" and "Lost in the Whichy Thickets." His new novel I Am Charlotte Simmons, is now available in paperback from Picador.
Related Speakers View all
---
Victoria Principal

American Actress, Author, Producer and Businesswoman

Colonel Chuck Scott

Charles Wesley Scott was born in Philadelphia, Penns...

David Foster Wallace

Author

Nicholas Sparks

Internationally best-selling novelist and screenwrit...

Gay Talese

Author

Sebastian Junger

Award-Winning Journalist, Best-Selling Author of "Th...

Po Bronson

Successful novelist, prominent writer of narrative n...

Marcus Luttrell

Decorated Navy SEAL & Bestselling Author of "Lone Su...

Debbie Allen

Creative Marketing Expert and Business Speaker

Harry Anderson

Actor, Writer and Magician; "Cheers" and "Dave's World"

Erin Brockovich

Consumer Advocate, Author, TV Host and Environmental...

Kristen Davis

Actress, Best Known for Her Role as Charlotte on "Se...

Brad Garrett

American Actor and Stand-Up Comedian

Wayne Gretzky

The Greatest Player in the History of Hockey

Mariette Hartley

Emmy Award-winning actress, Outspoken Advocate for M...

Mariel Hemingway

Prolific Author, Adventurist, Eco Activist, Healthy ...

Elizabeth Hurley

British Model, Actress, Producer and Designer

Kathy Ireland

Supermodel & CEO, Kathy Ireland Worldwide

Ann Jillian

Emmy-Nominated Actress & Work/Life Balance Promoter

Lucy Liu

Actress, Model, Artist, Film Producer and Director; ...
More like Tom