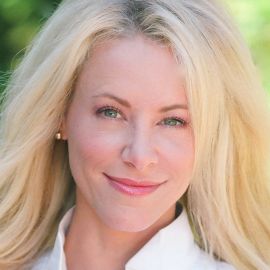 Tracy Metro was eco-chic before eco and chic were hyphenated. An avid re-user and a practical-environmentalist, Metro (and yes, that is her real name!) believes "one small change really can change the world." She has been devoted to the eco-movement for the last decade and through her passion for shopping and an intimate relationship with Mr. Mastercard, has come to the conclusion that "going green can actually save you some green!"
As a result of intensive sessions of retail therapy and her commitment to the environment, she was asked to host the anticipated Discovery series, Green Gadgets. On the show, Metro highlights not only the latest and greatest eco-friendly gadgets to hit the marketplace, but she also shares her pearls of shopping wisdom while educating consumers on the environmental impact of their purchases.
Tracy writes and hosts segments for Ecorazzi and has an eco-crafting column in the new magazine, Positively Green. A longtime Prius driver, Metro has been anti-paper towels, pro-eco technology and a believer that scouring thrift shops for vintage clothing and house wares is the ultimate in recycling.
Tracy and her husband, Marty, have a dream to one day build an entirely green, off-the-grid home as soon as they have enough green… but, in the meantime, they are in the midst of greening their vintage houseboat, aptly named Green Anchors. After personally redoing two homes, Tracy is hammering away on her houseboat to make it an entirely footprint-less vessel outfitted with a bio-diesel engine, a wind turbine for power and reclaimed everything on the inside (floor, appliances, furniture…).
In 2002, the Metros founded the earth-friendly company, UsedCardboardBoxes.com (UCB), a concept they began testing back in 1997. This company that asks people to make "one small change" and reuse cardboard boxes is now a national leader in for-profit, eco-friendly companies. UCB is known as the nation's cheapest, easiest, most earth-friendly way to get boxes for packing, moving, shipping and storage!TM They say that there's no reason to cut down a tree just to make a used box! The company has been voted one of the 10 best green companies of 2007 by the Coop of America. Through Tracy and Marty's relentless passion, this fast growing brand has garnered impressive media attention (ABC, CBS, NBC, Entrepreneur Magazine and even Daily Candy) and now services every corner of the United States, through 6 regional distribution centers. It has been referred to as "the best thing since canned beer!" And they couldn't agree more, so drink up!
While Tracy has done everything in the organization from taking orders, to delivering them, to cleaning the toilet, she is no longer involved with the day to day operations of the company. Instead, she focuses her time on bringing the green lifestyle to the masses through television as the Green Eyed Shopper.
Click Here to register and get pricing on booking Tracy Metro for your next event!
Videos
---
Get notified of new talks and events.
Follow
Related Speakers View all
---
Mel H. Abraham

He has a riveting presence, created by his absolute ...

Milt Abel

Milt Abel is a corporate-clean stand-up comedian tha...

Mike Abrashoff

Former Commander of USS Benfold and Author of "It's ...

J.J. Abrams

Director, Producer, Writer, Author; Known for His Wo...

Melvin Adams

Former Harlem Globetrotter with a Passion for Reachi...

Kirk Acevedo

Actor Best Known for His Roles on "Dexter," "Band of...

Jose Antonio Abreu

Founder of El Sistema, Which Helps Venezuelan Childr...

Carol Adelman

Carol Adelman is a senior fellow and director of Hud...

Newton Aduaka

Newton Aduaka's award-winning Ezra, told through the...

Janus Adams

Award-Winning Journalist

Jenoyne Adams

African-American Novelist.

Khandi Alexander

Khandi Alexander (born September 4, 1957) is an Amer...

Shaun Alexander

NFL Great

Laila Ali

Undefeated 4 Time World Champion Boxer 24-0 with 21 ...

Alan Alda

Actor, Writer, Science Advocate, and Director

Adewale Akinnuoye-Agbaje

Fashion Model & Actor Known for "Lost," "Oz" & "Suic...

Jane Alexander

Actress and Former Director of the National Endowmen...

Bruce Aitken

Bruce Aitken was born in Invercargill New Zealand wh...

Gary Aldrich

On Independence Day, 1996, former FBI Agent Gary Ald...

Marilyn Albert

Dr. Marilyn Albert received her PD degree in Physiol...
More like Tracy