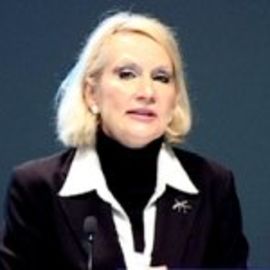 Ursula Oswald Spring
Professor and researcher at the Regional Centre of Multidisciplinary Research at the National University of Mexico
Ursula Oswald Spring is a professor and researcher at the Regional Centre of Multidisciplinary Research at the National University of Mexico (CRIM-UNAM). She was the first General Attorney (Ombudswomen) for Environment in Latin America and the first Minister of Environmental Development in Mexico in the State of Morelos. She has a PhD in Social Anthropology with speciality in Environment (1978), a Master in Psychology (1972) and BE in Philosophy, Psychology and Anthropology (1969) from University of Zuerich, Switzerland. She is the first MunichRe Chair on Social Vulnerability (2005/2006) at the United National University Institute for Environment and Human Security (UNU-EHS). She is chair of the Scientific Advisory Board of AFES-PRESS. She is founding member and was Secretary General of the Colegio de Tlaxcala, a PhD program on sustainable regional development.
As President of IPRA (1988-2000) and Secretary General of CLAIP (Latin American Peace Research, 2002-2006) she linked the concept of Human, Gender and Environmental Security (HUGE) with peace studies, non-violent conflict resolution and sustainable productive processes.
Click Here to register and get pricing on booking Ursula Oswald Spring for your next event!
Get notified of new talks and events.
Follow
Related Speakers View all
---
Roxanne Joyal

CEO of Me to We and a founding member of Free The Ch...

Alex Salmond

MP for Gordon, MSP for Aberdeenshire East, and Forme...

Emma Sky

British Expert on the Middle East, Former Political ...

Paul Laudicina

CEO, Chairman of the Board, and Managing Officer at ...

Ertharin Cousin

Executive Director World Food Programme

Andrei Shleifer

Economist and speaker on the future of the economy a...

Fred Burton

Stratfor VP of Intelligence, Speaker on Security and...

Loretta Napoleoni

She made her name following the dollars in terrorist...

Pippa Malmgren

Founder of Principalis, Speaks about the Economy, Ma...

Mark Zandi

Chief Economist and Co-founder of Moody's Economy.com

Clark Winter

Founder of Winter Capital International, an Independ...

David L. Smith

Economist, Futurist, and Market Strategist with a Gl...

Don Reynolds

Real World Economist

Dr. Martin Feldstein

Harvard Professor and Economic Advisor to Presidents

Gordon de Brouwer

Associate Secretary, Domestic Policy Group; G20 Sher...

George Yeo

Visiting Scholar, Lee Kuan Yew School of Public Poli...

Jeannette Wing

President's Professor of Computer Science and Depart...

Felipe Vergara

Co-Founder and Chief Executive Officer, Lumni, Peru

Aleh Tsyvinski

Professor of Economics Yale University

Lynn St Amour

President and Chief Executive Officer, Internet Soci...
More like Ursula