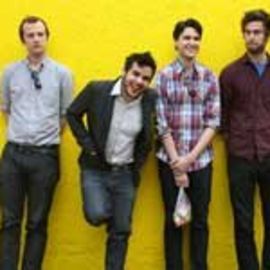 Vampire Weekend
Vampire Weekend was formed at Columbia University in 2006 by the singer and guitarist Ezra Koenig, the instrumentalist Rostam Batmanglij, the bassist Chris Baio, and the drummer Chris Tomson.
In 2008, the band released its eponymous first album, which dbuted in the Top 20 of the U.S. and U.K. album charts. It was followed by the Grammy-nominated "Contra," in 2010. A third album is forthcoming.
"Modern Vampires of the City" is Vampire Weekends third album, and it was released on May 14th, 2013 by XL Recordings. The album title is inspired by the first line of Junior Reids song "One Blood: Modern vampires of the city hunting blood, blood, bloooooooood." The photo on the cover was taken in 1966 on one of the smoggiest days in New York history. It was captured by photographer Neal Boenzi for the New York Times. Ezra and Rostam, the songwriting team behind the band, worked more closely than ever on this album. Most songs began one of two ways: either with Rostam creating a piece of music that often included drums, bass, and chords and sending this to Ezra to write lyrics and melodies on top of, or with Ezra beginning the song by writing lyrics and melodies, sometimes chords as well, and the two of them sculpting the instrumental setting for the track around those.
In the summer of 2012, the two traveled to LA to collaborate with Rostams longtime friend, and fellow producer, Ariel. They brought with them writing and recording sessions from New York and Marthas Vineyard. The three began to stride towards realizing the finished album and were later joined by drummer Chris Tomson and bassist Chris Baio. Drums and bass were recorded to analog tape at Vox Studios. Built in the 1930s, its one of the oldest privately owned studios in Los Angeles. Those parts were then reintegrated with the sessions and further manipulated to create a synthesis of sound and tone, both old and new.The album has a grandeur and romanticism evocative of the city where it was conceived. Church organs, deep synth bass, booming drums, choirs chanting in Latin are all combined with classic Vampire Weekend joyfulness and spry humor. MVOTC is the culmination of a trilogy. The genesis of the song "Step" was a labyrinthine journey through American pop history: it was inspired by a lyric from 90's New Jersey rapper YZ artfully sampled by Bay Area hip-hop legends Souls of Mischief for a demo called "Step to My Girl" from the sessions from their 93 Til Infinity album. Their song sampled a Grover Washington Jr. cover of 70's soft-rock band Breads Aubrey. Vampire Weekends song marries melodies from Aubrey with their own harmonic and lyrical identity and rhythmic swagger.Modern Vampires is a bustling city of voices and visions from the death of Henry Hudson to the Orthodox girl falling in love at an uptown falafel shop, from Hannah Hunt tearing up the New York Times on a distant beach to the lethal chandelier of Everlasting Arms, from the ardent yearning of Dont Lie to the harmonized voice of hope in Young Lion
Videos
---
Related Speakers View all
---
The Postal Service

The Postal Service is an American electronic musical...

Neko Case

Neko Case is an American singer-songwriter, best kno...

Beirut

Band That Combines Elements of Indie Rock and World ...

Iron and Wine

Sam Beam is Iron And Wine, and Iron And Wine is Sam ...

Sea Wolf

Sea Wolf is a band led by Alex Brown Church, an indi...

Jack Johnson

Folk Rock Singer-Songwriter; "Upside Down" and "Bana...

Joanna Newsom

Joanna Caroline Newsom is an American harpist, piani...

m83

M83 is a French electronic/shoegaze band from Antibe...

Family Of The Year

Family of the Year is an American indie band from Lo...

Jeff Tweedy

Leader of the Band Wilco; Songwriter, Musician and R...

Kindred The Family Soul

Kindred the Family Soul, also referred to as Kindred...

Jeffrey Gaines

Jeffrey Gaines is an American singer-songwriter and ...

Brett Dennen

Brett Dennen is a folk/pop singer and songwriter fro...

Matt Costa

When Matt Costa first started writing for his fourth...

Born Ruffians

Canadian Indie Rock Band

The Temper Trap

The Temper Trap is an Australian indie rock band tha...

James Blunt

English Singer-Songwriter and Musician Known for "Yo...

Band of Horses

American Rock Band; "No One's Gonna Love You" and "T...

Fleet Foxes

Fleet Foxes is an indie folk band that formed in Sea...

Delta Spirit

American Indie Rock Band
More like Vampire