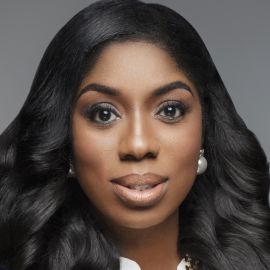 Wendy Osefo, PhD
Media Personality, Professor of Education at The Johns Hopkins University, Founder and CEO of The 1954 Equity Project.
An influential voice in urban policy and education Dr. Osefo is a highly sought after media personality and consultant on issues of equity and access in urban communities. As a researcher, Wendy examines how race and class influence the learning, achievement, and educational trajectories of African American and other non-dominant students in schools and community settings. Dr. Osefo creates and implements innovative strategies and programming to address issues of equity and inclusion. Her research on teacher-student allyship is featured in the groundbreaking book I Wish My Teacher Knew by Kyle Schwartz. Dr. Osefo's latest research explores perceptions of "Blackness" and how it affects student development at Predominantly White Institutions (PWI) following the aftermath of Ferguson, the Baltimore Uprising, the rise of the Black Lives Matter Movement, and the 2016 Presidential Election. She has written extensively on issues of race and access, and her work has been featured in TED Education, ABC Network, City Paper, Face2Face Africa, and Nonprofit Quarterly among many others.
As Founder & CEO of the 1954 Equity Project, Dr. Osefo develops and implements the strategic vision of the organization. The 1954 Equity Project provides students with navigational capital to not just survive academia, but to thrive in academia as their authentic selves. Through the use of the Osefo Equity Framework, the 1954 Equity Project builds community with underrepresented minority students in universities to create a platform for students to share their lived experiences and work collaboratively to co-create equitable solutions that allow students to be both successful and their authentic selves during their tenure in higher education.
Dr. Osefo served as the Director of the Master of Arts in Management program at Goucher College where she provided academic and administrative leadership and was responsible for overseeing the day-to-day administration and operation of the management program. Before joining Goucher's faculty, Dr. Osefo served as the Director of Family and Community Engagement and Director of Parent Programs for the DC Promise Neighborhood Initiative. The Promise Neighborhood Initiative is the Obama Administration's Antipoverty initiative and the signature program for the White House Neighborhood Revitalization Initiative. Dr. Osefo designed and implemented culturally competent parent-centered engagement strategies and successfully created and launched the first comprehensive adult learning academy in the Washington D.C. Kenilworth-Parkside community.
Wendy holds a B.A. in Political Science from Temple University, an M.A. in Government from The Johns Hopkins University, and an M.Sc. in Public Affairs from Rutgers University. In 2016, Dr. Osefo became the first black woman to earn a Ph.D. in Public Affairs-Community Development from Rutgers University. Dr. Osefo is a Board Trustee of the Children's Scholarship Foundation of Baltimore, and a board member for The Education Foundation, The Elijah Cummings Youth to Israel Program and The Obama Green Charter School.  Dr. Osefo is a member of Alpha Kappa Alpha Sorority Incorporated and The National Urban League.
Click Here to register and get pricing on booking Wendy Osefo, PhD for your next event!
Videos
---
Speech Topics
---
Race and racism in the wake of Ferguson and the Baltimore Uprising
Equitable solutions for the United States
Education in the rise of the global economy
Urban politics and the changing landscape
Diversity in the workplace, boardroom, and classroom
Respect for women and gender equality
The evolution of social movements
Innovation in the 21st Century
Leadership in the face of adversity
Links
---
News
---
Get notified of new talks and events.
Follow
Related Speakers View all
---
Mel H. Abraham

He has a riveting presence, created by his absolute ...

Milt Abel

Milt Abel is a corporate-clean stand-up comedian tha...

Mike Abrashoff

Former Commander of USS Benfold and Author of "It's ...

J.J. Abrams

Director, Producer, Writer, Author; Known for His Wo...

Melvin Adams

Former Harlem Globetrotter with a Passion for Reachi...

Kirk Acevedo

Actor Best Known for His Roles on "Dexter," "Band of...

Jose Antonio Abreu

Founder of El Sistema, Which Helps Venezuelan Childr...

Carol Adelman

Carol Adelman is a senior fellow and director of Hud...

Newton Aduaka

Newton Aduaka's award-winning Ezra, told through the...

Janus Adams

Award-Winning Journalist

Jenoyne Adams

African-American Novelist.

Khandi Alexander

Khandi Alexander (born September 4, 1957) is an Amer...

Shaun Alexander

NFL Great

Laila Ali

Undefeated 4 Time World Champion Boxer 24-0 with 21 ...

Alan Alda

Actor, Writer, Science Advocate, and Director

Adewale Akinnuoye-Agbaje

Fashion Model & Actor Known for "Lost," "Oz" & "Suic...

Jane Alexander

Actress and Former Director of the National Endowmen...

Bruce Aitken

Bruce Aitken was born in Invercargill New Zealand wh...

Gary Aldrich

On Independence Day, 1996, former FBI Agent Gary Ald...

Marilyn Albert

Dr. Marilyn Albert received her PD degree in Physiol...
More like Wendy