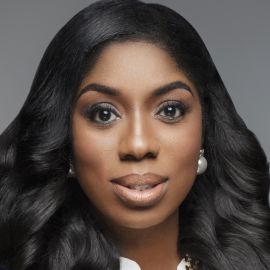 Wendy Osefo, PhD
Media Personality, Professor of Education at The Johns Hopkins University, Founder and CEO of The 1954 Equity Project.
An influential voice in urban policy and education Dr. Osefo is a highly sought after media personality and consultant on issues of equity and access in urban communities. As a researcher, Wendy examines how race and class influence the learning, achievement, and educational trajectories of African American and other non-dominant students in schools and community settings. Dr. Osefo creates and implements innovative strategies and programming to address issues of equity and inclusion. Her research on teacher-student allyship is featured in the groundbreaking book I Wish My Teacher Knew by Kyle Schwartz. Dr. Osefo's latest research explores perceptions of "Blackness" and how it affects student development at Predominantly White Institutions (PWI) following the aftermath of Ferguson, the Baltimore Uprising, the rise of the Black Lives Matter Movement, and the 2016 Presidential Election. She has written extensively on issues of race and access, and her work has been featured in TED Education, ABC Network, City Paper, Face2Face Africa, and Nonprofit Quarterly among many others.
As Founder & CEO of the 1954 Equity Project, Dr. Osefo develops and implements the strategic vision of the organization. The 1954 Equity Project provides students with navigational capital to not just survive academia, but to thrive in academia as their authentic selves. Through the use of the Osefo Equity Framework, the 1954 Equity Project builds community with underrepresented minority students in universities to create a platform for students to share their lived experiences and work collaboratively to co-create equitable solutions that allow students to be both successful and their authentic selves during their tenure in higher education.
Dr. Osefo served as the Director of the Master of Arts in Management program at Goucher College where she provided academic and administrative leadership and was responsible for overseeing the day-to-day administration and operation of the management program. Before joining Goucher's faculty, Dr. Osefo served as the Director of Family and Community Engagement and Director of Parent Programs for the DC Promise Neighborhood Initiative. The Promise Neighborhood Initiative is the Obama Administration's Antipoverty initiative and the signature program for the White House Neighborhood Revitalization Initiative. Dr. Osefo designed and implemented culturally competent parent-centered engagement strategies and successfully created and launched the first comprehensive adult learning academy in the Washington D.C. Kenilworth-Parkside community.
Wendy holds a B.A. in Political Science from Temple University, an M.A. in Government from The Johns Hopkins University, and an M.Sc. in Public Affairs from Rutgers University. In 2016, Dr. Osefo became the first black woman to earn a Ph.D. in Public Affairs-Community Development from Rutgers University. Dr. Osefo is a Board Trustee of the Children's Scholarship Foundation of Baltimore, and a board member for The Education Foundation, The Elijah Cummings Youth to Israel Program and The Obama Green Charter School.  Dr. Osefo is a member of Alpha Kappa Alpha Sorority Incorporated and The National Urban League.
Click Here to register and get pricing on booking Wendy Osefo, PhD for your next event!
Videos
---
Speech Topics
---
Race and racism in the wake of Ferguson and the Baltimore Uprising
Equitable solutions for the United States
Education in the rise of the global economy
Urban politics and the changing landscape
Diversity in the workplace, boardroom, and classroom
Respect for women and gender equality
The evolution of social movements
Innovation in the 21st Century
Leadership in the face of adversity
Links
---
News
---
Get notified of new talks and events.
Follow
Related Speakers View all
---
Po Bronson

Successful novelist, prominent writer of narrative n...

Campbell Brown

Award Winning Journalist

Todd Bischoff
Roger Cressey

NBC Counter-terrorism Analyst & Former Presidential ...

David Ewing Duncan

Internationally Best-Selling Author & Journalist

Sir Harold Evans

Legendary Publisher & Best-Selling Author

John Forte

Singer, Songwriter & Producer

Michael Fuchs

Former Chairman/CEO of Home Box Office (HBO)

Marc Ginsberg

Former U.S. Ambassador to Morocco & Fox News corresp...

Larry Julian

Best-Selling Author, Leadership Coach & Business Expert

Michelle Malkin

Award Winning Conservative Columnist, Best-Selling A...

Meghan McCain

Political Columnist, Author & Award-Winning Blogger

Byron Pitts

CBS News Chief National Correspondent, Contributing ...

J. Zink
William K. Reilly

World Wildlife Fund Chairman Emeritus & Co-Chair, Na...

Winston Scott

Former NASA Astronaut

Tiffany Shlain

Filmmaker & Founder of the Webby Awards

Rebecca Skloot

Award Winning Science Writer, Author "The Immortal L...

Sir Howard Stringer

President, Chairman & CEO of Sony Corporation

Jonathan Tisch

Chairman & CEO of Loews Hotels, Leading Authority on...
More like Wendy