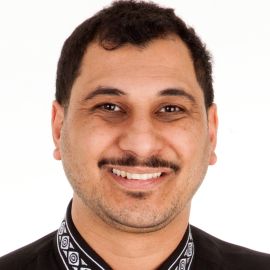 Zaahir Hendricks
Dr. Zaahir Hendricks, 'Dr. Z' has Been Helping Empower Students, Individuals and Corporate Teams Since 1996
Dr. Zaahir Hendricks, "Dr. Z" has been helping create a mindset for success for over 10 years. His programs offer tools to empower the audience, adjust their mindset, activate leadership and unlock the mental shackles that have been holding them back.
Dr Z-The Mindset Coach grew up in South Africa during the oppressive era of apartheid and learned first hand how this environment leads to an oppressive mindset which affects all aspects of life. Determined to prove how much mindset determines outcome he came to America by himself at age 19 and graduated with a Doctor of Chiropractic (D.C.) degree in 1996. Dr. Z's passion for understanding the power of "Mindset" has led him to expanding,continuing and sharing the results of his studies and experience so he can inspire others to reaching their full potential, fully empowered with a clearer vision, in all aspects of life.
Dr Z-The Mindset Coach is a sought after speaker at colleges, corporations, groups and associations who passionately shares his message around the country. He has been recognized by various media outlets as a successful businessman and community leader who helps change lives around him. His humor and laid back speaking style leads to energetic and interactive programs that leave students with the right tools to create a mindset for success in all aspects of their life.
Related Speakers View all
---
Tina Marie Jones

Connecting with the audience through the style of a ...

Michael Cooley
Marty Stratton

Entrepreneur Spirited Speaker; Driven for Your Success!

Kristi LeBlanc

Premier Expert on Recruiting-Engaging Purposeful, Pa...

James Festini
Mark J. Ryan

Mark J. Ryan is an expert in NLP, hypnosis, & helpin...

Derek Redmond

A hugely inspirational Speaker, Olympian, World-Cham...

Geoff Nicholson

Stress & Self Empowerment Expert, Therapist, Trainer...

Preston Keith Fox

THE ANTI-MOTIVATIONAL-MOTIVATIONAL SPEAKER

Tonisha Pinckney

Empowerment Beyond Victimization - Author of I AM MO...

Mike Jaffe

9/11 Survivor; Human WakeUp Call

Dave Hubbard

Motivational | Inspirational | Life Changing

Michelle Courtney Berry

Breakthrough Expert, Founder and CEO of LifeFlowPlan...

Rasheed Ogunlaru

Coach - Speaker - Author

Kyle Newman

Live and lead untamed and unafraid

Don Yaeger

Award-Winning Leadership Speaker and Seven-Time New ...

Liz Nead

Life Coach and Inspirational Speaker

Caspar Berry

Renowned Expert on Risk-Taking and Decision-Making

Hypnotist The Incredible BORIS

Keynote Speaker and award-winning Motivational Hypno...

Josh Hinds

Inspiring Speaker, Entrepreneur, and Author of It's ...
More like Zaahir