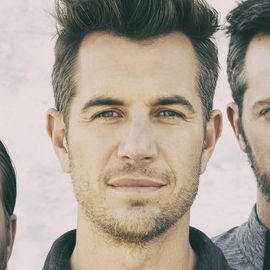 311 is a rock band from Omaha, Nebraska, formed in 1988.
Since their self-titled album in 1995, all of their studio albums have been in the top 15 of the Billboard Top 200. Eight of their songs have been Top 5 hits on the Billboard Modern Rock Radio chart.
Their first major record, Music, was released in 1993. The single "Do You Right" received airplay on modern rock stations and reached No. 27 on Billboard's Modern Rock Tracks chart.
The following year, they released their second studio album, Grassroots. Although none of the singles charted, the album reached No. 8 on the Billboard Top Heatseekers chart and No. 193 on the Billboard 200, and tracks from Grassroots began popping up on college charts nationwide.
In 1995, 311 released what was to be their biggest selling CD, the self-titled 311. Produced by Ron St. Germain, the album was recorded live in contrast to their previous two albums in which all instruments were recorded separately. The first single "Don't Stay Home" was a modest success, reaching No. 29 on Billboard's Modern Rock Tracks chart. But the follow-up single "Down," which was released 14 months after the album, received heavy airplay on mainstream radio and the accompanying music video was on MTV's rotation. The song hit No. 1 on the Modern Rock chart. These singles propelled the album to platinum status in 1996. The album eventually went triple-platinum.
In the following years, 311 continued touring and on August 5, 1997 they released "Transistor" which debuted at No. 4 on the Billboard 200, their highest position on that chart. The album quickly went platinum.
In 1999, 311 released their fifth major album, Soundsystem. "Come Original" was the album's first single and had success on radio and MTV. The song reached No. 6 on Billboard's Modern Rock Tracks chart. "From Chaos" was released in late 2001 and debuted at No. 10 on the Billboard 200.
Their seventh major release, "Evolver," came in 2003 and marked a return to the straightforward guitar-heavy sound that the band had become known for. "Evolver" debuted at No. 7 on the Billboard 200, and the single "Creatures (For A While)" reached No. 3 on Billboard's Modern Rock Tracks chart.
In 2004, 311 covered The Cure's "Love Song" which became a No. 1 hit on the Modern Rock Tracks chart.
In 2005, 311 released their eighth studio album, titled Don't Tread on Me. "Don't Tread On Me," the first single, reached No. 1 on the Billboard Modern Rock chart. Uplifter, 311's ninth studio album, was released shortly after. The album debuted at No. 3 on the Billboard 200, the band's highest chart position in the U.S. to date.
Videos
---