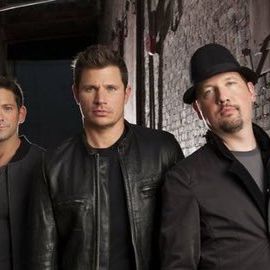 98 Degrees have always had a simple philosophy about success: persevere, work hard, have faith and eventually you'll reach your goal. For the quartet, who've sold millions of albums and earned a devoted fanbase since they arrived on the music scene in 1997, that humble way of looking at things has helped make them four of the hottest singing sensations in pop music. But their ultimate aspiration has always been clear-having people recognize that their talent goes beyond just their amazing harmonies. With their new album, Revelation, they've achieved that goal.
Revelation is yet another impressive step for the quartet. Building on the promise of their 1998 multi-platinum sophomore smash, 98 Degrees And Rising (which spawned hit singles "Because of You," "The Hardest Thing" and "I Do (Cherish You)") and their gold-selling 1997 debut self-titled album (which spawned the hit track "Invisible Man"), it demonstrates the maturity they've achieved as singers and songwriters. Having time off from their hectic touring schedule gave them a chance to truly devote their energies to crafting the stellar album. "I felt like this was the first time we got to catch our breath, get our creative vibe going and grow," JUSTIN explains. "We came back with fresh ideas and fresh ears. The hardest part of making this album was picking and choosing the songs, because there was a lot of material to choose from."
Since emerging on the music scene years ago, 98 Degrees have been regarded as a vocal group to contend with. But being recognized was the result of group's determined efforts to get discovered. Their story began with JEFF, a native of Massillon, Ohio, who moved out to Los Angeles to pursue a singing career. When his first attempts at putting together a group didn't work out, he ultimately ended up meeting Cincinnati, Ohio native Nick through a mutual friend. Their musical chemistry was instant and soon Nick called on his longtime pal Justin (the two attended the Cincinnati School for the Creative and Performing Arts) to head out to California and try his hand at singing with them. The last piece of the puzzle to fit was Drew, Nick's younger brother, who was working in Brooklyn as an Emergency Medical Technician. He took his chances on the fledgling group.
98 Degrees endured their fair share of odd jobs and tight living conditions while struggling to get their big break. That break finally came backstage at a Boyz II Men show when they met a manager who saw a spark in the quartet. Soon, 98 Degrees were touring with R&B star Montell Jordan and before long were drawing raves for their dynamic performances. In 1997, they scored a recording deal with Motown Records (and signed to Universal Records in 1999).
They've sung with their musical idol, Stevie Wonder, on the song "True To Your Heart," which appeared on Disney's Mulan soundtrack (as well as on 98 Degrees And Rising), performing the rousing duet "Thank God I Found You" with Mariah Carey and Joe, and performing at the White House for President Clinton. But their happiest memories also involve making an impact on their loyal fans. "I think the most exciting thing is the reaction we've gotten from people who've been inspired by our music," Justin explains.
Videos
---
Related Speakers View all
---
Jesse Ignjatovic & Evan Prager

Jesse Ignjatovic & Evan Prager / Founder of Den of T...

Travis Keller

Travis Keller is an American music journalist, photo...

Share Ross

CEO at Video Rockstar University; Speaks on How to G...

Colin Munroe

Colin Munroe is a Canadian singer-songwriter and rec...

Felix Cartal

Felix Cartal, is a Canadian electronic music produce...

Diane Martel

Diane Martel is an American music video director and...

Pentatonix

Grammy Award-Winning Vocal Sensations & Winners of S...

Anjulie Persaud

Canadian Juno Award Winning singer and songwriter

Verse Simmonds

Songwriter, recording artist, producer

Wayne Henderson

Soul-jazz and hard bop trombonist and record producer

K'Jon

R&B singer; 2009 solo debut album, I Get Around, rea...

Jungle Brothers

The Jungle Brothers are an American hip hop group th...

The Temper Trap

The Temper Trap is an Australian indie rock band tha...

Rozzi Crane

Singer-Songwriter; Signed to Adam Levine's Label 222...

Nelly Furtado

Singer, Songwriter Known for "Promiscuous"

Kopecky Family Band

They say blood is thicker than water. If that is the...

Ariana Grande

Singer Known for "Thank U Next" & "God is a Woman"

Dannii Minogue

Singer, Songwriter, Actress, Fashion designer

Dinosaur Jr.

Musician

Calvin Harris

Scottish DJ, Singer-Songwriter & Record Producer Kno...
More like 98