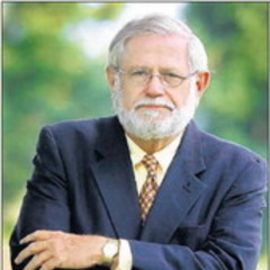 Aaron Beam
Founder and first Chief Financial Officer of HealthSouth
Aaron Beam Jr.'s story reads like the "Great American Success Story": start a company from zero, raise some venture capital, take the company public in two years, become a millionaire overnight and see the company become the darling of Wall Street. But this success story didn't end there. Instead, Beam found himself in the middle of a corporate scandal, lost almost everything and ended up in prison. That's not the way success stories are supposed to end, but for Beam, that was the harsh reality.
"I think others can learn from my story," Beam says. "From how I started a major company, how I got involved in the fraud while serving as Chief Financial Officer, and more importantly, the human story, the pain of going through a trial and going to prison."
In short, it's the story of how something really great went horribly wrong and the price one man had to pay. Beam hopes that sharing his perspective, as a key player in one of the biggest corporate frauds in recent history, can help future business leaders avoid making the same mistake that he, and the four CFOs who succeeded him - made.
The company was HealthSouth, the nation's largest provider of outpatient surgery and rehabilitative services, which Beam co-founded in 1984. As revenues grew to more than $3.5 billion, Beam enjoyed the many rewards that corporate success can bring - until 1996, when the company's earnings fell just slightly short of its goal. That's when, according to Beam, HealthSouth's chief executive, Richard Scrushy, ordered the books to be fixed.
"HealthSouth was a very viable company, unlike Enron which just imploded," Beam explains. "Our earnings projection was just shy of what Wall Street was expecting - we were 90-95% there. When it got to the point that we couldn't legitimately make our numbers, Richard just couldn't do that - his ego was so big. He's such an intimidating person. He convinced us to fudge that 5-10% so we would make our numbers - he made us believe that we'd make it up in the next quarter. Unfortunately, the chief accountant said he thought he could make the entries and hide them from the auditors, and Richard said, 'Let's do it.' The correct thing to do was to say no to him, stand up to him, but I didn't. Obviously, I was weak of character."
But the next quarter, earnings also fell short. "We didn't make our numbers again, and he gave us the same speech," Beam recalls. "I did it for four quarters - for a year - then I couldn't live with it anymore."
Anguished and guilt-ridden, he resigned from the company in 1997. As the years passed, hearing nothing in the media, he mistakenly believed that HealthSouth was indeed making its numbers. In reality, the fraud continued until 2003, when it was made public by one of Beam's successors. He and each of the other four CFOs testified against Scrushy when the case when to trial in 2005. In the meantime, Beam pled guilty to bank fraud.
"You look back and think, 'What was I thinking? Why didn't I just do the right thing?' But when you're caught up in the heat of the battle, it didn't seem so simple," he recalls. "I've learned my lesson. Today, if I was faced with a similar kind of thing, I know I would do the right thing."
Beam eventually served three months in a federal prison for his part in cooking the books. Looking back at that time, he reflects on the experience. "Being in jail is kind of interesting. It was a minimum security prison - you could literally, if you wanted to, walk out of the prison. But it is prison. You can only make a certain number of phone calls to your family, you only have visitors on Saturday and Sunday, you have to be in bed by 10:00 every night. You're in a barracks, in a bunk bed, right up against 20 other guys. There's no privacy.
"Everybody in this prison is non-violent. There are a lot of drug dealers, but then, there are a lot of people kind of like me. There was a thoracic surgeon, lawyers, a congressman, a judge, business men, real estate tycoons - people who committed white collar crimes. It can happen to anybody - one of the biggest areas is tax fraud."
When Beam looks back on his time in prison, he understands how fortunate he was. "I was only in for three months - that's rare. Most people there were there for multiple years. If I had been incarcerated for 5 years or so, that would have been hard to take. Being in prison is no fun. It was an emotional, tough thing. The embarrassment to your family and friends - that was the hardest thing. But my family loved me and stuck by me."
There was, of course, a price to pay in addition to prison time. "We lost nearly everything we had," Beam explains. "We had a lot of worldly things, three or four homes, BMWs and Porsches. But they don't mean that much. Now that all this is behind us, my wife and I are as happy as we've ever been. In fact, I'm much happier now than when I had all that stuff."
Stressing the positive outcome of an extremely negative experience is an important part of Beam's story. "It helped me realize what really, truly is important - your family and your health. If you've got that, you're okay."
Today, HealthSouth remains a viable company, the largest in its field. "In a way, I can still take pride in HealthSouth," says Beam. "It's a great company."
With the HealthSouth turmoil behind him, Beam is focusing on the future. He believes it's his obligation to share his story so that others won't be led astray. He understands the pressures that abound in the boardroom. He wants to educate today's business leaders - and the leaders of tomorrow - to the pitfalls to watch for along the road to success.
"There are a lot of sociopaths heading major corporations," he says. "They have huge egos, they intimidate people, they totally believe that they are right in everything, they have no empathy for other people. If you're in the workplace and you have a boss like that, be aware. Realize that one day, you could be asked to do something you shouldn't do. Don't be overly influenced by others to the point that you do wrong. You have to have some moral character about how you conduct yourself in the business world. The pressure to make earnings, to make money, can lead you down a path that you shouldn't go."
Aaron Beam, Jr. learned a lesson the hard way. His is a cautionary tale with a moral for all: "You have to stand up - or you'll be the guy that goes to prison and pays the price."
Related Speakers View all
---
Brian Holloway

Five-Time NFL All-Pro; Motivation & Team Building Ex...

Shawn Harper

Former NFL Football Player, Successful Businessman &...

Jim Morris

Known for His Brief MLB Career & Subject of Disney's...

Rudy Ruettiger

Motivational Speaker, Author & Inspiration for the A...

Coach Ken Carter

Coach, Author, Educator & Inspiration for the Film "...

Bill Walton

Basketball Legend, Broadcaster & Humanitarian

Natalie Nixon

Strategist & Author of "The Creativity Leap"

Baratunde Thurston

Futurist Comedian, Writer & Cultural Critic

Peter Diamandis

Founder & Executive Chairman of the XPRIZE Foundatio...

Duncan Wardle

Former Head of Innovation & Creativity at Disney

Kindra Hall

Chief Strategy Officer at Steller Collective, Author...

Jessica Buchleitner

Innovative Communicator, Storyteller & Equality Dipl...

Andy Henriquez

Business Storytelling Coach and Keynote Speaker

Shantell Thomas

Diversity Marketer & Storyteller

Molly Bloom

Entrepreneur & Best-Selling Author of "Molly's Game"

Paul Topolos

Illustrator & Concept Designer at Pixar Animation St...

Afdhel Aziz

Leading Expert on Brand Purpose & Marketing Innovati...

Mary Cain

Professional Runner; New York City Community Manager...

Michelle Gass

CEO of Kohl's

D.J. Vanas

Speaker, Best-Selling Author, Enrolled Member of the...
More like Aaron