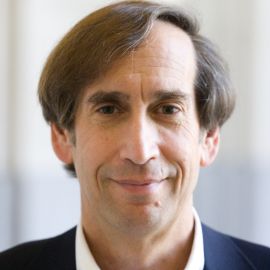 A former advisor to the State Department and an avid author, Aaron David Miller has helped shape US policy in the Middle East for two decades as an analyst, negotiator, and advisor to Republican and Democratic Secretaries of State. He is currently vice president for new initiatives and a distinguished scholar at the Woodrow Wilson International Center for Scholars in Washington, DC, where he's finishing a new book titled Can America Have Another Great President?
Miller has informed the public as well as policymakers on the state of affairs in the Middle East in his four books: The Arab States and the Palestine Question: Between Ideology and Self Interest; The PLO and the Politics of Survival; The Search for Security, Saudi Arabian Oil, and American Foreign Policy; and The Much Too Promised Land: America's Elusive Search for Arab-Israeli Peace.
Over his extensive career, Miller has held positions as the deputy special Middle East coordinator for Arab-Israeli negotiations, senior member of the State Department's policy planning staff, and senior analyst in the Bureau of Intelligence and Research and in the Office of the Historian. For his outstanding efforts in government service, he has received the Department of State's Distinguished, Superior, and Meritorious Honor Awards.
Apart from his government duties, Miller worked in the educational sector serving as an international affairs fellow on the Council on Foreign Relations, a resident scholar at the Georgetown Center for Strategic and International Studies, and on the United States Holocaust Memorial Council.
Between 2003 and 2006, he served as the president of Seeds of Peace, a nonprofit organization dedicated to empowering young leaders from regions of conflict with the leadership skills required to advance reconciliation and coexistence.
Aaron David Miller is a sought-after public speaker and is one of the preeminent authorities on Middle East issues. He has appeared on CNN, FOX, NBC, CBS, NPR, the BBC, Canadian Broadcasting Corporation, Al Arabiya, and Al Jazeera. His articles have appeared in The New York Times, The Washington Post, The Los Angeles Times, and The International Herald Tribune, as well as on numerous websites including Politico, Foreign Policy, Bloomberg News, and The Huffington Post. His column, "Reality Check," appears weekly in Foreign Policy magazine.
Videos
---
Speech Topics
---
A US Negotiator Looks Back: 25 Years Travelling The Arab-Israeli Highway
Gulliver's Troubles: How America Lost Its Middle East Groove & How To Get It Back
Negotiations & Foreign Policy: Why & When They Work
Can American Have Another Great President?
What 25 Years Working on Foreign Policy Taught Me About Life
Leadership & the Presidency