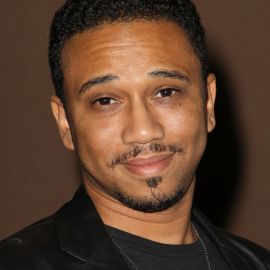 Aaron McGruder is an American writer and cartoonist best known for writing and drawing The Boondocks, a Universal Press Syndicate comic strip about two young African-American brothers, Huey (named after Huey P. Newton) and his younger brother and wannabe gangsta, Riley, from inner-city Chicago now living with their grandfather in a sedate suburb, as well as being the creator, executive producer, and head writer of The Boondocks animated TV series based on his strip.
He was also a screenwriter on Red Tails, and co-author, with Reginald Hudlin, of a 2004 graphic novel, Birth of a Nation: A Comic Novel, drawn by cartoonist Kyle Baker. Other projects include variety comedy series The Super Rumble Mix Show and Black Jesus, the latter on Adult Swim. He is a frequent public speaker on political and cultural issues.
Videos
---
Speech Topics
---
So, You Elected A Negro…
Fans of The Boondocks daily newspaper comic have missed the strip's day-to-day perspective on world events, especially during campaign '08. Now the Boondocks creator shares his up-to-the-minute thoughts on this historic election. Audiences will get a rare glimpse into McGruder's opinion of Barack Obama, observations on the media, and tips on how to survive your first black president.
The Boondocks: All The Rage
The comic strip that was often too much for newspapers has become the show that's too much for cable television. Aaron McGruder discusses the tumultuous history of The Boondock's past and present. From his 9/11 strips banned in New York to the BET episodes banned from air this year, McGruder discusses the politics, themes, and characters that have so often landed him in hot water. Fans of the show will have a rare opportunity to dialogue directly with McGruder about the creative process and the worldview that informs the strip, as well as get a sneak peek at McGruder's upcoming projects.
Negrology: State of the Black America
Negrology (n) - 1. The science of exploring, understanding, and demystifying all aspects of the American Negro".
Because I Know You Don't Read the Newspaper
The Politics of the Boondocks
Related Speakers View all
---
Spike Lee

Academy Award-Winning Writer, Producer, Actor & Dire...

Kevin Powell

Writer, Humanitarian, President of BK Nation

Victoria Rowell

Classically Trained Dancer, Actress on "The Cosby Sh...

Hill Harper

Actor, Author & Philanthropist; Best Known For "CSI:...

James McBride

New York Times Best-Selling Author & Musician

John Zogby

Trendspotter & Leading Pollster

Jalen Rose

ESPN Analyst & Former NBA Player

Montel Williams

Emmy Award-Winning Talk Show Host Best Known For "Th...

Archbishop Desmond Tutu

Nobel Laureate & Human Rights Activist

Tavis Smiley

Broadcaster, Author, Publisher, Advocate, and Philan...

Alvin Poussaint

Psychiatrist, Media Consultant & Author

Geoffrey Canada

Inner-City Youth & Education Advocate

Mohammed Bilal

Poet, Musician & Social Educator

Kal Penn

Actor, Writer, Producer & Former Associate Director ...

Sheryl WuDunn

Pulitzer Prize-Winning Journalist; Co-author of Half...

Juan Williams

New York Times Best-Selling Author, Fox News Politic...

Common

Award-Winning Artist, Actor, Producer, Musician & Wr...

Bruce George

Poet / Activist

Saul Williams

Spoken Word Artist

Robert Townsend

Award-Winning Filmmaker & Former CEO of the Black Fa...
More like Aaron